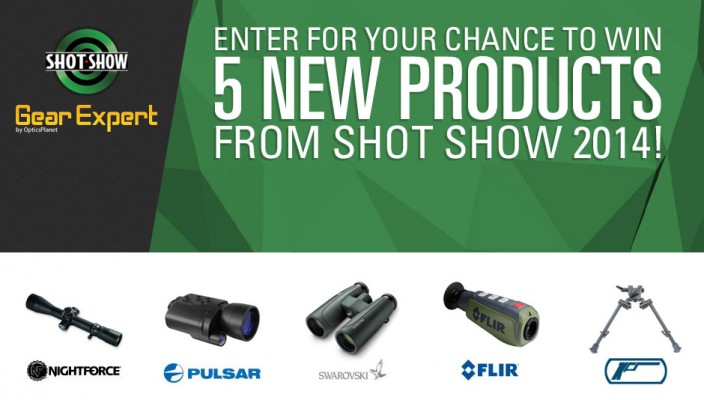 The OpticsPlanet crew had such an awesome time at SHOT Show 2014 that we want to share the excitement with you! That's why they've lined up 5 new products featured at SHOT Show 2014 that you now have the opportunity to win! Just head over to the contest page, LIKE us on Facebook, and enter your email address for each product you want the chance to win. But hurry! The contest ends February 2014.
Check out the awesome products featured in this big sweepstakes:
The NightForce 2.5-10x42mm NXS Compact Rifle Scope certainly is a force to be reckoned with! Featuring an enhanced objective lens and a ton of new tech, the NXS will revolutionize the way you shoot. The coolest feature? Probably the Power Throw Lever (PTL), which provides for an instant magnification change in a fraction of an second. Plus, you can switch between red and green illumination in the reticle.
The Pulsar Digital Recon X550 Digital Night Vision 5.5×50 Monocular finally lets you conquer the dark. This compact DNV device gathers light at an exceptional capacity, and features highly sensitive optics for one of the clearest pictures you'll find. Hook up the included jack to record everything you see!
Multipurpose is the name of the game with the Swarovski 10×42 SLC Wide Angle Binoculars. Featuring an ergonomic body design and that signature optical clarity that you've come to know and love from Swarovski, the SLC Wide Angle Binos provide an exceptionally large field of view and a rugged magnesium housing to prevent damage.
Go thermal with the FLIR Scout PS-32 Thermal Handheld Monocular. A great addition to any kit, this portable thermal monocular cuts through fog, smoke, dust, and foliage to get you the image you need. Mount it to a tripod for added stability!
Speaking of stability, take a look at the KFS Special Edition Sierra 7 Bipod! This is an OPMOD exclusive, and isn't even available for purchase yet (lucky you)! Featuring smooth motion and rugged design, it'll dig into just about any terrain to make sure your shot is right on target.
Head to the contest page to enter your email address for each product you'd like the opportunity to win! As with all of the sweepstakes, they won't let me enter, but you'll want to go ahead and put in for all five. These are some awesome products! But remember, the contest ends February 10, 2014. Happy hunting!
Related Posts
« SHOT Show 2014 – Part One: Media Day Back from SHOT Show 2014 – Part 1 »