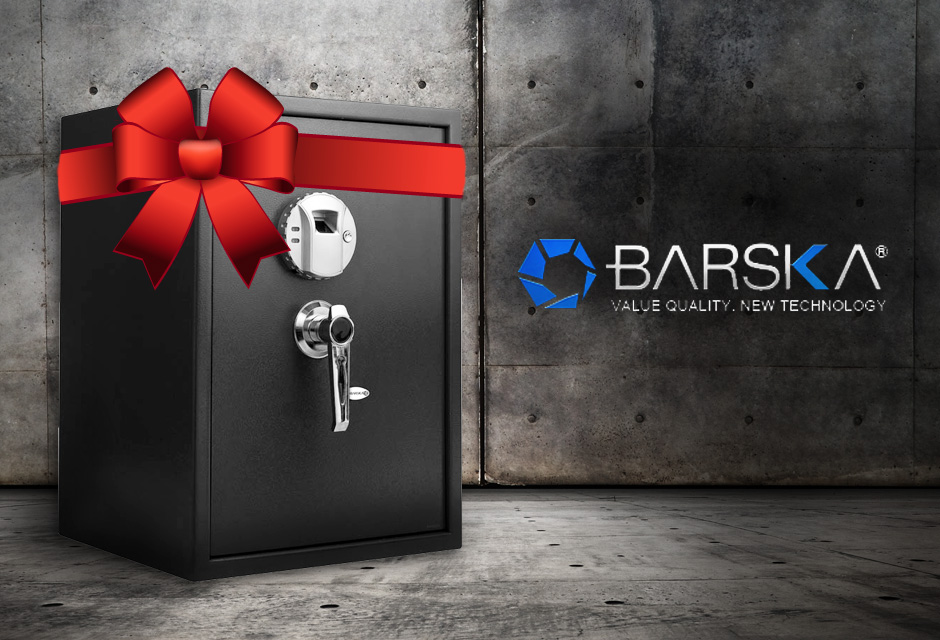 Want a great last-minute gift to give this year? This is one safe bet!
One quiet night not a creature was stirring, not even a mouse. Suddenly Santa wakes up to a strange noise in his house! Santa knows well this is no reindeer, elf, nor even his spouse, so who is this inside his house?  Without awaking  Mrs. Clause he quickly swipes his fingers across his Barska safe, which he advantageously has hidden in his dresser and now Santa suddenly can "stay frosty".
Seeking out that perfect gift for the person who has everything? How about giving them a gift to keep all those items safe for a lifetime? The answer, the Barska line of biometric safes. Extremely affordable and easily accessible, these safes are sure to bring a big smile. More than that – these safes will absolutely provide a strong sense of security.
This is where Santa keeps his toys. With models to fit every need, Barska has really put the owner behind every safe. With standup large rifle safes to small, drawer sized safes there is surely one to fit your needs. Biometric entry means that finger prints are scanned and programmed into the safe. The safe is then opened through a very fast finger print scan for verification.
Made of high quality steel and the ability to store multiple users this safe answers all security issues. Programming certain users means that only those users can access the safe. Even if the safe were to be suddenly available to those you wish to protect, they cannot open the safe without having properly identified/programmed fingerprints!
The spring loaded doors on the drawer style safes are smooth action and open quietly. This smooth spring action prevents the safe from opening up, and hitting the top of the drawer or the wall of the dresser/desk. This permits the user the ability of opening the safe extremely quietly without alerting others.
With predrilled holes, biometric entry, and emergency back-up entry, this safe really answers all questions regarding safety and security. Predrilled holes are an absolute must in any safe. All my personal safes regardless of location, are drilled in. This prohibits someone from simply taking off with the entire safe. The ease of mind as a result of the back-up entry system means there will never be an issue being ready at a moment's notice.
Check out the full line of Barska gun safes and safes today. With extremely low pricing, this is one gift you will never have to worry about sending the gift receipt with!
Related Posts
« 5.11 Concealed Carry – Get a Free Hat! Last Minute Gifts: the Browning OPMOD Tactical Executive Set »