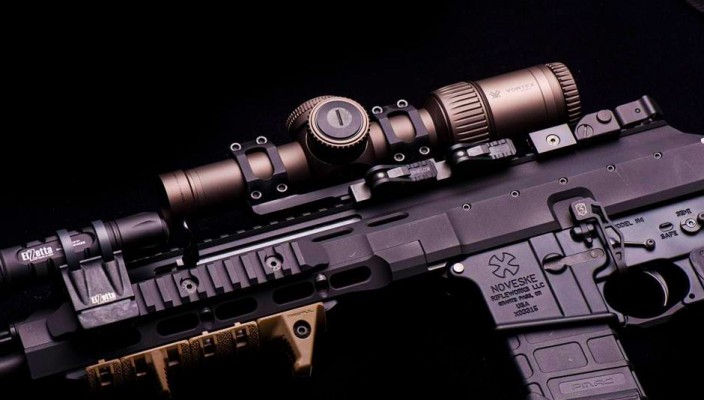 As a sponsor of the Superstition Mystery Mountain 3 Gun Competition back in March, OpticsPlanet was allotted a shooting slot for the match. As much as we love to shoot these matches ourselves, we decided to instead offer the slot to local 3-gunner Brian Williamson. And to sweeten the pot even more, we worked with our friends at Vortex Optics to supply Brian with an excellent new optic for the event.
Here's what  Brian had to say about his time at the Superstition Mystery Mountain 3 Gun Competition, as well as the Vortex Razor he ran:
I've used many brands of scopes in competition, including Trijicon Acogs, Burris 1.5-6, EOTECH and most recently a Swarovski Z6I.  I had been researching 1-6 power scopes when OpticsPlanet, along with Vortex, offered to sponsor me at the Superstition Mystery Mountain 3 Gun, and were gracious enough to send me the Vortex Razor HD Gen II with the JM-1 BDC reticle to set up and put thru the wringer at the match.   The field of view and eye relief are unbelievable on the Razor HD Gen II– with virtually zero lost "vision" around the edges of the scope.
On 6x power, the field of view is huge and better than most high end scopes I have used.  The Razor's illuminated dot is just as bright as my Swarovski and not just daylight "visible", but daylight "bright as hell" visible. One more thing to mention is the outstanding battery life the scope has. I have on several occasions left the dot on overnight and came to a stage the next day and it was still as bright as I left it the day before. I personally like the Razor's smaller dot size as it lends itself to slightly more precise shooting when using the dot.  The glass in the Razor is really good.  As much as it pains me to say it and I really do love my Swarovski, the new Razor has glass that is every bit as good as my $2400 Swarovski Z6I – maybe not better, but certainly just as good.
I also really like the Razor's super low cap 50 moa turrets and the "lockable" illumination feature.  In my opinion, this is one of the scope's best features – no tools or pennies needed. Never again will I be mad when at the range sighting my rifle and realize I left my readers at home. Even these old guy eyes can easily see the numbers on the turrets.
With the great eye relief and clarity, acquiring and taking distance shots is easy.  The reticle is easy to decipher and I am able to get my shots off quickly and accurately. This scope has taken my long distance shooting at major and local matches to another level.
I have used this scope in two major 3gun matches and several local matches and it has survived countless barrel dumps, banging on walls, in and out of the truck along with riding in the back on the truck in a soft canvas case on trips. I never have to worry about my zero point as it stays spot on all the time no matter what I do to this scope.  Along with such durability comes a slight bit extra weight, but really you never notice it after the clock goes off and you are in the heat of the battle on a 3 gun stage!
Shooting in the Open Division, I run a red dot scope for the closer targets in addition to the long range scope.  With the Vortex, I found myself just using it exclusively due to its ease of adjustment and acquisition of the targets. The reticle is just the right size and lends itself for super-fast target to target acquisition when on 1x power and quick adjustment to 6x power when shooting long range targets.
The scope is built like a tank and no worries if you do have a problem, because Vortex has one of best warranties in the business and its customer service is great! I don't think you could hurt this scope unless you drop it out of a truck or beat it with a hammer.  The Razor HD Gen II 1-6×24 smokes my other scopes, and at a price point of almost $1K less. I will be fitting the rest of my rifles with the Razor HD Gen II very soon!!
Related Posts
« Home Defense Shotgun on A Budget Trijicon RMR-Miracle Micro Reflex Sight »