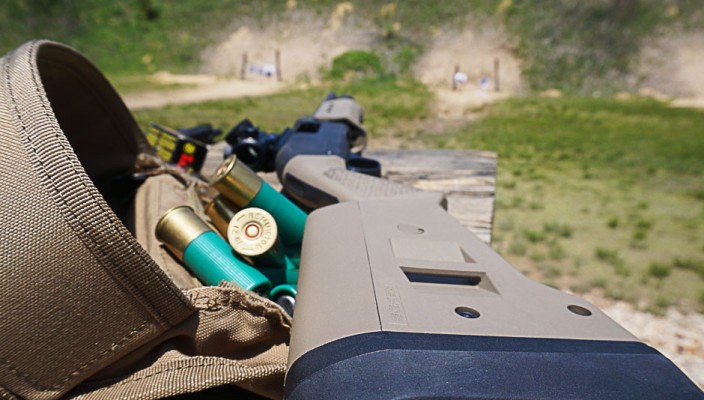 Being the "gun guy" in your family and group of friends has it privileges. One of the many great things is that you can directly affect the safety and well being of the people you care about. However what I hate most is constantly dispelling gun myths and legends. I think one of the most popular questions is "what is the best gun for ….". To be honest the best gun for anything is A. the one that you can afford to shoot a lot and train with  and B. the gun that you shoot the best with. Since there's no shortage of expensive guns that would take me a whole year to save up for, I thought I could bring to light one of the most effective and affordable guns money can buy.
I'm sure you've guessed by now that this isn't a post about a Hi-Point and quite frankly that gun is nothing more than a paper weight. The gun that I'd like you folks to take a look at is the IAC Hawk 981R 12 gauge pump shotgun. Yes it's a clone of the Remington 870 and yes it's made in China. If you put that aside what you have is a 12 gauge that is half the price of an 870 and accepts all of the same parts used to trick out an 870. This cheapskate comes with an 18.5 inch barrel and a capacity of 5+1 when using 2-3/4 shells. Based on all of the rave reviews of this shotgun, the $189 price tag was a no brainer.
I don't think I was ever so excited to get a Chinese knock-off  anything, but for some reason I was as giddy as a school girl when picking this gun up at my local FFL (Federal Firearms License). What you get is a bare bones, no frills pump shotgun with a Picatinny rail atop for mounting optics. The pictures you see above are NOT how the shotgun comes out of the box. Since it was literally half the price of a Remington 870, I knew I had some room in my budget for "improvements".
If you're serious about shooting this shotgun a lot, then the first two things that need to be swapped out are the stock and forend. I'll be honest with you guys, the stock and forend that came with it are "OK" at best. I wanted something that felt good in the hand and allowed me to operate the gun more effectively. The Magpul SGA stock and MOE forend for the Remington 870 fit this knock-off perfectly. The Magpul SGA stock is strange looking compared to the stocks that we're used to, it's like a hybrid of a pistol grip and traditional shoulder stock. With a super comfortable rubber recoil pad, adjustable length of pull and cheek riser, standard sling attachment points, and the option for quick-detach mounts, what more could you ask for?
The number one way to have a malfunction with a pump action shotgun is "short-stroking" or when the shooter doesn't bring the forend all the way back before racking it back into battery, which results in a shell not being loaded. What this means when your life is on the line and you fire off that first nervous shot , rack the pump back to load another round into the chamber, slide the forend forward, pull the trigger and nothing happens. This will not only leave you looking like a fool but will also allow the bad guy to get a shot in. The best way to fix the probability of that happening are to make sure you ram that pump all the way back every time. The Magpul MOE forend allows you too get an extremely positive grip and rack the hell out of the pump without worrying about your hand slipping off or short-stroking.
Since a majority of home invasions happen at night, a weapon mounted light is a necessity. I had to have a lot of different features out of a light for this shotgun: it needed to be lightweight, had to be able to withstand the violent recoil of a 12 gauge,  needed to work in a wide range of temperatures, had to run for at least 2 hours on high, and  most of all had to be high value. The Surefire G2X Pro not only does all of those things but leaves me only $60 poorer. I am by no means stuck on brand names, if I could have found a better light for cheaper I would've been all over it but let's face the facts, this is the best flashlight for the money period. Mounted up using Magpul's light mount kit, the light is right where I need it during any number of weapon manipulations.
If you're using this shotgun only for home defense, you can stop right here and you'll have yourself an $384 weapon system that'll stop everything from a hoard of zombies to the thief that picked the wrong house to break into. But if you want to add a little more capability to the shotgun for activities such as shooting slugs, then you've got to throw a red dot sight on there. I decided to slap a Bushnell TRS-25 onto this gun's standard Picatinny rail and after dialing it in, lets just say Daniel Boone has some competition. While only setting you back just shy of a Benjamin, this red dot is bombproof and allows you to shoot with both eyes open, accurately.
Like I said earlier, the best gun is the one that you can afford to shoot a lot and the one that you can actually shoot well. As a grown male and flirting with the 6 foot mark, I am able to comfortably shoot a 12 gauge shotgun. Depending on your size and preferences, there might be a different home defense setup that works for you. Regardless, the most important thing to remember is that you need to train, train, and train some more. What's great about the IAC Hawk is that it's so cheap that  you can use the additional $500 you would've spent on an AR-15 for ammo.
What do you think about the IAC Hawk 981R 12 gauge and the accessories I've added to it? Let me know in the comment box below. As always guys, shoot em straight and be safe!
Related Posts
« How to Acid Etch your Knife or Multi-Tool 3-Gun Competitor Brian Williamson's Review of the Vortex Razor HD Scope »