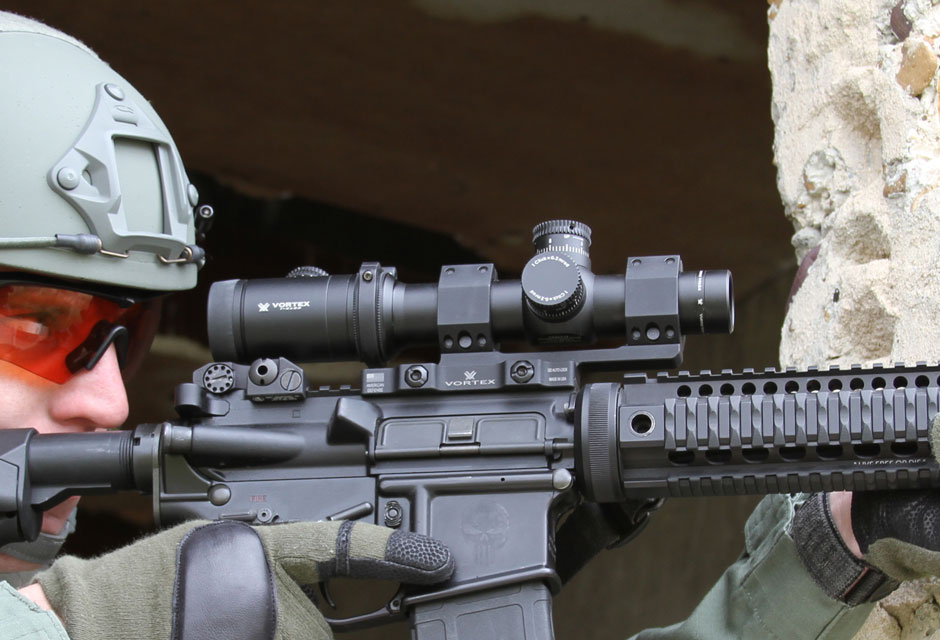 These days having a scope that can keep up with hunting trips, some target practice at the range, killing varmints, or even in case of zombie attacks, is ideal. That's why versatility is most important when I want to shop for optics. When searching for the perfect riflescope, you want a quality scope that will get the job done and hold up to the rigors out in the field. Some of the features I was looking for when purchasing a new scope were:
Fill the role of both CQB (Close Quarters Battle) and mid-distance shooting
Adjustable turrets
Night Vision capabilities
Possible illuminated Reticle
Long eye relief
A reasonable cost
After a long search and a lot of research I came across the Vortex Viper PST (Precision Shooting Tactical) Line, which retails around $600. Considering the amount of features and the overall quality of the scope, I was surprised by the relatively small price tag (I was expecting something in the $1000 range). Something interesting about the PST line is that it's made to appeal to the target shooter or sniper by adding a few extra target or tactical type features. Not that I'm a sniper or anything, but it is fun to target shoot once in a while. I ended up going with the Vortext Viper PST 6-24×50 FFP Scope. Some of my favorite things about this scope are the large exposed target knobs, Illuminated First Focal Plane (FFP) reticle, and a 30mm tube machined from a single solid block of aircraft-grade aluminum.
After pulling it out of the box, the feel of the scope is very well made with solid knobs that give an audible click when making adjustments. I also like that the illuminated reticle is designed for daytime, low light and night vision devices with clear settings that are specific to the light conditions. The illumination control can be turned on or off with a single click between each intensity level, which is perfect for keeping good battery life. Some of the extras about the scope that were huge selling points for me are the flip caps for additional lens protection, in addition to it being waterproof, fogproof and shockproof, which all adds to the scope's sustainability of being out in the field.
The glass in the Viper scope is very clear and stays true to the Vortex brand having high image contrast and sharpness in comparison to its price. It's extra low Dispersion glass and is fully coated to help with light transmission, which, in my opinion, would set the standard of scopes in its class.
Overall, this scope meets my expectations in terms of quality and durability, and I would recommend this for anyone who is an active shooter or hunter. The Viper PST has all the right features for a tactical scope and exceeds other scopes in terms of what you're getting for the price.
Finally, Vortex Optics come with a VIP Warranty which stands for a Very Important Promise to Vortex customers. They will repair or replace any Vortex product in the event that it becomes damaged or defective at no additional charge, and no matter what happened. Check out this video that explains more.
Related Posts
« Safety at Your Fingertips – Barska Biometric Safes OPMOD EOTech Sights – Exploring the Popularity »