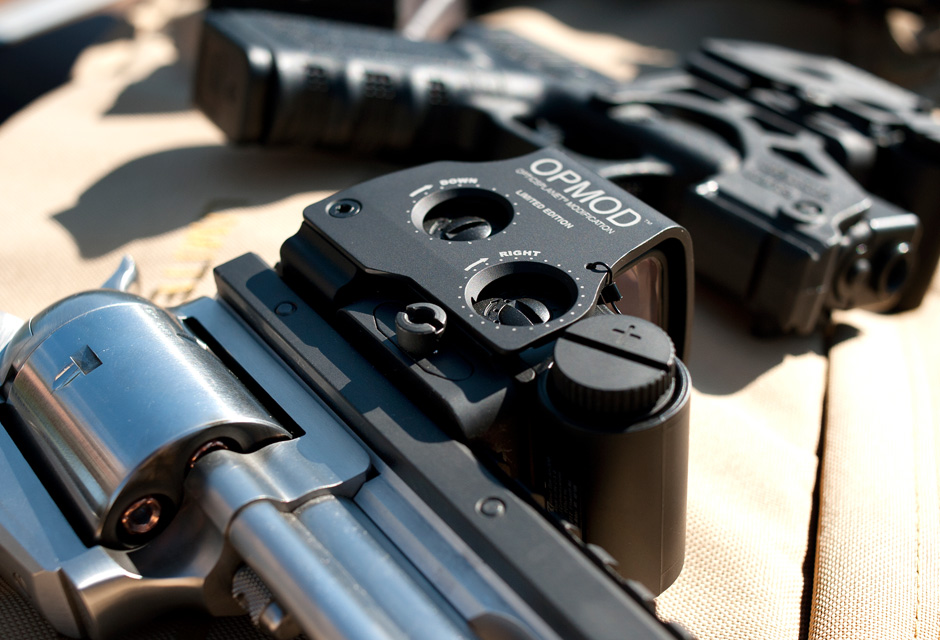 The OPMOD EOTech EXPS-2 Holographic Gun Sights, like most EOTech gear, are some of the more popular sights at OpticsPlanet. Why is that?
Well, they're Made in America, for one.
It's a mark of pride for many shooters. Buying an American-made sight ensures quality construction and years of use, while also demonstrating a support for companies that in turn support the U.S. Plus, it's just good to know where the product is coming from. More and more, I find myself checking for the "Made in America" stickers on things I buy.
But there's more to the popularity of the EXPS-2 than the country of origin.
The EXPS-2 from EOTech and OPMOD represents the collaboration of years of experience researching, developing, and providing for military and law enforcement personnel. That means that the EXPS-2 is consistently held to the extraordinarily stringent standards of waterproofing, shockproofing, and withstanding the tests of battle. When civilians purchase EOTech sights, they may never introduce them to these extremes – which makes them all the more tough, rugged, and ultimately desirable.
Not to mention the optics! The holographic imaging used in these OPMOD EOtechs is second to none, and allows you to keep two eyes open while shooting. I don't know about you, but I find that being able to keep both of my eyes open while shooting provides a level of comfort and freedom that I love. Plus, the sights are compact – taking up at most 2.75in of rail space, thanks to a shortened base. This makes them more compact than the wildly popular EOTech 550 Holosight and comparable in construction to the XPS-2 on which the EXPS-2 is based. However, depending on your needs, any of these sights will suit you – I find it's a matter of taste.
It's fairly clear to me why these sights are so popular. After taking a new OPMOD EOTech EXPS-2 Sight out to the range for a little target practice, I borrowed a friend's AR-15 which has had an EXPS-2 mounted on it for several months. The thing has taken a beating, let me tell you – but sure enough, it's still in working order! That's a good investment.
By the way, from now until January 31st, you can get a $60 mail-in rebate with select EOTech Holographic Weapon Sights, including the EXPS-2. If you're interested in other EOTech products, check out the ones that come with a $40 e-Gift Certificate from now until November 28th!
Related Posts
« Vortex Viper PST Line – For Every Shooting Style The Sporty New Celestron Optics »