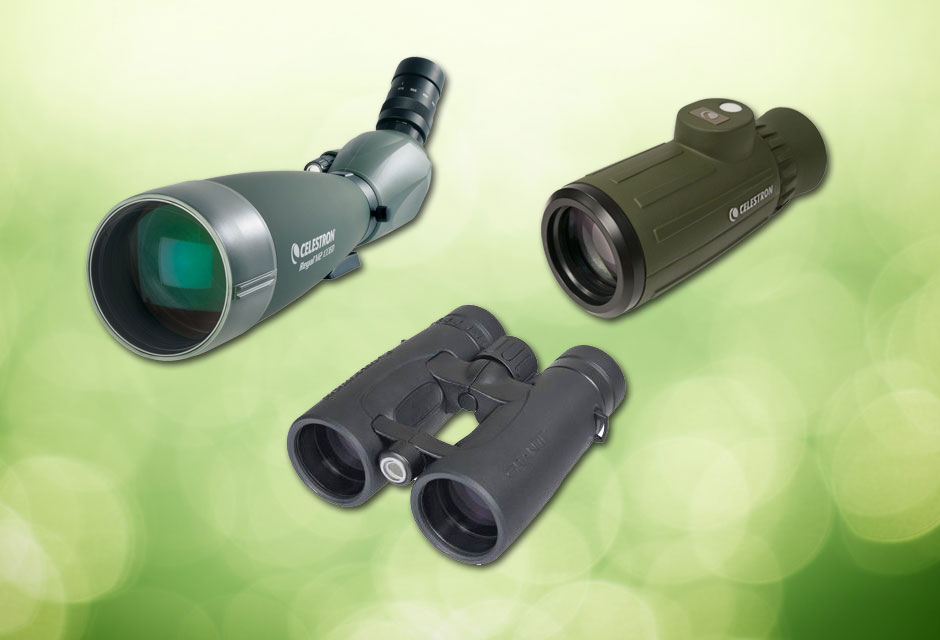 I love the outdoors. Doesn't matter what – hunting, sports, camping, whatever. I'm always willing to try something new. Now it looks like Celestron feels the same way. The company generally known for telescopes and astronomical equipment has taken a foray into sporting optics, and I can tell you, they're awesome. They're excited to bring you the peak Celestron performance that you're familiar with, now in action-packed form! Let's take a look at three new products from three of the Celestron sport optics lines.
A great man once said, "You can never have too many binoculars." But you may find you don't need much else when you pick up the Granite 10×42 Waterproof Roof Binocular from Celestron. These crystal-clear binos fit comfortably in your hand and are designed to take a beating, no matter what you're doing. Traveling? Birding? Hunting? Tuck away the Celestron Granite Binoculars and you'll always have your eye on the prize. Buy now, and you'll save $100 instantly on these Granite binos!
Celestron is no stranger to spotting scopes, but the Regal M2 100ED 26-67x Spotting Scope is one you'll want to check out. It's a doubly-tough scope designed to take punishment from the great outdoors, while still delivering peak clarity when you need it most. The magnesium alloy body is strong, durable, yet lightweight, so it's not a pain to carry around with you. Quite the opposite – you'll be eager to bring it along and set it up to get the best viewing experience possible. Whoa, plus you can get a $120 instant rebate on this Regal Spotting Scope.
Need something you can slip right into your pocket? Celestron knows how that works. That's why they're providing you with the Celestron 8x42mm Cavalry Monocular. Perfect for hunters, law enforcement, boaters, and more, you'll be able to take this compact monocular with you everywhere. The BaK-4 prism features increased contrast for better images, while the whole thing is sealed and nitrogen purged. Go ahead and get it wet!
I'm extremely excited to use this gear on my next adventure. It's good to know that no matter what I'm looking at, Celestron has me covered with a variety of sporting optics. Check them out today – which one is your favorite?
Related Posts
« OPMOD EOTech Sights – Exploring the Popularity Trevor Prepares for the Vortex Dream Hunt Trip »