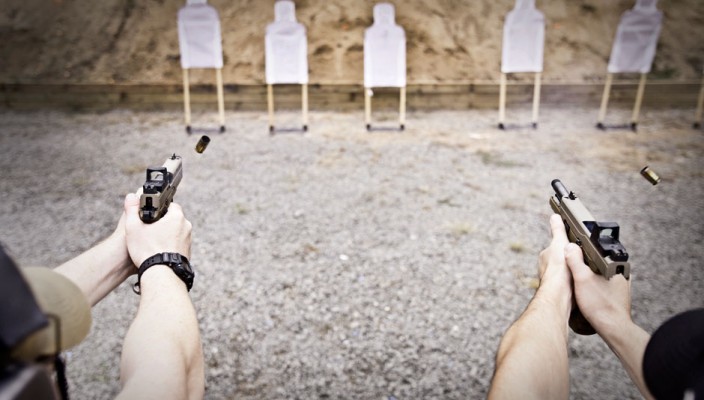 Its a fact,  your eyes will have a harder time picking up your iron sights the older you get. With the addition of some of the latest illuminated sights that you can throw on your favorite rifle or shotgun, you'll have no problem hitting your mark no matter how bad your eyes get. Unfortunately in the past  very few of these sights could be used effectively on a handgun. However times have changed, and the use of red dots on pistols has exploded on the market, with nearly every firearms publication showcasing a pistol with one atop. The number one miniature red dot that has been gracing the pages of these magazines is the Trijicon RMR.
Stemming from a background of building the best rifle scopes on the face of the earth, Trijicon is no rookie when it comes to developing an optic for your gun. RMR stands for ruggedized miniature reflex sight ,which in your mind should mean "hey I can beat the heck out of this red dot sight, plus its small so I can put it on anything." In all honesty, I would tell you that you're right. This sight was designed for hard use. Although the RMR is a beautiful piece of technology, the housing serves one purpose and that's function.
Some of you may be thinking, "why would I mount this red dot on my pistol?" Let me break it down for you why red dots on pistols are extremely practical. Like I noted earlier, as your eyes get older it becomes harder to line up those iron sights. The RMR allows you to naturally point your pistol at the target and quickly pick up the red dot. This may not seem like a big deal, but being a seasoned shooter I noticed how much faster it is to draw and pop off a shot with the RMR  on my pistol as opposed to traditional iron sights.
What sets the RMR apart from the rest of the sights out there is the "ruggedized" part of its name. The 7075-T6 aluminum housing allows the shooter to perform one handed malfunction drills. Basically this means the sight is strong enough for you to rack the slide of your gun off your belt or a firm edge. This may not seem of high importance to you but when the stuff hits the fan you may not have the use of both hands and might have to rack the slide singlehandedly.
If the aging eyes or the bulletproof construction haven't won you over than maybe the 4 year battery life will be the deciding factor. Yes you heard me correctly, 4 YEARS! If that doesn't get you excited about this miniature red dot then I don't know what will. With a crazy long battery life and a housing that will probably last an eternity, there's no reason a Trijicon RMR shouldn't be your next purchase. If you guys have more questions about the RMR, feel free to leave them in the box below.
Related Posts
« 3-Gun Competitor Brian Williamson's Review of the Vortex Razor HD Scope Top 4 Things to Look for In a Flashlight »