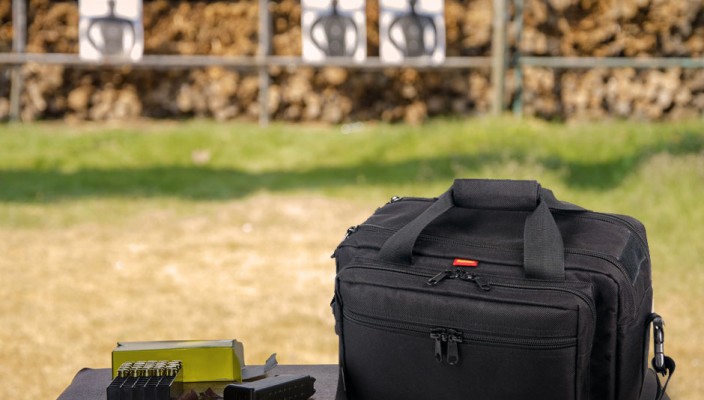 I'll tell you from firsthand experience: organization is half the battle. No matter where you shoot or what types of guns you're shooting,  being able to find your gear while at the range is paramount. There have been countless times that I've been at the range and thought I lost a magazine because I would just throw it in my bag. Had I bought myself a Bulldog range bag, that frustration of thinking I lost some shooting gear wouldn't happen.
Bulldog range bags come in at a great price point and deliver amazing value. Built with a rugged nylon exterior and sealed with strong #10 zippers, these range bags are as tough as the dog they're named after. Whether you need a smaller bag to transport a single pistol with a few magazines or a massive bag to haul a days worth of competition necessities, Bulldog has a range bag for you.  Their bags all include plush straps and feature a "grab-n-go" mentality.
In my opinion, the Colt Extra Large Molle range bag is the perfect size to fit your primary pistol and a backup gun. This bag is large enough to fit all you range goodies like hearing protection, shooting glasses,  a cleaning kit and more ammo than you could shoot in a day. My favorite feature of this range bag is the ton of MOLLE attachment points to hook on a first aid kit or any other pouch. I love having plenty of options with gear, and this bag gives you the ability to remove the four large exterior pouches.
Want something without the MOLLE and a smaller package? The Extra Large Deluxe range bag from Bulldog is the perfect fit.  This bag is still big enough to haul a pistol or two and essential range gear but it doesn't scream to the general public that there's a gun inside. To the naked eye, you would never guess that it features three hidden compartments and includes a nice pistol rug as well.
I have to admit that I am quite the klutz and somehow managed to spill a drink on my range bag. Let me spare you the details, but everything in my bag was wet because of it. Bulldog has built their range bags to be "klutz-resistant" a.k.a. water resistant, so cleaning up those mishaps is a thing of the past.  You'd be hard pressed to find a Bulldog range bag that doesnt fit your needs. Like I said earlier, organization is half the battle and with one of these bags, there's no reason you can't perform on the range.
Still want to know more about Bulldog Range Bags? Feel free to ask below. As always guys, shoot-em straight and be safe!
Related Posts
« Vertx Gear and Kryptek Camo: What Is It? Why You Need It? EOTech Holographic Weapon Sights: Benchmark Accuracy and Reliabilty »