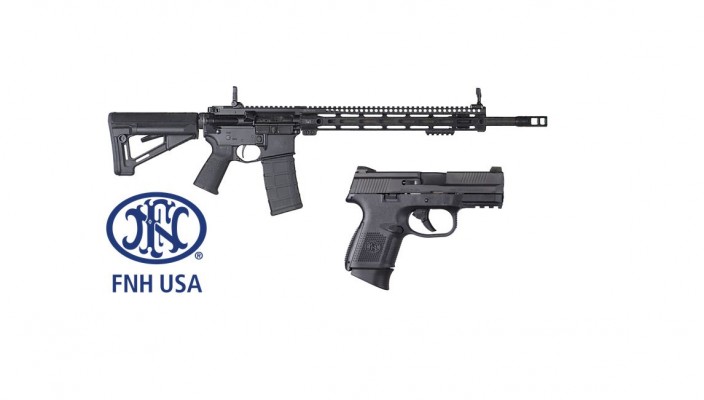 This week, we have resident gear expert Jeremy "The Deer Hunter"  Handel here to walk you through the guns we are giving away as part of this month's Gear Up for a Cause campaign.
There are few experiences in the world more exciting than when two things come together in perfect harmony. Bread and slicing, cats and pajamas, guns and ammo, and birds and bees are some very good examples. It was with this in mind that OpticsPlanet developed this year's Gear Up For a Cause campaign, which brings together two of FNH's band spanking new, top of the line firearms and one amazing charity campaign. Charity and FREE guns?! That is a combo worthy of the ages, and I for one could not possibly be more ecstatic. Not only are they supporting a great charity that I can feel good contributing to, they are also supporting me in my famously ridiculous love of all things weapon!
First off, let me take a quick second to talk about Gear Up For a Cause. All spring long, OpticsPlanet is offering a collection of incredible Gear Up for a Cause sales events from some of your favorite brands. Best of all, they are donating a portion of their proceeds from these events to the amazing Fisher House Foundation. Having served more than 25,000 families in 2014 alone, the Fisher House Foundation provides a no cost, comfortable place to live for the spouses and children of active duty personnel and veterans undergoing medical treatment. For 25 years they have been helping to ease the stress of military families that truly need it, and we encourage you all to go check it out.
Now let's get to the fun stuff…In addition to the charity campaign I mentioned, OpticsPlanet is also running a Gear Up for a Cause Sweepstakes. There are over 40 prizes available, including riflescopes, binoculars, and ammo. However I want to talk to you today about my two favorite prizes on the docket –brand new FNH firearms!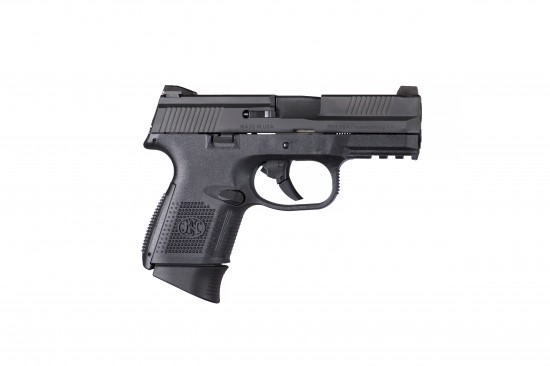 Designed for easy concealment and lightning fast draw, the FNS-9 Series Compact Handgun is not so much speaking to my inner gun nerd, as it is yelling at him at the top of its lungs. The FNS 9 Compact has such a sleek look it should be in a showroom displayed in the center of the floor with a single white light hovering over it for all to see, as it elegantly rests upon a silken red pillow. I'm pretty sure tiny naked angels are playing harps in the background. Not only does this 9mm look fantastic, it's packed with some genuinely impressive performance features! Polymer frame construction, a large front dot, a stainless steel slide, and a cold hammer-forged barrel, are few of the many features you will have the pleasure of experiencing with this excellent handgun. Now, my friends know that I am addicted to flashlights, lasers and random accessories for no reason other than they are extraordinarily cool to play with, look at and show off at the range. And what sci-fi geek / gun nerd wouldn't love to make their gun look like it's straight out of Star Ship Troopers? I certainly don't have the answer to that ridiculous question. That said (yes I actually do have a point), the Compact 9mm is a great gun to mount your favorite accessories on. Thanks to the Picatinny rail on the bottom of the barrel, there is no limit (well…there is SOME limit) to the things you can do with your brand new 9mm.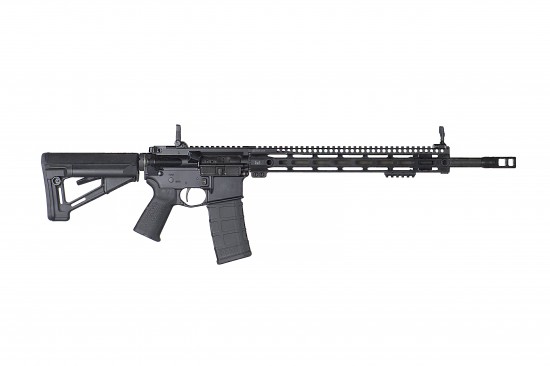 And now… The moment you've all been waiting for… The FNH USA, FN 15 series, carbine length, AR15 styled, tactical rifle! Pardon me for a second while I drool all over my keyboard and ruin my clothing. I haven't been able to try one yet, but that shouldn't last too long. My word, is that a fantastic looking rifle or what?! My wife would very much prefer that I didn't get another gun that I don't need, but I am going over her head on this one. Featuring a 16-inch, button-broached, chrome-lined barrel and a collapsible, 6 position stock with a handy sling mount, there is no tactical shooter out there that won't love donning this awesome AR in the field. I seriously can't wait to get mine, slap a scope on it (or red dot, I have so many to choose from that I can't decide), and take it to the range. Without informing my wife, of course.
Now I hear you asking yourselves, "DH, how on earth do I obtain entry into this outstanding contest so that I might procure one of these awe inspiring firearms?!" Well, that, my friends is the easy part. Simply fill out this form and you'll be entered for your chance to win one of these excellent prizes.
So, my very good friends, companions and well-wishers, stop by OpticsPlanet, check out some of their once in a lifetime deals and enter this amazing contest. Trust me, win or lose you will be glad you stopped by.
Until Next Time!
Your friend,
Jeremy "The Deer Hunter" Handel
Related Posts
« Glock "GO-Fast" Mods 7 Killer Gift Ideas for Father's Day – Come Here You Old Son of a Gun! »