As promised, we're rolling out new videos with a lot more footage from SHOT Show 2012.  Last week we had some quick recap videos, but now we get to take the hours and hours of footage we shot for full length videos!
First up, we have our full video for SHOT Show Media Day.  We were introduced to a TON of products on Media Day, and we got to try a whole bunch of them out!  I won't steal Steve's thunder, so I'm just going to give you a quick rundown of what you'll see in today's video!
EOTech G33 Magnifier and Zombie Stopper
Steve shows off the EOTech XPS2- Z Zombie Stopper Holographic Weapon Sight first.  I've talked about it a couple times now, mainly in our SHOT Show Day 3 Roundup, but I didn't get to see it in action before.  The bio hazard reticle looks really cool, and while it's a pretty busy sight picture, I think you'll still be on target when a biter comes your way.  You get to see it in action on a SCAR Heavy, which has more than enough stopping power to put down a zombie horde.  As Steve mentions, the Zombie Stopper is based on the EOTech EXPS-2, but as he equips the SCAR Heavy with both the Zombie Stopper and the new G33 Magnifier, I can't help but be reminded of our OPMOD EOTech MPO-II, which combines a night vision compatible holographic weapon sight with the G23 Magnifier.  It looks very similar to some rifles I've seen with the OPMOD sight attached, though these may be slightly more adept at taking down zombies.
The G33 Magnifier is excellent.  A upgraded version of the G23 magnifier, the G33 has a Shift-to-Side mount, which is a little quicker and easier than the G23's Flip-to-Side mount.  It also has a diopter eyepiece, which is great for those of us with eyeglasses, or anyone who wants a little more focusing flexibility with their magnifier.  You can see just how easy it is to push the magnifier in place or shift it to the side.
Steve also briefly mentions a new green laser sight from EOTech, the M6XG, and he talks about the difference between a green laser and a red laser.  It's cool to see Steve give this kind of insight right at the range.
Rapid Fire with Kriss Vector SMG and a Colt 1877 Gatling Gun!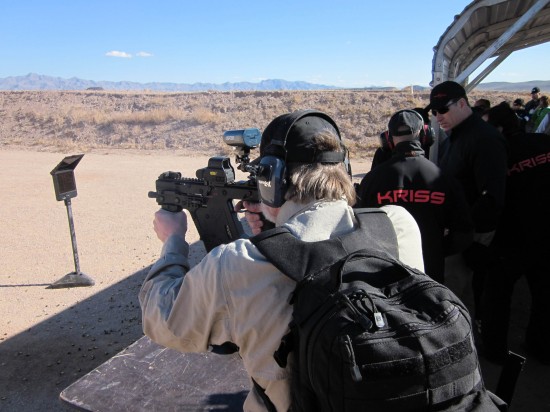 Steve will show you a bit about the new KRISS Vector SMG, which is a really innovative new firearm that is incredibly controllable, and will be an effective tool for law SWAT and military use.  The new features in the KRISS greatly minimize recoil, and when paired with a red dot sight (like the Zombie Stopper!) it will be an absolute force to be reckoned with.
We also got some footage of an 1877 Gatling Gun by Colt.  I think I might have mentioned the Gatling Gun as a Civil War era firearm on a prior post, and while they had them at that time, this is a later model, but still an old time gun that is a lot of fun to shoot.
Trijicon TARS Riflescope Rings Plates at 900 Yards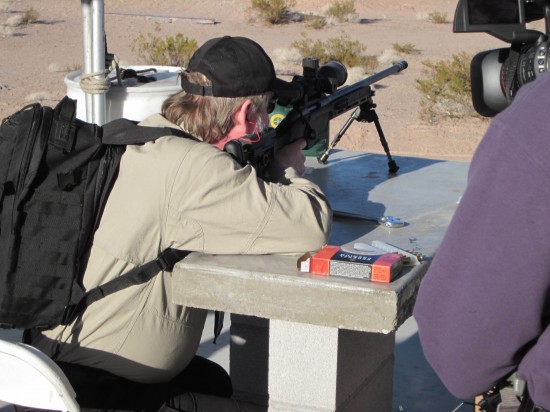 Trijicon's coolest new Scope this year has to be the TARS.  The Trijicon TARS (Trijicon Advanced RifleScope) is a 4-15X scope with a 34mm tube, so it's pretty versatile and a great choice for hunters.  Steve was hitting a lot of shots at 900 yards, and I bet you'll be on target at greater distances than ever before too!
We round out the video today with some of the new ammunition shown this year.  The Winchester Razorback XT 150 Grain, a proprietary ArmaLite magazine, and what really impressed Steve, the Lightweight Polymer Case Ammunition by PCP.  As he says, they wouldn't even let him take one of the bullets home because they're so new and unique.  I guess they don't want to reveal all their secrets until these bullets are on the shelves!
This is just the first of our full videos.  Expect to see a LOT more in the coming days and weeks.  GearExpert by OpticsPlanet's coverage of the main 4 days of SHOT Show will be broken down into more specific videos because we have SO much to show you!  Expect to see videos on Bushnell, Crimson Trace, EOTech and more!
Latest posts by OpticsPlanet
(see all)
Related Posts
« SHOT Show Day 3 Video Roundup and Products from Pelican, EOTech, Nikon & More! Mission First Tactical SHOT Show Coverage! New MFT Grips & Accessories! »