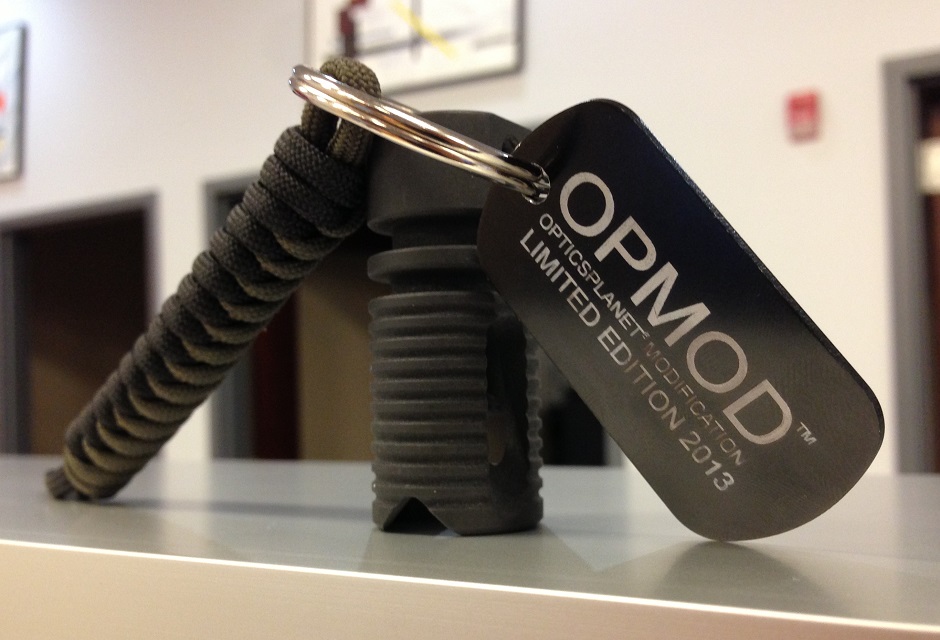 We've had a lot of fun over the last year with the OPMOD Battle Mug.  It was featured all over the internet as well as big time news stations like FOX News.  A product like that needs a suitable sequel.  Enter the OPMOD Tactical Bottle Opener.
This isn't just any bottle opener.  This one's tactical…
What does that mean?  Well, it's more than the fact that it looks like an AR flash suppressor.  This puppy has true tactical brilliance in every atom.
Let's start with the bottle opener itself.  Much like the Battle Mug before it, the TBO (tactical bottle opener) is tough.  Having handled the TBO for a few minutes I wanted to provide a metaphor that would give you a really good idea of its durability.  That desire to provide an accurate analogy led to these:
The OPMOD Tactical Bottle Opener is strong enough to withstand three kicks from Chuck Norris.
When trying to crack open an egg with the TBO, a super dense singularity caused a black hole, which would normally have destroyed the Milky Way Galaxy, but the gravitational power was instead contained within the bottle opener.  Anything that attempts to destroy it will be instantly atomized and further fuel the TBO.
Once, a super-advanced alien civilization tried to take over the Earth.  A young girl armed with only the OPMOD TBO not only defeated them, but also forced them to give us their incredible scientific advancements.  From that day forward we had two-sided tape and microwave ovens.
Those were the best analogies I could come up with.  The OPMOD Tactical Bottle Opener is truly a phenomenal piece of equipment.  We've tested it extensively, and we can assure you it opens bottles.  But it's a tactical bottle opener, so there needs to be some justification for that, right?
The TBO comes with a paracord, which is an incredibly useful survival and tactical tool.  It can be used for building shelter, making slings and a whole lot more.  Since you'll be tactically opening bottles, the paracord is a perfect accessory for helping keep a hand on the TBO.  Just tie it to your wrist or belt and you won't need to worry about dropping it at an inopportune moment.
In addition to being tough and cool, the TBO is quite patriotic.  It comes from the same manufacturer as the Battle Mug, and was made in the USA.  Everyone who sees you with it will know 3 things immediately:
You're awesome – Tactical Bottle Openers are the surest way to tell people this.
You're a fan of OPMOD, meaning you appreciate the world's best gear
You love America – and you should.
If you want to see the OPMOD Tactical Bottle Opener in action, check out the video at the top of the page.  Alessandro and Steve had some fun checking it out.
Latest posts by OpticsPlanet
(see all)
Related Posts
« ATN Night and Thermal Vision Wins A Reader's Choice Award Steiner Closeout Binoculars Are Going Fast »