It is human nature to want to know what is lurking in the night. Unless you have the eyes of a cat, it is dang near impossible to see more than 15 feet away some nights. Whether you hunt in low light/ no light or need to be able to see for other tactical reasons, night vision is a must. If you're serious about seeing what moves in the night, there's an OPMOD night vision device for you.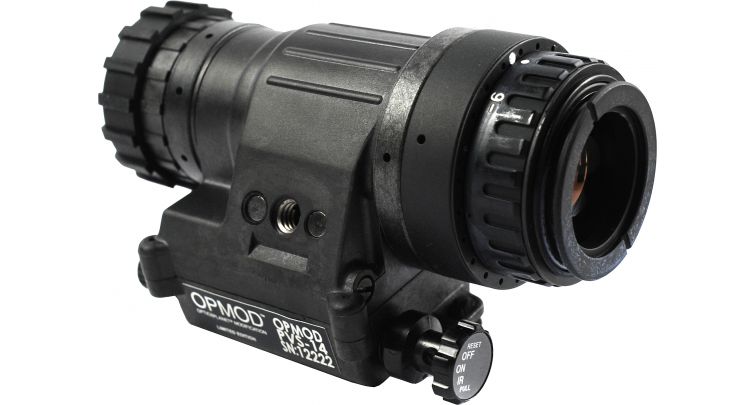 OPMOD GEN3MM 2.0 Limited Edition PVS-14
Proven by the military and swat teams for years, the Pvs-14 gets the job done. No matter if you're kicking in doors for nighttime CQB operations or hunting Feral hogs, this device will deliver outstanding performance. Being that is a Gen III device, it provides you with 64 lines per millimeter resolution and is waterproof down to 66 feet. One of the nicest features is that it comes with the head mount kit so you can use the device hands free. A great combo this device is an IR laser sight, it makes night time operations as easy as shooting in the daylight.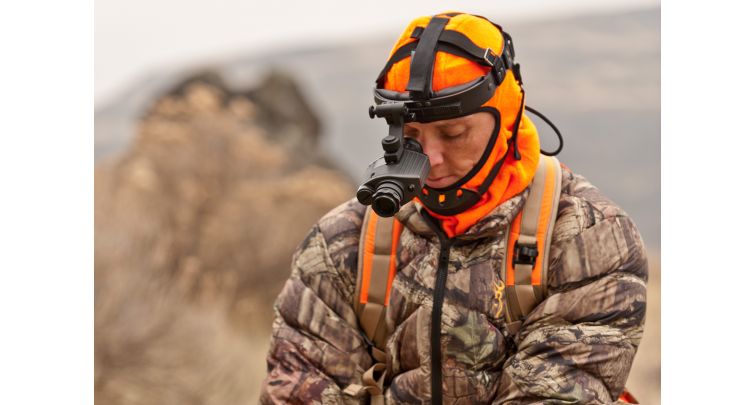 Another great option for a head mounted night vision device is the OPMOD Armasight GEN1M 1.0 Limited Edition Gen 1 Night Vision Monocular. This device comes in at lower price point but it gives you features that are unheard of at the generation one level. This monocular was designed by Armasight for the OPMOD brand, it features a high resolution gen. 1 image intensifier tube, water and fog resistant, and a built in IR flood illuminator. The head mount that comes with this device was highly engineered to not only feel super comfortable on your head but give you the option to flip the unit up out of the way and slide to your other eye. This truly is an outstanding device for anyone looking to buy their first night vision unit or a lightweight, bombproof monocular for the more experienced user.
Need a night vision monocular that is ultra compact and affordable? The Carson OPMOD mini Aura digital night vision pocket monocular is an awesome little device that you can easily fit in your pocket. This miniature monster is digital, so you don't have to worry about turning it on in the daytime. With the easy to use design and quick adjust dials, you can take this thing with you everywhere. I actually referred this product to a police officer friend of mine and he carries this thing with him while on duty. According to him, he can quickly use the Carson OPMOD  mini Aura to effectively search for perpetrators  in dark environments. I highly suggest picking one of these little guys up and for the price, I'd buy two.
Don't worry I haven't  forgot about you hunters out there. The OPMOD guys teamed up with Armasight to come up with a very nice night vision rifle scope. The Armasight OPMOD  limited edition gen 1 night vision riflescope was designed with you varmint stalkers in mind.  This night vision rifle scope features a perfectly crisp three power magnification, great for everything from hunting pesky coyotes to Feral hogs.  Offering plenty of eye relief for 5.56 rifles, it looks very cool on any flat top AR-15. Every aspect of this scope has been thought of, including the robust aluminum housing that is covered in a matte black rubber finish. The creatures of the night have met their match with this night vision scope on your rifle.
If you need something that will give you incredible detail in the darkest of nights,  the
OPMOD ITT limited edition gen 3 night vision monocular
has you covered. This night vision unit performs flawlessly in any night time surveillance operation or simply viewing animals that come to life after the sun sets. This unit provides you with a stout gen 3 intensifier tube for ultimate clarity, automatic brightness control, and a pretty sweet automatic bright light shut off to protect the device. Need a night vision monocular that you'll be able to use for long periods at a time?  Not a problem with this device, thanks to an amazing thirty hour battery life and ultra ergonomic body.  This gen 3 night vision monocular in my opinion is  steal compared to the astronomical prices of other gen 3 monoculars in the industry.
When your job, safety, or hunt requires you to see clearly no matter the darkness, you can count on these night vision devices to get the job done.  Unless you recently inherited Superman's eyes, there are infinite uses for purchasing a night vision unit. Once you make that first purchase, you quickly understand the benefits that they give you. I know from firsthand experience that these night vision monoculars will more than exceed your expectations.
Let me know any guestions or comments you have about any of the OPMOD night vision devices. As always guys, shoot em straight and be safe!
Related Posts
« Steiner Nighthunter Xtreme: German Perfection, Hunter Approved Vertx Gear and Kryptek Camo: What Is It? Why You Need It? »