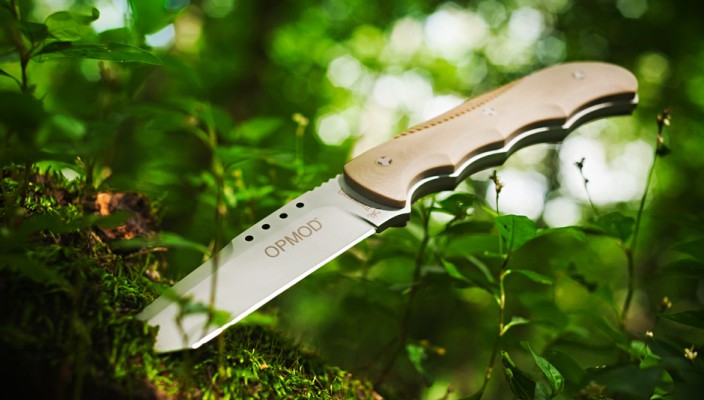 What do all of your favorite action heroes have in common? Besides chiseled arms and the ability to defeat a whole army singlehandedly, they all had wicked blades. There is something about a finely crafted blade that as soon as you hold it for the first time, it gives you the action hero masculinity that you've been longing for. Now no knife is going to give you the sweet skills of Steven Seagal but these OPMOD blades are perfect for everything in between.
The OPMOD Browning Limited Edition Tanto Fixed Blade was built by an outdoorsman for an outdoorsman.  Designed by Russ Kommer, a long time hunter and outdoor enthusiast, this knife is the perfect balance of looks and utility. Based on a tanto design, the heavy duty  3.5 inch stainless steel blade will excel in any outdoor task. The handles on this knife are made from ultra durable G-10 and do a great job of not only providing excellent traction but give it a look that you'll want to show off to all of your friends.
If you need something a little more Crocodile Dundee style, the OPMOD Browning limited edition sway belly is the answer. As soon as you pull this knife out of it's sheath, everyone in the room knows you mean business. Another awesome design by Russ Kommer, you know that this knife was made for the ultimate end user. Sporting a massive deep belly stainless steel blade, you can use it for anything and rust will be a nonissue. When you grab this knife it sticks to you hands thanks to beautiful G-10 scales and deep finger grooves. Another added benefit is the positive jimping on the back strap of the blade, which allows you to choke down for that fine detail work.
The most often overlooked item when purchasing a knife is a sheath. Unfortunately many manufacturers choose to either fail to include a sheath or give you some piece of junk sheath that you wouldn't use for a butter knife. Lucky for you, both of these OPMOD knives come with sheaths that are of equal quality to the blades that go in them. Developed and manufactured by Blade-Tech an industry leader in holsters, you know you'll have a sheath that you can count on. Both knives lock in very positively into their sheaths and attach using the patented Tek-Lok design. Which means no matter what size belt you're wearing, this sheath will not only fit but will give you more adjustability than you'll know what to do with.
When you want to unleash that inner action hero inside of you, get yourself a knife to match. No matter which blade you decide to go with, both of these OPMOD will get the job done and look good doing it. If you can't make up your mind on one of these knives, feel free to ask your questions below.
Related Posts
« Getting Crafty With Paracord OPMOD Bags and Cases-Tough as Nails »