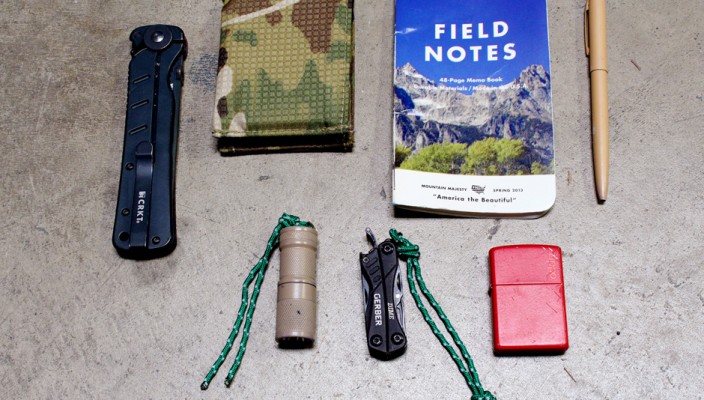 I come from the school of thought where I'd rather have something and not need it than need  it and not have it. That is not to say that I am 100% ready or prepared for every crazy scenario that can happen. Don't you think it would be extremely beneficial to have a few items that could help you out in a majority of possible every day situations? I do, and that's why I am part of a large group of people that carry a variety of helpful tools which we like to call EDC: Every Day Carry.
When trying to decide what to take with you every day, you need to be realistic in what you hope to accomplish with these items. Before you put anything in your pocket, you need to sit down and brainstorm what items you actually need. The tools and gadgets that a farmer carries are going to be very different than what someone living and working in a metropolis needs. As long as you have something that fits the following types of tools, you should be in a much  better position to handle anything that life throws at you.
A pistol is probably one of the most important tools that you can carry with you in your day to day activities. What pistol you carry is  one of the most controversial topics you can bring up. Whether or not you have your CCW license, let's set this issue aside and talk about some of the other useful tools that you might want to have on you.
This may be a no-brainer for some of you, but carrying  a knife with you every day can prove to be remarkably beneficial. There is always something that needs to be opened, cut, whittled,  sharpened or poked. Along with a wide assortment of every day uses, having a knife with you in the outdoors is a big game changer. You may be saying to yourself, "I don't plan on going out into the woods or back country." Well, no one ever "plans" on getting themselves in any number of tricky situations, but somehow they seem  to happen whether or not you want them to. I'm not saying you have to carry the knife from Rambo, but any knife is better than no knife at all.
Selecting a knife is probably one of the most difficult decisions of your every day carry system. I would suggest that your first plan of attack be to seek out the laws regarding knives in your area. Based on what those laws say, you can narrow down the type of knife based on your individual needs. Do you want a knife purely for defensive purposes? Do you want a blade for utility tasks? Fixed blade or folder? The list goes on, but my best advice is once you pick something, carry it with you everyday in every pair of pants you own. If you're new at EDC, figuring out what knife works for you is part of the allure. What I can tell you from years of experience is that two of the biggest factors for what works are size and weight.
The next every day carry necessity is a multi-tool. Multi-tools come in all different shapes and sizes as well as specialty designs for a variety of uses. Luckily enough, many manufacturers tell you what the philosophy of use is for that tool. You can always think outside the box and use the tool for something other than what it was intended for. When shopping for multi-tools, you have to consider that the larger the size of the tool, the more capability you are going to get out of it. For example, the pliers on my Gerber Dime are not nearly as strong as the ones on my Leatherman Wave, but then again the Leatherman is about four times heavier and more than three times as large. Like I said earlier, everyone's EDC is different, and for me – I don't have the need to carry a full size multi-tool every day.
I can tell you from first hand experience that although I love my knife, I find myself using my multi-tool much more often. A multi-tool can best be described as a folding tool box for your pocket and that is basically why you want it. The ability to tighten screws, file objects, pry, strip wire, and most importantly – open a beer, which is unbelievably helpful. When looking for a multi-tool, try to stick with an option that includes pliers, screwdriver, knife, and some scissors, because these will be the tools you will find yourself using most often. From there, you can decide what additional features you need in an multi-tool. I stress the size and weight issue only for what you are going to be carrying on your body. You can always decide to carry a larger multi-tool or knife in your car or in a backpack.
One of the last items that you should not leave home without is a flashlight. You'd be surprised how frequently you will need a light. There are a million and one reasons to carry a flashlight, from inspecting a rattling noise under  your car to signaling for help. There are a ton of options for lights but once again I like to stick to something that gives me the most runtime and highest lumens while still being compact. The advancements in flashlight technology have allowed manufacturers to squeeze huge amounts of light from compact sizes. For instance, my carry light is slightly smaller than a shotgun shell, yet it pumps out a whopping 210 lumens and is great for any number of uses. As always, you need to decide what you expect to be using the light for before you spend your hard earned cash.
Time is money, and although your cell phone can give you the time, a watch has many other benefits. Now, a watch isn't in your pocket, but it is still considered an EDC  essential. You can't go wrong with wearing some of the newest ABC (altimeter, barometer, compass) watches that have hit the market.  An altimeter gives you the ability to tell what elevation you are at which is extremely useful when using a topographic map but is also life or death when diving. The barometer function allows you to see changes in air pressure, which directly relates to the future weather. The digital compass is also helpful in determining your bearings. By simply wearing an ABC watch, you could hypothetically be dropped in the middle of the woods and be able to effectively navigate to safety and shelter yourself from storms. I don't know about you, but that kind of capability is worth the small amount of effort it takes to put on a watch every morning.
In this age where people do less and less things themselves such as repair their car, fix a door knob, and so on. Wouldn't it be nice to have the ability to do these things on your own by simply carrying a few items in your pocket? EDC or every day carry is much more than just a way to fix things. Just like the clothes you wear, the items you EDC give people an insight as to who you are. I can talk about EDC'ing all day and I've given you plenty of advice, so now its time for you to take action. I promise that once you make that first gear purchase for your every day carry, you'll be hooked.
Still can't make up you mind on what you should throw in your pocket? Feel free to leave your questions and comments below. As always guys, shoot em straight and be safe!
Related Posts
« EOTech Holographic Weapon Sights: Benchmark Accuracy and Reliabilty Vortex Viper PST »