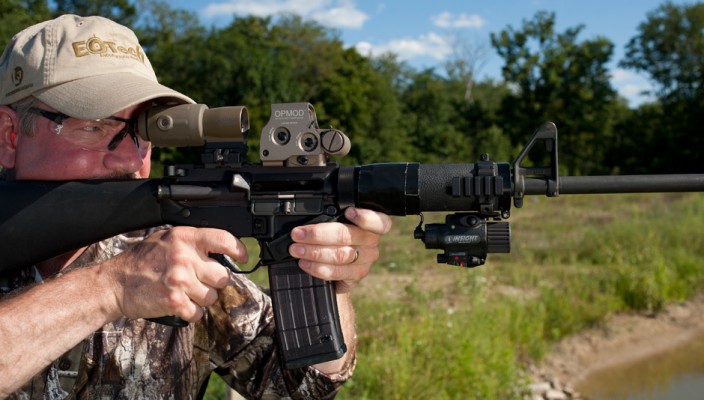 Building an AR-15 is one of the most enjoyable gun builds there is. It's fascinating to see all these different parts come in from varying manufacturers and somehow they all bolt together without a hiccup. Now that you've got this rifle all bolted together and have spent a lot of time as well as money, what are you going to do for an optic? Don't tell me you've spent at least $1,000 or more on your dream rifle and you're planning to mount a chincy sight on it. When I built my AR, there was only one real choice and that was EOTech EXPS 2 holographic red dot sight.
There is no replacing the need for iron sights. Who said that you couldn't run your stock irons and a sweet setup like the OPMOD EOTech EXPS-2? A holographic weapon sight compared to iron sights is night and day. I know some of you guys are old fashioned but when you get older it's harder and harder to get a good sight picture with standard weapon sights. I think one of the greatest benefits of this sight is the  ability to quickly engage targets with BOTH eyes open. It is a totally new experience to shoot with both eyes open. Should you ever need to defend yourself with your rifle, closing your non dominant eye substantially reduces your peripheral vision. Not to mention that if you don't have to close that non dominant eye, you'll be able to get shots on target quicker and more accurate. The other great feature about the OPMOD EOTech EXPS-2 is the reticle. The model that I have sports the 65 MOA ring and the two dots in the middle. That huge ring is practically point and shoot when it comes to aiming in CQB scenarios.
Why is this weapon sight chosen by military and law enforcement professionals from around the world? It works every time you turn it on, plain and simple. Sure the rugged construction and crazy long run time help, but the peace of mind that when things get heavy this sight will do it's job is worth everything. If Murphy's Law plays a constant role in your life, the OPMOD EOTECH EXPS-2 is waterproof down to 10 feet. You also don't have to worry about forgetting to turn the device off, it'll do that for you after 12 hours of inactivity. Honestly, good luck finding another weapon sight that does all these things in a small package like this one. This baby hasn't let me down yet on my rifle and I know if you pick one up it'll do the same for you.
What would you mount this sweet OPMOD EOTech EXPS-2 on? Let me know in the comment box below.
Related Posts
« Lyman Reloading Equipment SCOUTING SEASON – Time to Put in the Work for Deer Season! »