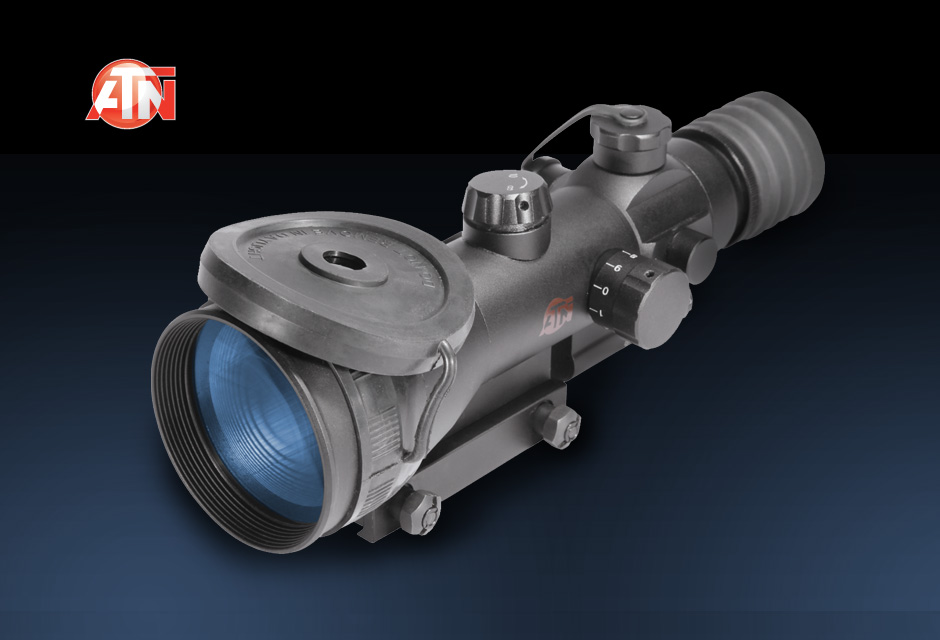 ATN and their ARES  weapon night vision systems are the latest upcoming series of night scopes from ATN. Although I have yet to get my hands on one of these new scopes, the specs and the information I have attained has my finger feeling a little itchy.
These scopes are terrifically rugged, totally easy to use, and exceptionally accurate. The new ARES 2-2, ARES 4-2, and ARES 6-3, eliminates the cover of night by making things bright!
Amazingly high resolution due to quality glass, tubes, and filters make target acquisition instant and beyond easy. The clarity of the lenses and filters nearly eliminates the typical "grainy" appearance so common on most night vision systems. With automatic brightness control features, operation of these scopes is almost completely automated, allowing you to focus on what's hiding out in the dark.
One knob operation! I love simplicity in the field. Scopes that have as many buttons and knobs as a DVD player have no place in the field, or on my gun for that matter. These are night vision scopes, after all – you're going to use them in the dark. In this hunter's eyes, what good is it if you have to pull out a flashlight just to operate the scope? With the ATN ARES line, operating the scope will become second nature.
Precision windage and elevation adjustments, tethered with a red on green reticle makes for astonishing clarity and accuracy. ATN ARES scopes have excellent eye relief, meaning they can easily be mounted on a bolt action rifle – not just tactical or AR platforms. This is something I have personally always been on the hunt for. Land ownership takes both animal and land management. Lately, the influx of coyotes on my property has me ready to take action. Having grown up on bolt action, I have always wanted a superbly accurate night vision setup for bolt-action rifles. ATN has finally answered my needs.
The ARES series of night vision scopes from ATN run on just one AA battery! What powers any optical device is always something to keep in mind. Night vision, digital cameras, and range finders, all need batteries and sometimes finding those special lengthy named batteries can be somewhat difficult. Powering these scopes with a AA battery means that wherever you are in the world, chances are pretty likely the nearest store has them in stock. Trust me: there is nothing like hours of traveling and countless hours of preparation just to get to the field to find dead gear. Sometimes, simply during transit, the power buttons are hit or the power is activated, draining the batteries. So being able to replace or find the needed power source is essential. This is especially true when the closest store by miles is a feed and grain co-op!
An ATN two year warranty lets me sleep easy after investing in one of these scopes. These scopes might be the pinnacle of night vision technology, but they're still a piece of gear. As such, they need to last. I test my gear by using it, and when I use my gear I take it to the max. Weather conditions, transportation, and terrain cannot stop me and most certainly not my gear! ATN scopes – and in particular the ARES series – are extremely tough, but it's nice to know that ATN has my back should the scope fail.
Everyone from hunters, professionals, and wild life observers to those seeking better home security should keep their eyes out for these awesome scopes! They are sure to put to rest any critters that goes bump in the night. The ATN ARES 2, 4, and 6 will be available soon so be sure to check back in with GearExpert for product availability and updates.
bolt-action 
Related Posts
« Last Minute Gifts: the Browning OPMOD Tactical Executive Set New Terralux Colorado Flashlight Lights Up The Night! »