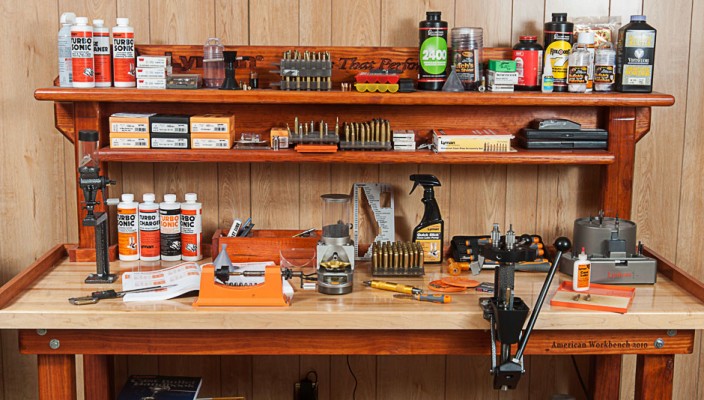 When the ammo craze hit in the early months of 2013 it was pure pandemonium. It was one of the worst times to be a gun owner since I can remember. Good luck finding 22LR; actually make that any common pistol ammo or 5.56/.223. For those of us that were depending on that constant stream of ammo at the local gun store, life could not have gotten any worse. It is right around then that I had thought about getting into reloading because I needed ammo that badly. Luckily, one of my friends was very well versed in all things reloading. He had a nice setup in his garage and walked me through all of the major components in order to get going. After looking at all of his various reloading tools, I noticed that majority of them were from Lyman. Upon digging up more information on what this wonder company had to offer, I've found some excellent reloading tools.
Before you even get started pouring powder, prepping your spent brass cases is super important. The Lyman Case Preparation Xpress Center does every thing you could ever imagine like chamfering, deburring, primer pocket cleaning and flash hole deburring. Long gone are the days of hand chamfering and deburring for hours on end, with this tool you'll be burning through bags of brass in no time. This all in one motorized station is a must if you plan on effectively pumping out hundreds of rounds in one sitting.
Another reloading essential is a brass tumbler. Every since the ammo buying craze began early last year, even brass is hard to come by. You'd be surprised how much brass you can gather by scooping it up off the floor at the range. The Lyman Turbo 1200 PRO Tumbler cleans even the dirtiest of brass to a sparkling finish. This affordable tumbler holds 2lbs of whatever media you decide to use, like walnut shells or kitty litter.
I trusted my friends advice and picked up the Lyman T Mag Expert reloading kit. For the price I could not beat all of the tools that came with the kit, like T-Mag II press, universal trimmer, 1000XP digital electronic scale, universal priming arm and a ton of other accessories. I know this may sound funny to some of you but what I liked most about this kit is that it came with a reloading handbook. I'm sure some of you remember how difficult it was when you first started out and trying to figure out how much of powder XYZ to use with a bullet weight.  It meant a lot to me that they cared enough to include something like this in.
What ever caliber you decide to reload, I honestly think you'd be happy with any number of the products that carry the Lyman name.
Related Posts
« OPMOD Bags and Cases-Tough as Nails OPMOD EOTech-Built to Last and Lightning Fast »