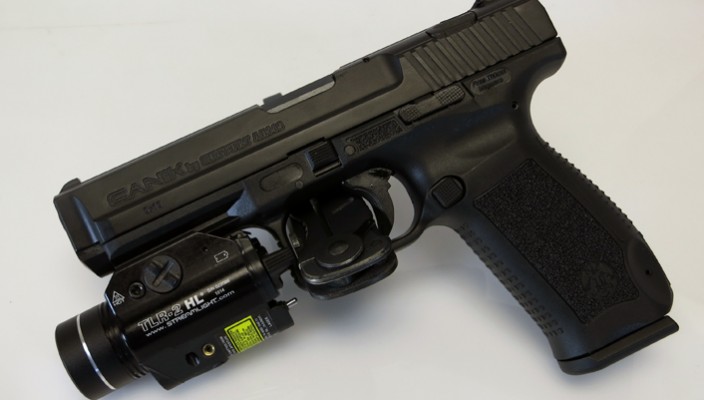 As a general rule, it's hard to hit what you can't see. Apply that to shooting disciplines and it becomes "It's hard and dangerous to try to hit what you can't see", which is why I recommend a weapon mounted light for any firearm that could be employed in a dangerous situation. While there are many advantages to having just a regular flashlight, I prefer a weapon light for my home defense/conceal carry guns. Fortunately there are many great options available, so I'll cover some of my favorites.
Streamlight
They are probably my go to brand for a weapon mounted light. I think they have excellent value for the price point and are more than sufficient for your average user. The TLR-1 HL, recently updated to 800 lumens and offered in two FDE finishes, is a great choice for any full size handgun and most compact handguns. Finding a compatible holster is usually painless and the light can be mounted to anything with a picatinny rail, like an AR or a shotgun. I have the 630 lumen model and have zero complaints. There is a great line of accessories such as filters and switches so you can fine tune the setup for almost any application.
Don't worry subcompact owners, there's a TLR for you too. The TLR6 is the newest addition to the TLR line and covers popular subcompacts like the G42/43, G26/27/33, Kimber Micro, S&W SHIELD, Sig 238/938, and several Kahr models. The 100 lumen light and red laser make your carry gun a more effective tool and just like the TLR-1, there are already compatible holsters available.
If you prefer a dedicated light for your rifle, the ProTac Rail Mount is a great choice. It can use either AA or CR123 batteries, has high/low /strobe outputs, and comes with everything you need to get it mounted. You will get better performance out of the CR123 (350 lumen high vs 150 lumen high) but it's nice to have options in a pinch.
Crimson Trace
While you probably think of lasers when you hear Crimson Trace, they also make model specific and universal fit weapon lights. One of their newest offerings, the Laserguard Pro, has both a light and a laser which is my favorite setup for a subcompact carry gun. Combined with Blade Tech holster support, you get everything you need to stay safe. The green version is set to come out this fall and can be preordered directly with Crimson Trace.
Surefire
You really can't talk about weapon lights without discussing Surefire. Actually, that applies to flashlights or muzzle devices or just about anything else that Surefire makes. They really are committed to making the best and while the price points can be intimidating for most, it's still hard to argue that their products aren't worth it. Their newest light, the XC1, is easily one of the lowest profile weapon lights available. The X300 is a well proven light and I have yet to meet someone who regrets investing in one. But the Scout light series is what I recommend to many people for their first Surefire weapon light. Well designed, extremely robust, and lots of aftermarket support.
Elzetta
While the Mini CQB weapon light is a strong contender to the Surefire Scout lights, Elzetta also makes exceptional light mounts for shotguns and ARs. The mounts are unbelievably affordable, very well made, and give you the ability to use most flashlights, possibly one that you already have. Their AR15 Tactical mount attaches to an A2 front sight base for a really cool, clean look that still stands out.
Of course this doesn't cover every option out there, or even all of my preferred choices so contact us if you have some questions or want a specific recommendation. When making a selection, I try to consider budget, typical application, and holster availability. A good light is an invaluable tool for knowing your target and what's beyond it. Don't let the dark catch you unprepared.
Related Posts
« Nikon CoolShot 40i Golf Rangefinder It's Time To Gear Up for a Cause – 2016! »