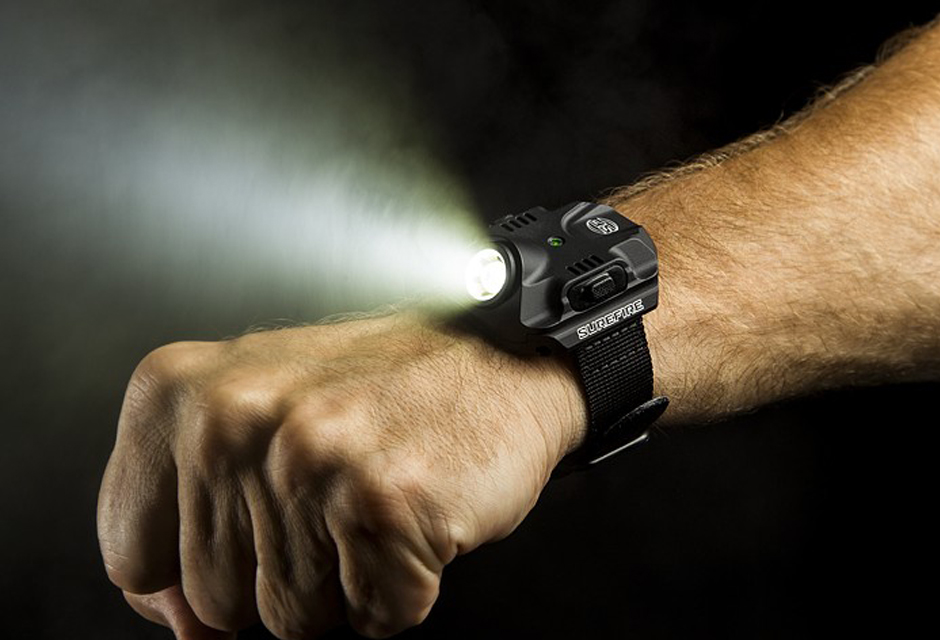 Have you ever had trouble fooling around with a flashlight while you're working in the dark?  I have been down that road more times than I can remember.  I usually get frustrated because I know that two hands would really help, but I can't put my flashlight down because then I wouldn't be able to see what I was doing.  SureFire has solved this problem for me with their 2211 LED WristLight, which you can get now at OpticsPlanet.com.
The SureFire 2211 LED WristLight was designed for police officers and all different types of law enforcement agencies all over the country, but that doesn't mean us civilians can't reap the benefits.  With that in mind you know it's made with the highest quality materials and will work through the harshest conditions.  One of the best features on the 2211 WristLight is the 180 Lumen output.  This will allow you to see anything you want in close range with ease.  Police officers can easily walk into a dark room with the WristLight attached to their wrist, of their shooting hand, and light up anyone that may be hiding.  How cool is that?  One less thing that an officer has to worry about when they're risking their life and heading into dangerous situations.  Plus, the WristLight was made to be very lightweight, only 3.7 ounces with batteries.  This is greatly beneficial so it won't throw off their aim, which is also good because we want them to capture whoever they're after.
Not only is this a great tactical light for law enforcement, but it's also a great light for the average joe, or someone like me.  When I'm out hiking with my family, the SureFire 2211 WristLight would come in handy at night out on the trails so I wouldn't have to worry about lugging around a big heavy flashlight with me.  I could put it on my wrist or around my arm and be all set.  Plus, my sister, who's left handed, could use it just as easily because it has two switches one on each side.  If I was ambidextrous like the WristLight, I probably would have done better in sports.  When I go out camping or hiking, the less stuff I bring with me the better.  That way I don't have to carry or keep track of things I don't need.  The feature I probably like the best on the 2211 WristLight is the lithium-ion rechargeable battery.  You know what that means, no more constantly spending money on batteries and worrying about if you have the right kind or trying to find them in that kitchen drawer that always collects all the random junk that doesn't have a place.
I'm very excited for the SureFire 2211 LED WristLight.  It brings the capability of Tactical-level output to the general public.  Using the WristLight on a high output (180 lumens); you should be able to use the light for around 1.25 hours before recharging.  A medium output (60 lumens) should last around 4.0 hours. The low output (15 lumens) should last about 13.0 hours.  Besides hiking and camping I could see myself using the SureFire 2211 LED WristLight for a number of different applications like walking my dog at night, or even working on my car with my dad in the garage.  It's so small, lightweight, and versatile you could take it practically anywhere with you. So, what would you use the Surefire 2211 WristLight for?
Latest posts by Will Schueneman
(see all)
Related Posts
« FLIR Scout PS-32 Giveaway! What I'd Use It For OpticsPlanet Visits the Crimson Trace 3-Gun Invitational »