SureFire has certainly made a splash here on GearExpert.  They had one of our favorite displays from SHOT Show (read all about SureFire's SHOT Show products here).  I was absolutely astonished at the huge variety of innovative new lights they unveiled at this year's show.  But I shouldn't have been all that surprised because they've always innovated.  While some brands spread themselves thin trying to make minor improvements to a thousand different types of products, SureFire has focused the bulk of their attention on lighting solutions.  From super bright and reliable headlamps to compact lights that easily fit in your pocket for an evening stroll, SureFire gives you the lighting solution you need.
One of the most intuitively designed SureFire lights is the Mossberg 500/590 Shotgun Forend Weaponlight.  Instead of fitting over the forend of your Mossberg Shotgun, it actually replaces it.  This is great because it adds less weight and bulk to the gun than many other lights.  In fact, with the batteries it weighs only about 1.1 pounds!  For all the features and powerful beam you get, that's extraordinarily lightweight.
But it's the intuitive switches that I really love.  SureFire really impresses with the simplicity of using the Mossberg Forend Light.  Check out the button configuration above.  The first switch is your basic on/off button.  If you're right-handed this is really easy to press with your thumb.  You don't even have to change your grip so getting used to the new light is quick and natural.
By your fingers there are two switches.  The lower one is a disable switch that you use when storing the shotgun in your safe or carrying it in your gun case.  You'll want to use it so that it doesn't accidentally turn on and deplete the power.  There aren't too many things more frustrating than discovering your batteries are dead just when you need them.  This is a really smart design feature that adds great value to the weaponlight.
The other button by your fingers is a simple pressure pad.  Whether you're a law enforcement professional or keep a shotgun for home defense, you may not want the light on constantly.  The pressure pad is a momentary-on switch.  Your fingers will naturally rest on it, so all you need to do is squeeze a little bit and the light will come on.  It doesn't get much easier than that!
The fantastic design choices SureFire put into the Mossberg Forend Light ahead of the competition.  It's a breeze to use, and the bright LED light is incredibly tough, so you don't need to worry about recoil killing the light.  A TIR lens focuses the beam to provide more than enough light for close and medium ranges.  When you need a light for your shotgun, consider the SureFire Mossberg Forend Weaponlight first.  You'll be glad you did.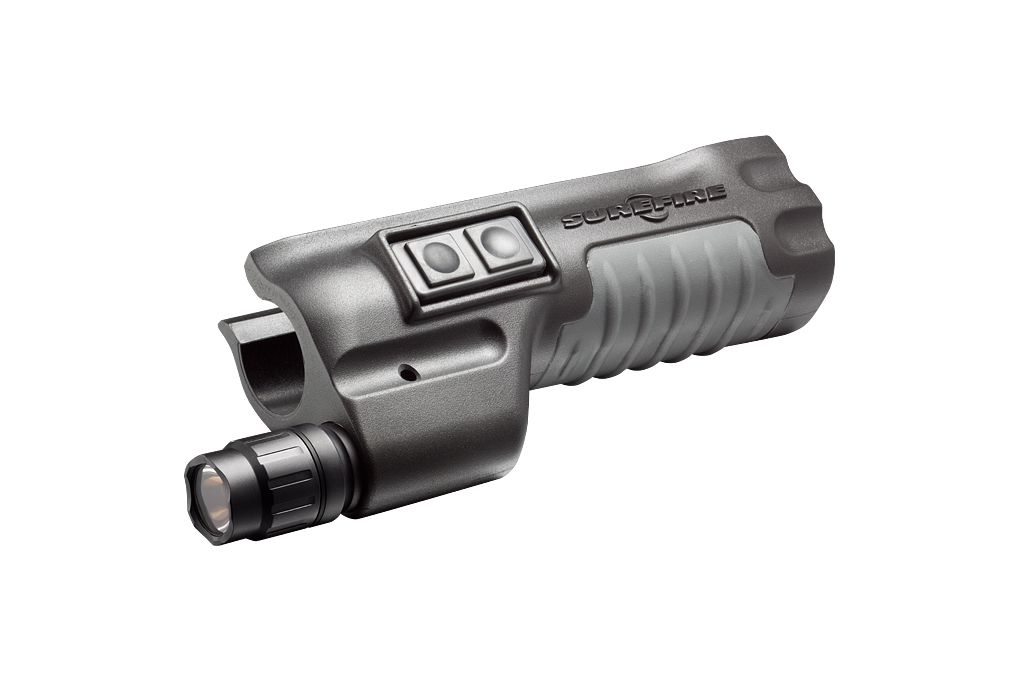 Latest posts by OpticsPlanet
(see all)
Related Posts
« Trijicon TriPower Backs up the Back Up! Scope out the Night Like the Pros with Pulsar Digisight Night Vision »