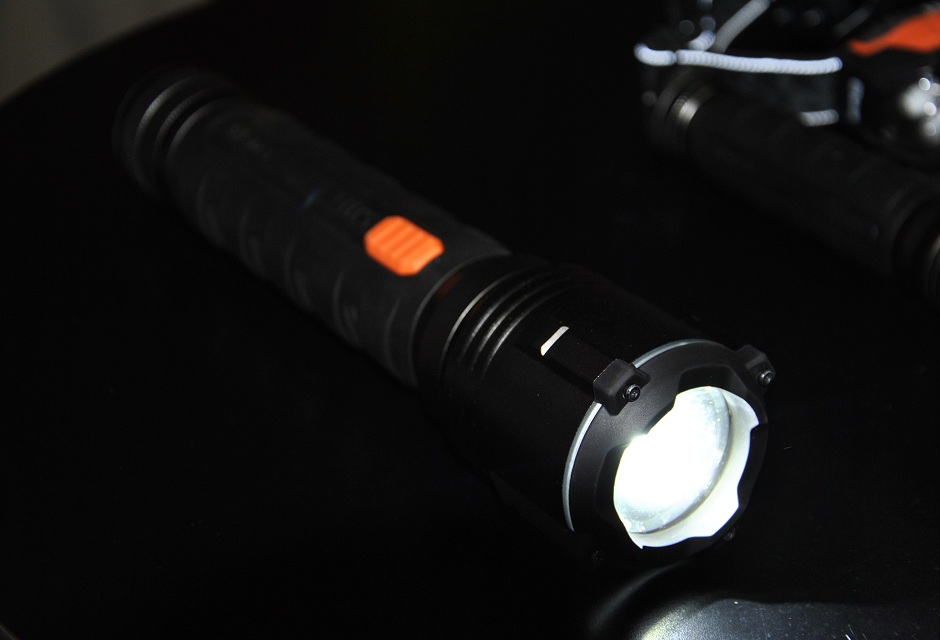 At the 5.11 booth, we saw a lot of improvements that will end up in a variety of products. We learned that 5.11 is moving from a fleece lining to shell lining in many products, for better protection from the elements while still keeping you warm. They are also adding rubberized zippers and zip-off hoods/roll-off hoods.
We also spent a little time with the 5.11 Tactical Sabre 2.0 Jacket. This product was actually released late last year, but since it wasn't at SHOT Show 2012 5.11 was eager to show it off to the community. It's the newer version of the old Sabre jacket – a warm but not bulky concealed carry jacket.
We also got a chance to look at some bags and flashlights from 5.11 Tactical. These I was really excited about.  5.11 had mentioned that they would be debuting some beautiful new lights and I couldn't wait.  We're going to have even more info coming in our video (stay tuned!), but for now let me give you a bit of info on the new SAR Headlamps.  There's the H3 and H6.  The H3 produces a little over 200 lumens of light and has a battery life around 90 minutes.  The H6, which is teh one I'm REALLY excited about, is similar in looks and durability (they both have tough High Impact Polymer Bodies and Aluminum Heat Sinks to keep them cool), but the H6 produces 350 lumens of light for about 3 hours!  That's huge, and the heat sink makes it comfortable to wear for longer periods of time.  5.11 is known for how incredibly tough their gear is, and I have no doubt these new flashlights will be just as tough as advertised.  I can't wait to get one later this year!
There were more flashlights, as well as some bags, so I'll add a gallery of some of this amazing new gear from 5.11 Tactical, and make sure you stay tuned because we'll get that full video to you soon!
Latest posts by OpticsPlanet
(see all)
Related Posts
« SHOT Show Day 2 Mega Post – Gerber, Vanguard, Trijicon, & EOTech! New Armasight Night Vision from SHOT Show! »