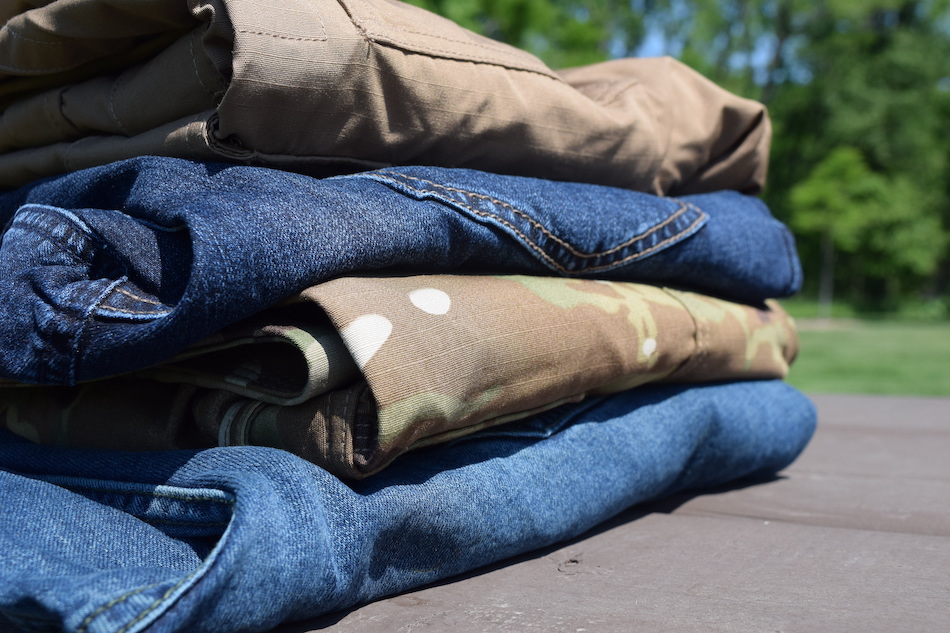 For this article, I reviewed the latest tactical pants and tactical jeans from some of the best brands available today. These include Tru-Spec, Vertx, 5.11 Tactical, and Viktos. To review the pants, I actually wore them while doing various activities at a local park to test the features and designs, and intended purpose.
Before We Begin…
We want to go over some topics before we jump into the review, so you know exactly how we looked at tactical pants. We've published numerous articles about how to buy tactical pants. In these articles, we looked at what are tactical pants and tactical pants features. Here's a quick summary: 
What Are Tactical Pants?
Tactical pants are designed for both storage and function. They're popular among those working in police, military, and emergency medical fields, but civilians who engage in outdoor activities or shooting sports wear them as well. Compared to regular pants, tactical pants are designed for practical use and physical activity rather than fashion.
Tactical Pants Features
Tactical pants features boil down to fabrics, designs, and pocket space. Manufacturers try to durable, breathable, and flexible materials, so the pants are restrictive. Almost all of them are equipped with a gusseted crotch, which is extra material in the crotch that gives you greater mobility when you run, jump, squat, etc. 
Pocket space is the most noticeable feature. On tactical pants, the pockets amount to much more than cargo pockets. Usually, there are additional pockets for tools, knives, or a phone. And then, there are usually compartments inside of the cargos. 
The Review Process: What Makes Pants Tactical
First, I stuffed my pockets full of everyday items like a flashlight, pocket knife, notebook, pen, keys, wallet, phone, and snacks. 
Next, I ran around the park. Well, I didn't just run. I sprinted. And I did some long jumps and hopped over picnic tables. Then, I did various calisthenics like air squats, tuck jumps, and lunges. Whatever seemed appropriate.
Afterward, I washed the pants and then slashed and stabbed the fabric with a cheap pocket knife I found in my basement. Lastly, I held the pants under the faucet and poured water on them.
Here's what I found:
Tru Spec 24-7 Series 
The Tru Spec 24-7 Series pants fit well and conformed to whatever strenuous activity I did. Although they aren't stretchy, they are designed for movement. There's an expandable waistband, and the gusseted crotch and baggy pant legs created plenty of room.
The pockets can obviously hold a lot and there's velcro on just about every one of them to keep the flap closed shut. The dedicated knife or tool pocket was really nice. It's strategically placed out of the way between the hand pocket and back pocket and on both sides. There's a cell phone pocket on the outside of the cargo pocket. It has a flap, but it was too small for my iPhone X. Still, the phone fit well inside the drop-in cell phone slot behind the cargo pocket. It just didn't have a flap. That was actually a more convenient location, though.
The pants were also durable. They not only withstood physical activity like running, jumping, and squatting, but also water beaded up against the Teflon fabric when placed directly under a faucet and they just as easily withstood knife slashes. However, my blade penetrated the ripstop fabric with gentle stabbings. 
My only criticism — and it's really more of an observation — is that they look like tactical pants. Subtle is not a word I would use to describe them, but you'd only wear these in a uniform setting or during recreational activities.
From the Factory

Pros

Cons

Fabric: 65% Polyester/35% Cotton Rip-Stop
Weight: 6.5 oz. 
Pockets: 12
MSRP: $68.95

Lots of pocket space

Designed for mobility

Water and stain-resistant
Vertx Defiance Jean
The Vertx Defiance Jeans look and feel like normal jeans. The only aesthetic giveaway that they might be tactical jeans is the articulated knees. You can tell by the small stitching in the four corners around the knee, but you'd have to look hard to find it. 
Although denim is a heavier fabric, I remained comfortable wearing them in the 85-degree heat. The stretchy fabric was breathable. Also, the fabric paired with the relaxed fit and gusseted crotch made running and jumping easy as well. 
Vertx lists the Defiance Jean as having 11 pockets, but it's actually seven pockets plus four stash pockets located around the inside of the waistband. The stash pockets are big enough to hold a key-sized object but not much else. Still, the other pockets are very nice. 
The hand, change, and spare pockets use a half mesh and half cloth lining. The hand and back pockets both run deep and will hold everyday items like keys or a phone comfortably and without printing. The spare pockets are long and wide enough to hold a pen and a knife at the same time or a pair of handcuffs, but not my phone. 
The Vertx tactical jeans were also very durable. Off the rack, they were very comfortable for every activity I tried. They withstood knife slashes and stabbing. However, they weren't water-resistant. In fact, water just soaked right into the fabric. 
Online, I saw one criticism expressing concern about the belt loops. They measure about 2.5-inches long, so they'll fit a wide belt, but the concern was more about how they'll hold a duty belt. The belt loops aren't very wide, but the stitching is heavy duty and there are eight of them as opposed to five like on other pairs of tactical pants. 
Overall, the Vertx Defiance Jeans look, feel, and wear exactly like you'd want them to. They don't look tactical at all and that's the point.
From the Factory

Pros

Cons

Fabric: 71% cotton/4% polyester/7% Modal/17% Coolmax/1% Lycra

Weight: 10 oz.

Pockets: 11

MSRP: $69.99

Relaxed fit makes moving easy

Spare pockets have casual look

Spare pocket won't hold some phones
5.11 Multicam TDU Ripstop
A quick preface. The pair of 5.11 Multicam TDU Ripstop pants I received were too small for my waist. I sent in my waist and leg sizes, but the pants are sized small, medium, and large. Turns out, a 34 waist overlaps into medium and large sizes. So, whoever sent the pants made a judgment call.
Obviously, the fit wasn't great. The expandable waistband stretched to its limits, so the button snap was released every time I tucked my knees into my chest by jumping or squatting.
Although the pant legs were plenty long, I felt them pull and tighten around my kneecap when I got into a kneeling position. Sure, size probably contributed, but it seemed more like a material issue than a sizing issue. The polyester fabric had little to no give. If I had received a large size or the pants were made out of stretchy fabric, I think I would've had better mobility.
Besides the ill-fitting size and fabric, the 5.11 tactical pants are super basic for pocket space. They're equipped with six pockets, so no phone or designated knife or tool pocket. However, inside the cargos had magazine slots, and the hand pocket does have extra material to clip a pocket knife. The pockets were plenty big for whatever you need.
I also found the pants to be somewhat durable. I deliberately slid through the grass on my knees and they didn't wear. The grass stains washed right out. When held under the faucet, water slipped right off. When I slashed at the fabric with a pocket knife, it resulted in scratches and cuts, but the durable underlayer still offered protection. However, the pants did withstand stabbings.
In the end, I wouldn't want to wear these pants for long periods of time. They were just too uncomfortable, but they could be useful during short stints of time like at a paintball game or trip to the range. Given the price, though, I'd go for something else like a better pair of 5.11 Tacticals. 
From the Factory

Pros

Cons

Fabric: 65% Polyester/35% Cotton Rip-Stop
Weight: Unknown
Pockets: 6
MSRP: $79.99

Durable fabric and underlayer

Water and stain-resistant fabric

Fabric had little to no stretch
Viktos Operatus XP
The Viktos Operatus XP jeans are comfortable, durable, and it might take a minute or two for someone to notice the extra pockets. While they blend in from a distance, the spare pockets look very dad-like up close.
The two hand pockets and four spare pockets all use a deep, fabric liner. The depth of the spare pockets was impressive. One's located on the outside of the hand pocket, and then the other is found between the hand and back pocket. The rear spare pocket runs parallel to the front spare, but it has an angled opening, which makes accessing its contents easier.
Although they are much narrower, the spare pockets all felt just as deep as the hand pocket. Viktos calls them EDC, or Every Day Carry, pockets, so they're designed to hold a pistol or AR magazine. But they will also fit a phone, knife, or even a full-size flashlight.
One novel feature is the dual-pull zipper, which provides two sliders on the fly. There's one at the top and one at the bottom. The purpose of the feature is so men don't have to "de-militarize" their waistline when they pee. It's a bit superfluous, but also rather harmless.
At 12 ounces, the denim stretch fabric felt lightweight and breathable. The tactical jeans moved rather effortlessly amid any and all physical activity. I didn't have a problem running, jumping, crawling, climbing, etc.
Most of the two-inch belt loops are a bit thin, but there are seven of them and the rear one is extra thick and embedded with some kind of elastic fabric. The pants also held up against knife slashes and stabbing, but they absorbed water.
The Viktos Operatus XP tactical jeans would be great for a more casual look on the range, or during recreational or duty-oriented activities.
From the Factory

Pros

Cons

Fabric: Stretch denim
Weight: 12 oz.
Pockets: 9
MSRP: $119

Thoughtful features, especially fly zipper 

Plenty of pocket space

 
Dress for Success
The pants reviewed in this article are the latest and greatest in tactical wear. If there's other tactical gear or clothing you want to see reviewed, let us know in the comments. As always, find great deals on tactical pants and more on OpticsPlanet!
Latest posts by Daniel Terrill
(see all)
Related Posts
« Gun Safety at Home: How to Childproof Your Guns Best Hunting Camo Patterns for Deer and Other Big Game »