Red dot sights are an absolutely fantastic way to improve your target acquisition speed, but one drawback is that they require a power source.  Many top manufacturers have added backups to their illuminated reticles so that they don't fail when you need to take a shot.  Whether you're a hunter, law enforcement or military professional or an avid shooting enthusiast, you have to have a top performing sight at all times.  Enter Trijicon.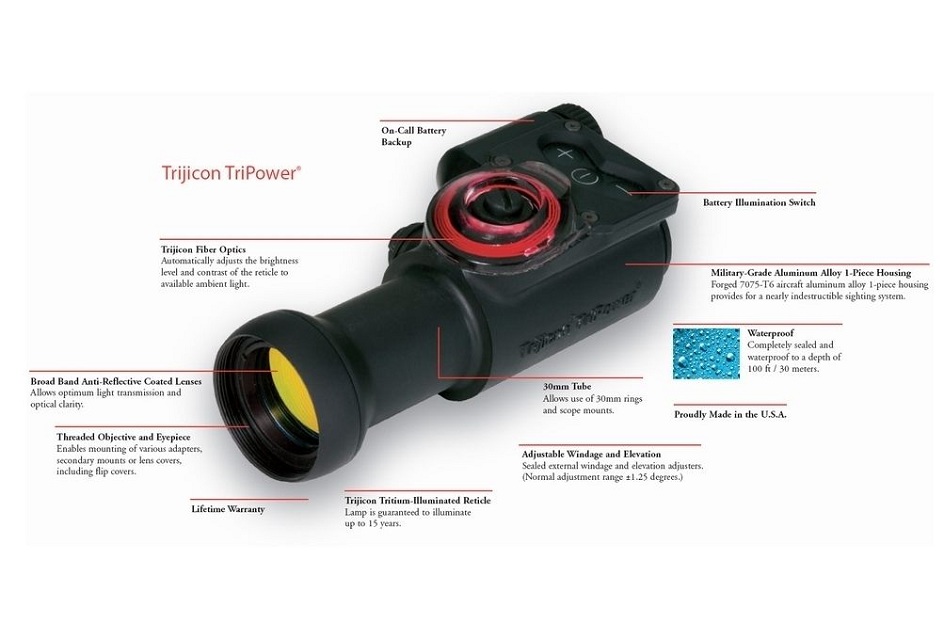 We love Trijicon.  Their ACOG rifle scope is one of the most innovative and consistent performers on the market today.  The Bindon Aiming Concept it employs enables the shooter to take shots both near and far quickly and easily, but just because they've made waves with the ACOG doesn't mean Trijicon is done making improvements.  The  Trijicon TriPower Reflex Tube Sight takes red dot sights to a whole new level of performance.
They started with an absolutely fantastic red dot sight that is both super easy to use and extremely durable and added their exclusive red chevron-shaped reticle.   The picture above is what you'll see through the TriPower.  Red dot sights are, by nature, easy to use and speed target acquisition quite a bit.  The chevron reticle makes it even easier to find your target, as the inverted 'V' is very natural for the eye to follow.
Combined with this awesome reticle is a very durable design.  The one-piece aluminum body would be tough to break if you wanted to.  It'll hold up against a whole lot of abuse without problem.  The Trijicon ACOG has become the standard of toughness and consistent performance that other scopes are measured by, and the TriPower stands alongside it as an incredibly reliable scope for many situations.
But what really sets the Trijicon TriPower apart from other reflex sights is the power system.  As the name implies, there are three different power sources for the illuminated reticle.  My favorite, and I'd argue the best to use, is the fiber optics.  What makes fiber optics so great is that the brightness of the reticle is based on ambient light.  In almost complete darkness you don't need a super bright reticle.  In fact, you should be careful not to have your reticle too bright, as focusing on a bright object in the dark will limit your eyes' natural night vision.  With fiber optics you'll almost always have a perfectly lit reticle.
But there are times where fiber optics can't light up the reticle.  If you're in total darkness and there's virtually no ambient light for the scope to gather you'll have a dark reticle.  To combat this, Trijicon added Tritium power.  Tritium will glow even in total darkness, and it lasts for years.  It's a great backup in the event there's no light.
If somehow both of your power sources fail (not likely, but possible), Trijicon wants you to still be covered, so they also included a battery that you can switch on anytime.  A quick adjustment with the buttons on top of the sight gives you the proper brightness.
That's three different power sources for a single red dot sight!  Trijicon has yet again raised the bar with their fantastic and innovative TriPower Reflex Sight.  You can get yours for a great price from OpticsPlanet!
Latest posts by OpticsPlanet
(see all)
Related Posts
« OPMOD TAC PACK Put Through Its Paces On Dog Sledding Trip! SureFire Mossberg 500/590 Shotgun Forend Weaponlight Combines Intuitive Design & Power! »