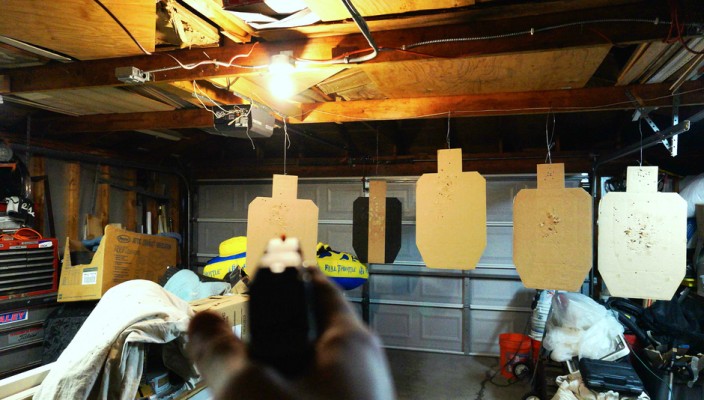 Lets be honest with ourselves here, when it comes to shooting, you get out of it what you put in. Not to get all philosophical on you guys but there are no shortcuts in life and there sure as hell aren't any when it comes to becoming a better shooter. Before you get all down and out about your dreams of pro shooter stardom, there are a few helpful training aides available that will definitely give you a small edge over your competition. You don't have to be a rocket scientist to figure out what training device I'm going to be talking about, that's right, airsoft.
Before you start thinking of something clever to say to bash me in the comments, I wholeheartedly believe there's no replacement for actual live fire. But c'mon wouldn't it be nice if you could run a USPSA style match in your garage with some buddies instead of dropping big bucks on ammo and range fees? And in my eyes that's exactly where training with an airsoft pistol is a big game changer, especially when it's identical to your actual pistol. I'm not talking about running and gunning with an airsoft gun you can pick up at your local Walmart. Spend the money and get a high quality gun that is a true 1:1 replica. Yes, these guns look so close to the real steel version that many people can't even tell the difference. Just look at our recent Facebook post where I put my airsoft trainer next to my Glock and people believed without a doubt that the fake was real and vice versa.
The reason I stressed the importance of getting a 1:1 replica above is that not only will it feel the same in your hand but the similar weight of the two will allow you to do thousands of draws with the airsoft pistol and still be able to mimic that muscle memory when you're  shooting a live fire match. Another selling point for spending that extra cheddar on a quality 1:1 replica is that it is almost guaranteed to work with your existing competition holster. I didn't even have to touch the retention adjustment screws on my Blade-Tech OWB holster to get the exact same draw pull.
So… What exactly does training with an airsoft gun help with? For starters, it's about 100 times safer to do weapons manipulations with an airsoft gun than it is with your real gun. How many videos are there on YouTube that show some guy playing with his gun and firing it on accident. I know none of you would ever do something dumb like that, but accidents do happen. The last thing you want is to be practicing speed reloads and blow a hole in your TV. Airsoft is a much safer means of practice.
Along with keeping your limbs intact, airsoft allows us to practice for competitive shooting matches in the comfort of our homes or garages. All of that moving and shooting high stress stuff can be done safely and most of all legally at home. If you've ever shot a match, whether it be IDPA,USPSA, 3-GUN, whatever, then you know that what really determines how you place is how you navigate the course of fire and shot placement. With airsoft, you can make a stage however you want it and run it until you do it flawlessly. Of course it's important to note that this type of training will yield much greater returns for those just getting started in the sport v. those experts out there.
As a competitive shooter, it's unfortunate that finding a range where I can move and shoot is exceedingly difficult. The next best thing is setting up a tiny stage in my garage and seeing how quickly I can accurately engage targets. If I'm feeling really adventurous I'll even use the shot timer app on my phone to simulate a real match. Of course you could practice a drill like this with your unloaded real gun, but its super lame to have to rack the slide after every trigger pull to get it to reset. To top that off, you don't know if that shot you took is in the A zone or if you just missed the target altogether. This just isn't the case with a quality gas blow back airsoft gun. Not only does the slide cycle after ever trigger pull but a little plastic bb flies out of the barrel at around 300 feet per second, clearly highlighting your shot placement.
I don't want you to think I'm the first guy to come up with this idea of using airsoft guns to train for competition. I was actually increasingly stubborn to the idea of using what I considered to be a child's toy to practice shooting. After spending some time talking with professional 3 gun shooters Jesse Tischauser and Kalani Laker, they told me that they're big fans of using airsoft guns to practice for competitions when they cant get out to the range.  I knew that if these guys swore by it then I should at least spend a little money and see what all the fuss is about. Since the beginning of May, I've been setting up these stages in my garage and training with my airsoft pistol and I can tell you firsthand that these "toys" work! Just looking back on my IDPA and USPSA match scores month to month, I've placed 3 positions higher than where I was before my airsoft drills. There's no replacement for live fire, but with these guns you can get extremely close.
Would you consider training with one?
As always guys, shoot em straight and be safe!
Related Posts
« 5 Pens That Could Save Your Life! Living For That First Shot »