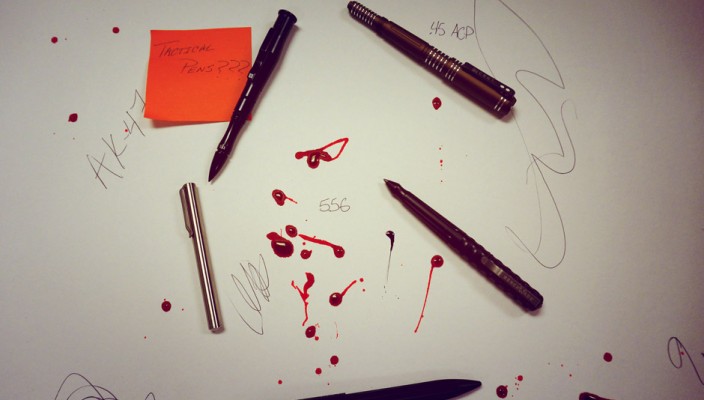 If you're unlucky enough to be caught in a self defense scenario, you should try and de-escalate the situation first . However, we all know that sometimes we might be backed into a corner and the only way to get out is to match force with force. In this type of setting, I would want a pistol on my person more than anything. If I was without a pistol, a tactical knife would be my next choice. Unfortunately there may come a time where you, a law abiding citizen, cannot legally carry your firearm or knife in a certain location. What do you do? How do you defend yourself?
Assuming that you've read my other posts, then you know I walk out the door everyday with tools that'll get me through almost anything. One of the newest items that I've started carrying as part of my EDC setup is a tactical pen. "Tactical what??" You heard me right, a tactical pen. What makes a pen "tactical"? Basically the ability to be used as a pointed hard striking object in self defense or as a glass breaker.  Now that I've got you guys interested, its time you ask yourself, "which is best suited for you?" See my break down of a few of the more popular tactical pens and I'll let you be the judge!
5.11 Tactical- Double Duty 1.0 ($39.99)
WHY YOU WANT IT:
-Made of strong aerospace aluminum
– Feels excellent in hand
-Extremely comfortable for all day writing
-Features a space pen ink cartridge for writing in any condition
-Flat spot on top for your thumb, helps stop slipping when using as a weapon
-Pocket clip has just the right amount of tension
WHATS NOT TO LIKE:
-Rides a little too high in the pocket for me
-Not as classy as the other pens in the list
-When screwing the pen back in, if you twist too much you end up unscrewing the compartment where you refill the ink
Benchmade- 1100 Series Tactical Pen ($106.25)
WHY YOU WANT IT:
-It's Benchmade, c'mon!!
-Craftsmanship and attention to detail
-Made in the USA
-Knurling that isn't too rough but sticks to your hand when you need it to
-Carbide glass breaking tip
-Deep carry pocket clip
-Cap clicks into either end , which is much faster than the screw on models on this list
-Fisher space pen ink cartridge, so it'll write even underwater
-Good writer
WHATS NOT TO LIKE:
-The price
-Pocket clip is a little to tight for my liking
-Heavy
Timberline Knives- LCP Lightfoot Combat Pen  ($79.99)
WHY YOU WANT IT:
-Good looking piece of gear
-Made of aircraft aluminum
-Longest pen=farther striking distance
-Solid thumb rest for effective blows when striking
-Cap clips into place instead of screwing on
-Smooth writer
-One of the nicest presentation boxes
WHATS NOT TO LIKE:
-Pocket clip makes it ride a little too high for me
-A tad too large to comfortably use all day
-Makes a funny popping noise when deploying the pen
CRKT- Tao Tactical Pen ($47.49)
WHY YOU WANT IT:
-One of the best looking pens on the market
-Deep carry pocket clip
-Excellent build quality
-Doesn't look dangerous
-Awesome carry case
-Smooth writer
-Long length=greater striking distance
-Price
WHATS NOT TO LIKE:
-I could fall asleep in the time it takes for me to unscrew the cap
-Doesn't have sharp tip like the others on the list
-Heavy
FOURSEVENS- Titanium Tactical Pen  ($83.99)
WHY YOU WANT IT:
-Because its made of titanium, duh…
-Extremely classy appearance
-Lightweight
-Smooth writer
-Space pen cartridge, which means you can write anywhere!
-Interchangeable striking tips
-Deep carry pocket clip
-Nice metal carry case
WHATS NOT TO LIKE:
-Small size
-Lack of sharp striking tip
-Pocket clip is too tight even on most dress pants
In A Nutshell
I wish I could just tell you guys which tactical pen to buy but in all fairness, what I like could be completely different than what some of you may like and vice versa. Hopefully you guys got what you needed out of this honest break down of a few potentially life saving pens. Let me know what tactical pen you liked the most in the comments below!
Related Posts
« Ultimate Guide to OPMOD Bags Airsoft for Action Pistol Training »