We're really proud of the latest addition to our OPMOD family of products: the OPMOD TAC PACK.  This tactical backpack is perfect for a wide variety of uses, and it has a ton of great features to let you store or attach your gear.  Our OPMOD team of experts (led by Steve Ledin, who is featured in the video above) looked at all the best bags and decided what was best for the TAC PACK.  Our team knows that if you ask any hunter, soldier or outdoors man what the #1 thing they look for in a backpack they're going to say "durability."  With that in mind we put extra effort into selecting the best materials and construction.
When we recently received our first shipment of the TAC PACK, we wanted to test it out in a real world situation.  Sure, we could run around and bang it against things to see how it holds up, but it's in those unforeseen moments when a bag has the opportunity to really succeed or fail.  Fortunately, we had a great chance to try out our new OPMOD bag when our resident Video Specialist Devin went on a dog sledding trip in Minnesota.  Devin borrowed some of our favorite gear to try out during his journey, and I got to talk to him when he came back.
The trip was a birthday present from Devin's wife Martha, and it was run by the Wintergreen Dog Sled Lodge in Ely, MN.  Devin and Martha left on February 15.  Their drive took about 10 hours, but the greeting they received upon arrival helped them quickly forget the long hours on the road. 16 pure-bred Canadian Eskimo Dogs began howling and barking as soon as their car approached.  As Devin learned from the guides, the dogs know that when a car approaches they'll get to go for a long run, and they love running.
As Devin and Martha are also big-time dog lovers, the thought of working this team of well trained sled dogs only made them more anxious to get going.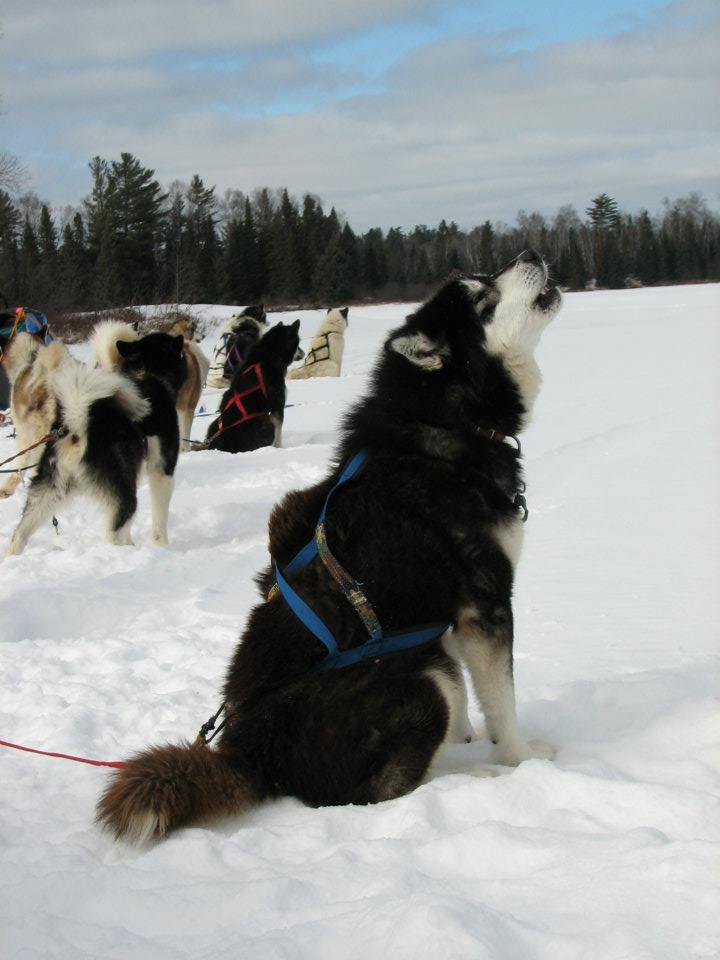 After dinner at the lodge Devin and the other campers listened to their guides explain how the next few days would go and what to expect.  After that Devin started going through the gear he packed to eliminate the non-essentials.  The great thing about sledding rather than hiking (at least so far as packing the TAC PACK is concerned) is that weight wasn't really an issue.  No matter how awesome your bag is, no one wants to haul extra weight.  But as the bag would be strapped to the sled, Devin could put more or less as much as he wanted in it.  His gear included a Digital Camera in a padded case, which he put in the main compartment, and there was plenty of room for more, so he tossed in a roll of duct tape, a few granola bars, extra pairs of socks and gloves, a hat, waterproof matches, and a fleece neck warmer.  Inside the bag there's also a a really convenient internal zippered compartment where he stored a small first aid kit, lip balm and sunblock.
Devin thought it would be fun to bring along some night vision to try out on the trip so he borrowed the ATN Viper Night Vision Goggles with Head Gear, which fit really well in a rear compartment.  With all the beautiful scenery and wildlife surrounding them in the Boundary Waters of Northern MN, a good pair of binoculars were absolutely essential, so for that Devin also brought along a pair of Brunton Binoculars.
Devin also brought along a Bushnell Backtrack GPS unit to field test.  This GPS unit can store several different locations, and with the press of a button an arrow will tell you which direction to go to get back.  Devin marked the main cabin and each of their camp sites.  Fortunately there was never any real chance to get lost in the woods since this was a guided trip, but it was still a smart safety tool to bring along, so why not have them?
Devin and Martha along with four fellow campers and their two guides started out early on the 16th with three sleds: two smaller sleds packed with light gear bags of clothes and other light gear, and one larger camp sled for hauling the majority gear.  After the sleds were packed Devin found the side straps on the OPMOD bag that are normally tightened to compress the bag and its contents were perfect for attaching to the sled.  Because of the great placement of the OPMOD backpack on top of the sled everything Devin needed during the day was easily accessible.
Most of the first day was very easygoing, with smooth rides over frozen water through the Boundary Water system.  The dogs performed wonderfully, and had virtually no problem navigating the sleds event as they traveled through rough portages full of rocks, thick tree branches and massive stumps.  Their strength really impressed Devin as they climbed steep hills.  The sled dogs relished the chance to bound over the snow.  They were bred for these challenges, and they love it.
On the second day the OPMOD TAC Pack was really put through its paces.  While traveling down a hill on a particularly difficult portage, the right runner of the sled went over a tree stump, causing the sled to tip over.  They weren't able to regain control of the sled or dogs until they reached the bottom of the hill, and during this time the TAC bag was underneath the weight of the sled being dragged over rocks, branches and small trees.  One tree branch actually got caught in the side straps attaching the bag to the sled.  The branch broke.  The straps didn't.
In fact, outside of a single zipper pull, you wouldn't be able to tell the bag was put through the wringer at all.  The straps all held firm, and the clips didn't even unclasp.  Now THAT is some impressive durability.
When they made camp every night, Devin kept the OPMOD bag close by at all times.  While he had a larger bag for clothes and his sleeping bag, the TAC PACK was perfect for carrying all the other equipment he needed.  As the material is water resistant, when Devin woke up in the morning to find the bag covered in frost he just brushed it off and all of his electronic gear was safe and dry.
It even survived an attempted claiming by one of the dogs, as "Frank the Tank" marked the bag during one stop.  Devin can confirm: the OPMOD TAC PACK is pee-proof.
Though most of the trip was spent on the sleds, Devin did some light hiking with the TAC backpack, and he was impressed by its comfort and versatility. He didn't think he'd need the chest and waist straps because he was only hiking for a short while, but he tried them out and they made a difference by helping distribute the weight more evenly than with the shoulder straps alone.  The ability to attach his Nalgene bottle to the outside of the pack was also nice, as it was easily accessible, yet also secure.
When on the sleds, if Devin got overheated he was able to shed the warm layer under his shell and toss it in the TAC bag for him to toss an extra layer of clothing, and in these moments he could also reach for his lip balm or a granola bar, so it was super convenient.
"Over the course of the last ten years or so I have used several different kinds of backpacks for camping.  Most of the time I pick a bag that sold for a few hundred dollars because it was waterproof, durable and had a fair number of compartments. I wouldn't have necessarily chosen the OPMOD Backpack as it was designed for tactical applications but it performed exactly as I needed it to on this trip.  And when you consider the price difference, it gets even better.  There's no reason to break the bank on anything else.  Plus you can spend the extra money on beer!"
High scores across the board!
Devin really loved his dog sledding excursion in Minnesota, and he is not only an avid camper but also the guy behind the camera in our coverage from SHOT Show and he has traveled with Steve to shooting ranges and hunting grounds to try out new gear.
"The trip overall was an unbelievable experience and one I will carry with me all my life. I'm planning on making it back to Ely if not this summer for canoe camping then definitely again for another dog sled adventure."
You can see Devin and Steve talk a bit about the trip and the OPMOD TAC PACK in the video above, and you can get one for yourself from OpticsPlanetright NOW!!!
Latest posts by OpticsPlanet
(see all)
Related Posts
« OPMOD Battle Mug – Excellence Needs No Justification Trijicon TriPower Backs up the Back Up! »