Night Vision is becoming more and more ubiquitous these days.  While the technology was initially intended for military use alone, it has evolved over the years to give rise to greater functionality.  Thanks for technological advancements and user ingenuity, there are more uses for night vision than ever.
For instance, I've been reading about how helicopter pilots are using night vision to both increase safety and aid in search and rescue operations.  The first story focused on CALSTAR (California Shock Trauma Air Rescue) which has a handful of night vision devices both for the pilot as well as for nurses and medics on board.  CALSTAR is a nonprofit air ambulance service which aims to both save lives and reduce trauma by transporting patients to proper medical facilities as quickly as possible.  They are often called upon to transport an injured hiker, camper or hunter at night, so they need to be able to land a helicopter amongst trees and other possible hazards in the dark.  Once upon a time they would have tried this without night vision.  Fortunately, those days are gone.  If for some reason their night vision is not operational, they don't make the trip.  A single tree can be nearly impossible to see in the dark, and even a bit of fog or other inclement weather can make these trips too hazardous to risk.
With night vision a pilot can immediately make out ridgelines, or the top edge of mountains in the area, which enables them to accurately chart their course.  Both on the ground and in flight, medics are far more effective when they have night vision goggles.
Another story I read related the account of a search and rescue pilot who was able to see a lost hiker because of night vision.  The hiker was lost in the woods for several hours and didn't have overnight supplies.  Though he had a phone on him, he didn't have a GPS device, so he called home to let his family know of his predicament.  They called the police for help.  The hiker had a headlamp on, which was clearly visible to night vision even from high above and through dense tree cover.  There was little chance the pilot would have spotted the man if he hadn't been wearing night vision goggles, which amplified the small amount of light from the hiker's headlamp.  The man was cold but otherwise uninjured.  He would have had a long night if not for night vision.
I realize most of you aren't planning on piloting helicopters at night anytime soon, but the uses for night vision are so varied that there's a unit for everyone, from helicopter pilots and soldiers to hunters who need top quality without breaking the bank.
Case in point: one NV unit I really like is the Pulsar Digisight N550.  It's incredibly tough, which it would have to be, as it's a night vision rifle scope.  Pulsar designed the N550 to easily handle recoil, but the quality of this awesome NV Rifle Scope comes from more than just durability.  Unlike traditional night vision devices which use a photocathode tube to intensify light, digital night vision use a charged-coupled device (CCD), which provides a crisp, clear image from edge to edge of the scope.  That's a huge improvement, and the detection range is far greater than most lower generation night vision devices.  The Digisight has a maximum detection range of 400 yards! When aiming, you can switch the reticle from black to white to better line up your shot, and if you don't like the reticle style you can connect this Pulsar NV Scope to your computer and download a different one.  Imagine being able to modify your reticle quickly and easily based on your preference for a particular hunt!  Couple that with 4.5x magnification and this scope gives you an unbelievable value.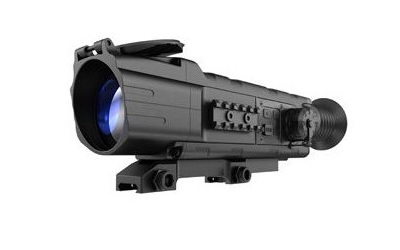 So what are you going to be hunting with the Pulsar Digisight?  Well, if you're hunting in Texas I'm betting you'll do a little hog hunting at some point, and these days you're going to have to hunt them at night.  Hogs are one of the smartest animals in the world, and over the last twenty years they've learned to move around more at night because it's more difficult to hunt them in the dark.  They're so clever you'll need every advantages you can get when hunting them.  Just like a helicopter pilot searching for a lost hiker or avoiding trees during a landing has a much better chance of success when using night vision, you'll be far more likely to make your shot when you have a great NV Scope like the Pulsar Digisight on your rifle.
Latest posts by OpticsPlanet
(see all)
Related Posts
« SureFire Mossberg 500/590 Shotgun Forend Weaponlight Combines Intuitive Design & Power! View the Twinkling Dog Star with your Celestron NexStar! »