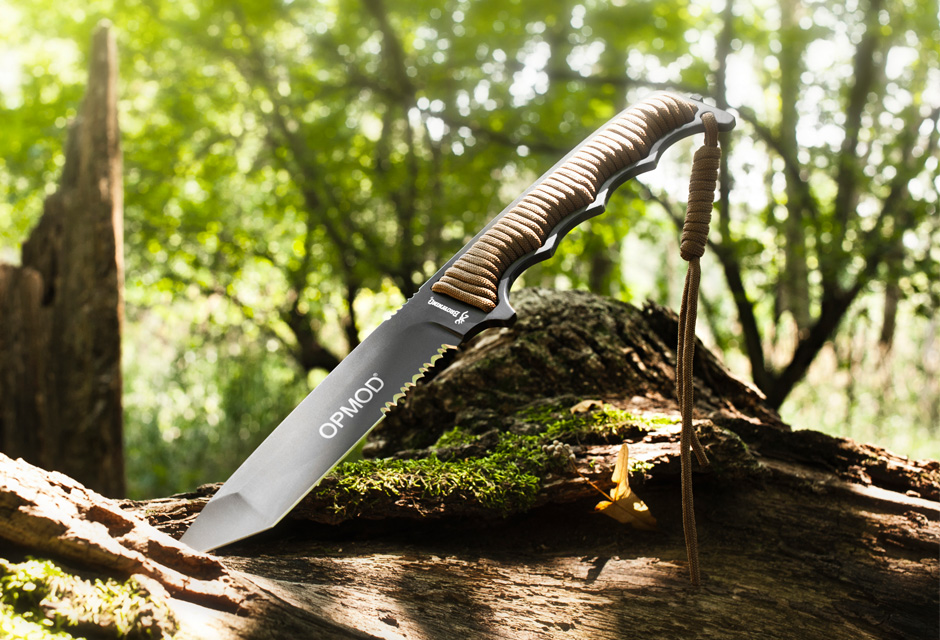 There are a lot of gizmos and gadgets out here that make a hunter's life easier. You have your scopes, sights, rangefinders, night vision devices, binoculars, monoculars, lasers, lights, bipods, bags; the list could go on and on. One of the handiest tools that any hunter or outdoorsmen can have though is a good quality knife. Knives are so useful and so versatile you could use it almost anywhere. We here at GearExpert know the importance of having a good quality knife, which is why I'm excited to talk to you about the selection of Browning knives that OpticsPlanet.com carries.
OpticsPlanet has teamed up with the popular brand Browning to make this limited edition knife series for their customers. This knife series features eight Browning OPMOD knives (13 skus) along with one Browning knife (2 skus) that is exclusive to OpticsPlanet. That's 15 different knives all together with the different color options. These aren't your average butter knives either. These knives were designed by lifetime hunter Russ Kommer who has brought his 16 years of knife making experience into this outstanding series.
The seven Browning OPMOD knives are made with top quality 5Cr stainless steel. That means they can hold up in any weather conditions whether you are using it out in the Sahara Desert where it is obviously hot and dry, or if you're hunting in northern Alaska, where it may get a little cold and wet. With their ergonomic features and small size, I can think of many applications I could use a Browning OPMOD Knife for.  Hiking, camping, hunting, fishing, protection; just to name a few off the top of my head. Here is a list of the different knives in this limited-edition series just so you can see for yourself how cool they are.
I told you they are awesome. I am seriously thinking of getting one of these knives for myself. Which one do you like best? If you're looking for something a little less rugged and serious and you really like the style of the Browning OPMOD Knife series, then I would suggest the Browning OPMOD TES 1.0 Limited Edition Letter Opener and Tactical Pen. Another great and useful product in the Browning OPMOD Limited-Edition Collection. Remember, this awesome series can only be found at OpticsPlanet.com so make sure you go there and get yourself a new favorite knife.
Latest posts by Will Schueneman
(see all)
Related Posts
« Save on Steiner Predator Xtreme Scopes Crimson Trace's First Person Defender Series Teaches Real Life Survival »