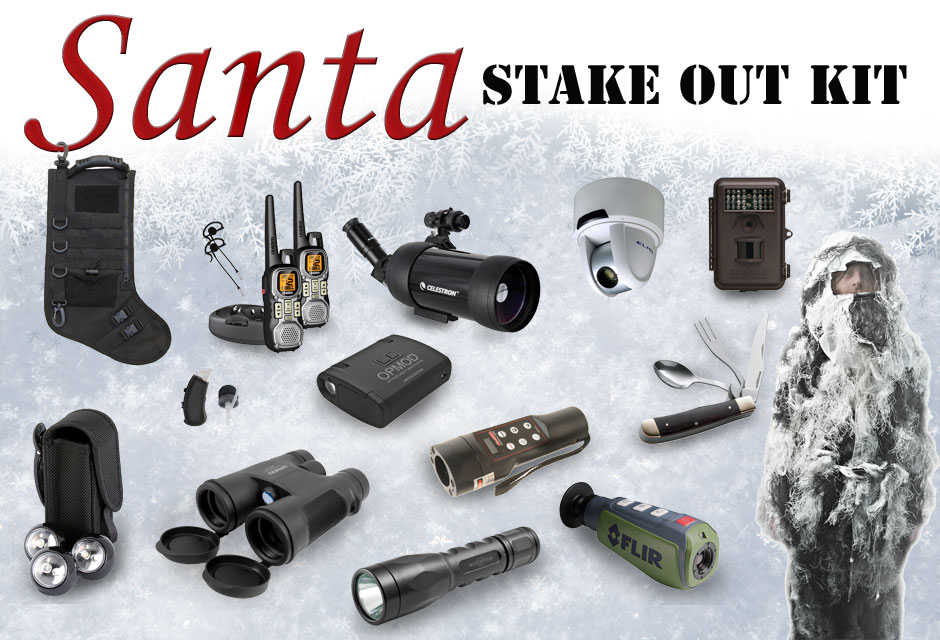 I'm always on the lookout for Jolly Ol' Saint Nick. Never have been able to find him, though. This year's going to be different. This year, the game has changed. This year, OpticsPlanet has the Santa Stakeout Kit.
No more will Kris Kringle hide under the cover of night from me. I'm not going to take those lumps of coal any more. I have made it my mission to speak with the Head Elf himself about officially removing my name from the Naughty List. There's no point in going into details of how it got there. Let's just say that he and I have never seen eye to eye.
Utilizing the carefully crafted Santa Stakeout Kit, you too can track Santa as he makes his way from his fortified hideout in the North Pole.
The Bogey is Moving In
Countless hours of surveillance through the years have revealed this much: Santa has harnessed as-of-yet unknown flying powers in his sleigh and flying reindeer. To get an eye on him, you're going to need to stay concealed in the cold December outdoors. Don your OPMOD Ghillie Suit and Final Approach One Shot Blind to make sure he doesn't see you first. This is your primary line of defense against Father Christmas – staying hidden. Make sure you stay warm with the included parka, winter gloves, and hand warmers – Santa has a naturally extreme tolerance to the cold (viz. his wintery North Pole home), but you don't.
So you're concealed. But you won't hear his sleigh bells ring – are you listening? – unless you heighten your senses a bit. With the Pro Ears Pro Hear IV Hearing Device, every faint "ho ho ho" will clue you into his flight path. It fits comfortably into your ear and picks up all the little sounds you normally can't on your own. And you'll be sure to hear those sleigh bells jingling, ring-ting-tingling too.
You need to get eyes on him next. Grab your OPMOD WB 8x42mm Binoculars and focus in on the tiny spec in the distance. Is it holly and/or jolly? Just be sure, use the included FLIR Scout Thermal Camera. You'll notice a particularly prominent warm jolliness in the belly. That's when you know you've got him in your sights! Better prep for what comes next.
Manipulate the Reindeer
If you're an experienced hunter, you're familiar with deer – "rein" or otherwise. These are no ordinary quadrupeds, however. You've got to draw them to the low ground and give yourself the tactical advantage. Spray a little Cass Creek Scent to bring them in, and monitor them remotely with the Bushnell Trophy Night Vision Trail Cam. If you happen to get in close, make sure you avoid the teeth. Santa may be here to deck the halls, but I hear those reindeer are more akin to the Grinch.
Control the Break-In
Santa, that crafty old man, is a master of getting into even the most secure fortresses. His primary mode of entry is the chimney, and he tends to hurry down them, too. Make sure you're prepared.
Keep an eye on everything with the Elmo Indoor Network Dome Security Camera. With its built in motion control, Santa won't be able to sneak by. When you're ready to get an eye  on him yourself, grab the OPMOD Carson Mini Aura DNV Pocket Monocular. Even Santa won't be able to use the cover of dark.
If you want to be sure you entice Saint Nick even more, you should consider hanging the Gen Pro Tactical Stocking above the chimney. Santa won't be able to resist this serious sock, and you'll even be able to hide some backup equipment in it, should things go awry.
GRAB HIM!
He's inside. You've got questions, he's got answers. And presents. A whole bag full of presents.
Roll the Brite Strike Tactical Balls into the room to catch him off guard. They wobble, flash, and cause plenty of confusion. Just be sure not to get distracted from the task at hand! Once he's temporarily disoriented, you can move in. If you're not sure you can grab him before he rushes back up the chimney, whip out your Canon EOS Rebel Digital Camera and snap a few pictures. Undeniable proof that Santa Claus is coming to town!
From there, it's all a matter of asking the right questions and getting some answers (and those new presents you've been waiting for).
So How Much?
Can you really put a price on a chat with one of the world's most elusive elves? Yes, you can, and that price is a mere $6,499! This includes all of the great gear mentioned in this post, plus everything else you could possibly need to track and catch Santa. But isn't the peace of mind worth it? The Santa Stakeout Kit can make your dream of meeting the real Santa a reality. I know I'm ready. The way I see it, there's only one way to get on the Nice List: you earn it.
Related Posts
« Armasight Sponsors Maximum Warrior 4: Week 8 Announcing the Dream Hunt for Two, Brought to You By Weaver® Optics! »