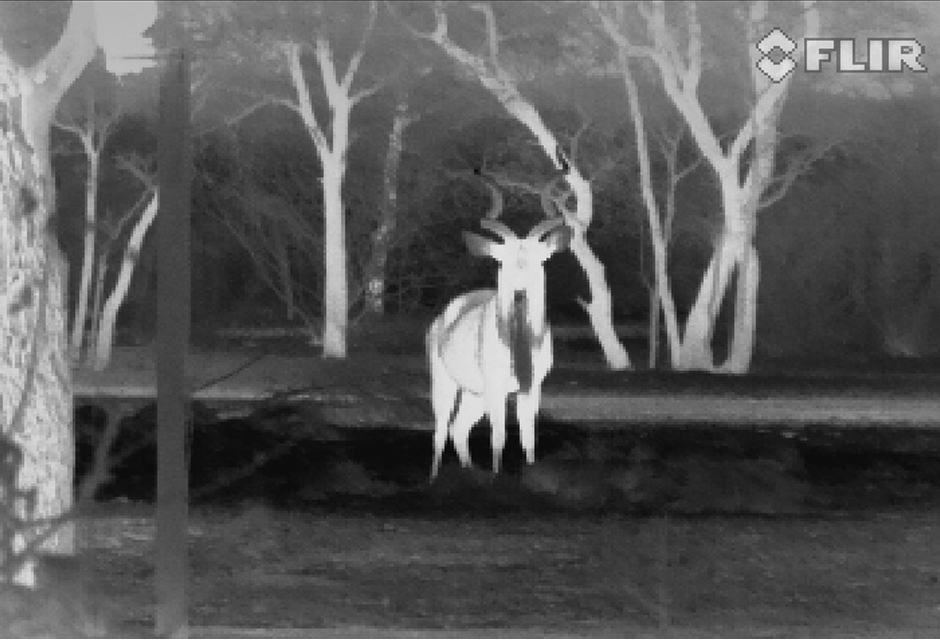 OpticsPlanet.com loves giving gear away – riflescopes, binoculars, and now, the FLIR Scout PS-32 Thermal Imaging Monocular! Just go to the product page there and enter your email address to enter for your chance to win one of these babies. I've tried one, and I can tell you – they're a lot of fun. The contest ends August 5, so you'd better hurry!
The PS-32 is equipped with selectable palettes including the InstaAlert that displays thermal signatures in bright red. The rechargeable battery will last you 5 hours – plenty of time to get your hunting down. This powerful thermal handheld would be great for a whole lot of uses – hunting, hiking, and more. But that's not all! Here's my top 10 list for awesome things you could do with your FLIR Scout PS-32 Thermal Monocular – in order from most useful to most…"creative."
1. Hunting – This is the obvious choice. The FLIR Scout PS-32 is the ideal hunting monocular. It packs away easily, has 5 hours of battery life, and the selectable palettes give you options in the field. I'd take one of these with me in a heartbeat, but they won't let me enter the contest.
2. Hiking – Keep an eye out for bears, cougars, and other predators, find your way back to the campfire, and locate your hiking buddies. The FLIR Scout is a great hiking companion, whether you're taking a short hike in the evening or will be on the trail for a week. Of course, you'll need to charge the batteries – might I also recommend a solar charger?
3. Camping – The FLIR Scout PS-32 Thermal Monocular cuts through fog, dust, smoke, and more to bring you the most crisp, clean thermal signatures possible. It will also let you locate other campsites and make sure to maximize your distance from dangerous terrain.
4. Home Defense – Keep an eye out for intruders, as well as any bears that might've snuck up to your porch. What is it about bears today? I think I'm terrified they're going to sneak up on me.
5. Detect Leaks – Is it feeling a little drafty in here? The FLIR PS-32 is great for pinpointing where the cold air is getting in.
6. Watching Livestock – When keeping predators at bay, it's important to know where they're coming from. Camp out with this FLIR monocular and you'll track down those pesky mountain lions in no time. Or bears.
7. Hunting for Bigfoot – One of the many wonderful suggestions on the Optics Planet Facebook page, I couldn't agree more. Bigfoot is a serious problem and represents a threat to national security. The FLIR Scout PS-32 Thermal Monocular may be just what we need to keep him in check.
8. Ghost hunting – I'm not sure if ghosts give off heat signatures, or if they're unnaturally cold. Either way, I'll feel safer knowing I've got a FLIR with me, just in case.
9. Detect "Gas Leaks" – This one speaks for itself, I think.
10. Just looking really cool – Win this FLIR Scout PS-32 Thermal Imaging Monocular, and you're going to look really, really cool.
These are just a few suggestions. I'm sure there are many more – let me know if I've missed any, and head over to the FLIR Scout PS-32 product page and enter your email for a chance to win one!
Related Posts
« Totally Invisible: The Invisible Man Kit Arrives! Free Up Your Hands With the SureFire 2211 LED WristLight »