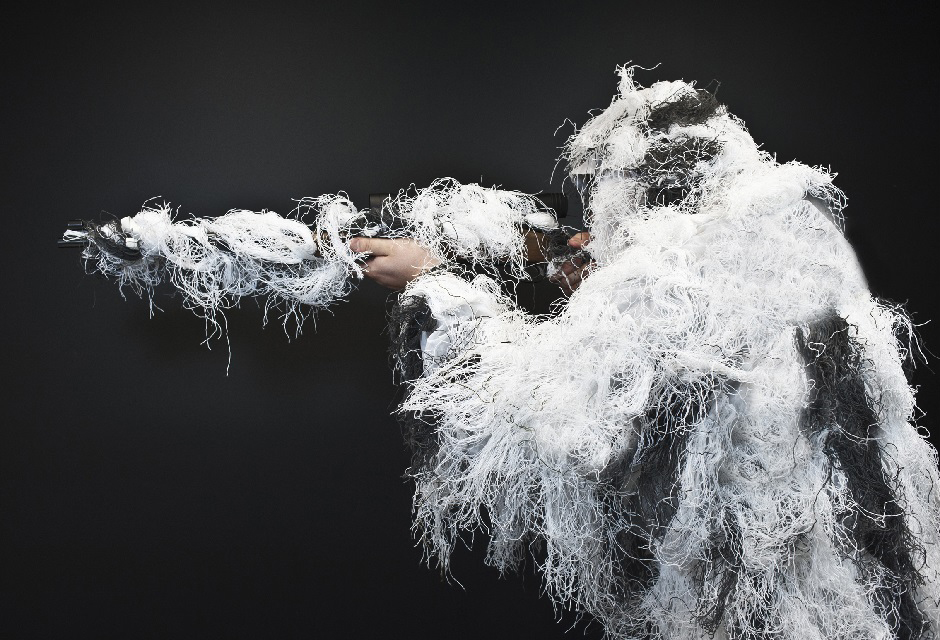 How terrible is it being visible all the time? I'm serious, it's a real drag. I can't tell you how many times I've wanted to be invisible – when I'm tracking game, when I'm embarrassed, or when I'm eating (I'm a private person). So, between those three, I want to be invisible literally all the time. FINALLY, Optics Planet has the product for me!
The Invisible Man Kit brings invisibility screaming into the 21st century with gear that will make your jaw drop (don't worry about gawking, no one will be able to see you anyway). The Invisibility Experts over at Optics Planet have made sure that there is not a single piece of frivolous gear in this kit; deck out your gear box with everything in this kit and you'll feel yourself fading from existence a la Michael J. Fox. The only thing this kit doesn't include is magic – and let's be honest, it comes pretty close.
The OpticsPlanet Invisible Man Kit is absolutely packed with gear to transform you from a loud, smelly, entirely visible hunter into a honed mass of pure invisibility. The kit approaches each aspect of the hunt with no-holds-barred intensity that will make you wonder how you ever survived being seen all the stinkin' time. The Invisible Man Kit will give you the advantage on three fronts, represented by three of the five senses: sight, smell, and hearing. (If you find a kit that covers taste and touch, you may have picked up a cookbook instead.)
Not Seeing Is Believing
Let me just put it out there: there are a lot of ways that the Invisible Man Kit helps you with basic visibility. Full disclosure – it contains no actual cloaking device. It just gives you everything else you could possibly need for invisibility.
The Invisible Man Kit starts you off with two OPMOD Ghille Suits – both Woodland Camo and Snow Camo. Bring both along with you if you think the seasons are going to give you a miss and go straight from Spring to Winter. But that's not enough – you'll also need the Final Approach Eliminator Express Blind. This comfortable blind is perfect when you're lying prone for long hours, waiting for the perfect buck to come along.
When it starts to rain, fear not – unlike invisible ink, the Invisible Man Kit doesn't stop working when it's wet out. The Propper Gen II ECWCS Parka will keep you dry and still let you blend into the background. Throw on the Blackhawk Balaclava to cloak your face, too.
With all these great products and much more – like the UnderTech Concealment Shorts or the S.O.L.A.G. Gloves – you're going to start feeling pretty invisible. But wait! Your prey can still smell you, you know! You might as well give up and go home now.
Just kidding! You know that the Invisible Man Kit has plenty to help on that front…
Smell Ya Never
If you're not using the Invisible Man Kit, well, we'll be honest – urine trouble.
Pee. Yes. The Invisible Man Kit comes with mountain lion and boar urine scents for tracking game, as well as White Tail Gland Scent, and skunk cover – all from Cass Creek. Spray one of these scents on you and you'll start to blend in with nature. If you'd rather not smell like the "great outdoors," use the Scent Kill Soap to kill your natural scents and prevent your pray from smelling you before you even see them.
And when nature TRULY calls, be sure you have the Do-All Outdoors Port-A-P Hunting Urinal handy!
Listen Closely
Finally, we have sound. Now, most of the gear you'll be wearing from the Invisible Man Kit is designed not to give away too much sound, but you'll still need to be careful when you're tramping through the woods. Unfortunately, you don't have much of an advantage in this department – or do you? Most of the animals you'll be hunting have much better hearing than you. Give yourself a really competitive edge with the Pro Ears Pro Hear Digital Sound Amplifier.
More Accessories Than You Can Shake A Stick At
Not only is the Invisible Man Kit packed with the awesome gear above, but you'll also get killer weapon accessories, knives, cases, lasers, and much more. You'll even get a safe to make sure your gun is invisible!
Once you're invisible to your prey, you're going to need to be able to take them down. Fortunately, the Invisible Man Kit has plenty of gear to make sure you get the perfect shot, every time. This includes awesome gear like a sweet Leupold scope and anti-reflective device, ATN Night Vision Goggles, a laser designator from Laser Genetics, a reflex sight from Burris, and even ATN's Odin Thermal Imager.
This may all seem a little overwhelming, but don't worry. The folks over at Optics Planet know that they've got a lot to offer. Why not take some time to peruse what the Invisible Man Kit has to offer? Pick up an Invisible Man Kit – when you're ready to disappear…
Related Posts
« Tech on the Range: Burris Eliminator III FLIR Scout PS-32 Giveaway! What I'd Use It For »