The third part of our SHOT Show Streamlight interview covered two new flashlights that offer a huge bang for your buck!  Both lights can use a rechargeable battery so that, over time, you save a lot of money while still getting the great Streamlight performance you expect.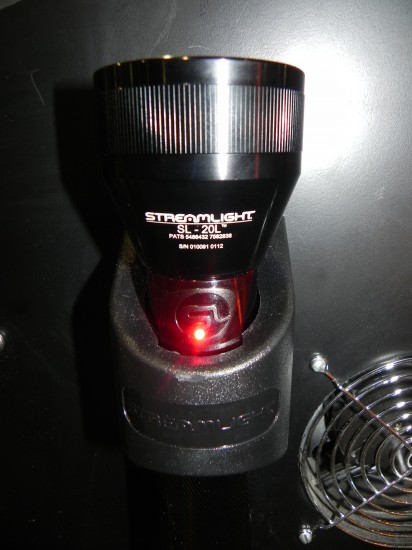 The Streamlight SL20L is the highest powered LED rechargeable flashlight from Streamlight.  It has three settings, with high, medium and low output to help you maximize battery life, and it'll give you 350 lumens of light at high output, which is blindingly bright, 160 lumens at medium and on low it'll still give you 10 lumens.  For each power setting you'll get a good amount of battery life, with about 2 hours at high, 4 at medium, and (incredibly) 50 HOURS on low.  50 HOURS!  That's just amazing.
One other thing I really like about the SL20L is the recharging sleeve.  Check out the picture.  You mount the sleeve on a wall and plug it in, then you just slide it into the sleeve to charge it.  It's really simple to do, and a red light turns on when it's charging so you can be certain it's always ready when you need it.  Very cool.
The other great new light Streamlight showed off is a headlamp.  The Streamlight Sidewinder 2 is the latest addition to the Sidewinder family, and it is a versatile new headlamp because it'll allow you to use three different types of batteries: a Lithium, a regular AA or a rechargeable AA.  That rechargeable AA will save you a lot of money in the long run, and you lose almost no power because of your choice of battery.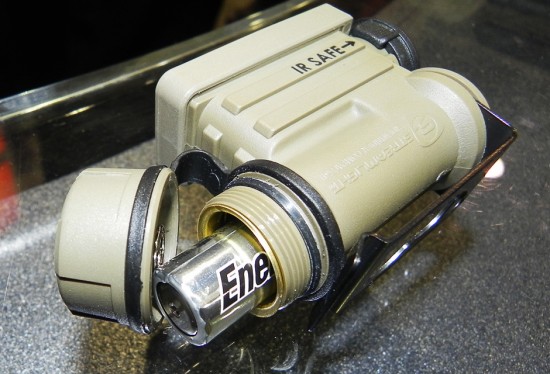 The Sidewinder 2 has four different LEDs, with a white, red, blue and infrared all available at the flip of a switch.  These LEDs have four output settings as well, from low to high, and there's a beacon mode that flashes in case of emergency.  You should be able to get one in just a couple weeks!
Streamlight really wowed us at SHOT Show with their impressive new technology and innovative designs.  Our Streamlight SHOT Show Videos have been a big hit, and 2012 will no doubt be another great year for Steamlight and anyone who wants a fantastic flashlight!
Latest posts by OpticsPlanet
(see all)
Related Posts
« Streamlight ProTac Flashlights from SHOT Show – Super Bright & Handheld! Bushnell Elite Tactical and Legend Series Video Interview from SHOT Show! »