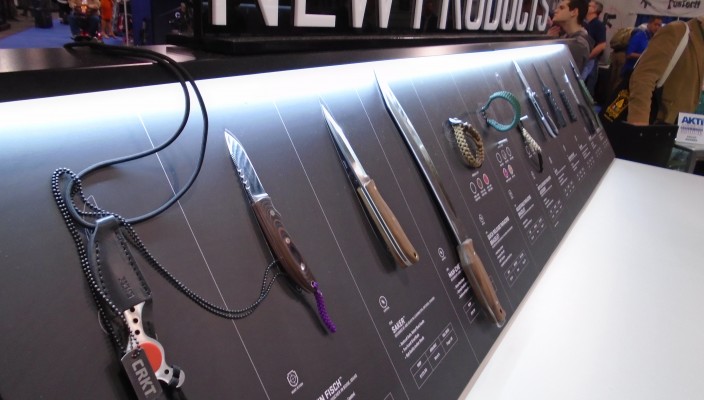 While I can still count the number of guns that I own, I gave up keeping track of the number of knives I own a long time ago. It may come as a surprise to some that SHOT Show is the same way. There are as many, if not more, new knives being announced and displayed than firearms. Everything from the affordable to the limited edition, both folders and fixed blades, gets showcased at SHOT. Here were some of the blades that caught my attention, and likely a piece of my wallet:
Schrade
Schrade model SCHF39 stood out from the crowd for its unique features. Starting with a 5.23" fixed blade knife, Schrade
built a sling shot into the ABS sheath that comes complete with a spring loaded ball bearing ammo magazine, ferro rod, and 120/600 grit sharpening stones. Whether you are looking for a survival kit or to just have a fun afternoon in the woods, Schrade has you covered.
The Clever Girl by CRKT had me smiling from the name alone, but once I wrapped my hand around the handle I was grinning ear to ear. Designed in collaboration with Austin McGlaun, this knife is one of the new CRKT "Forged By War" models. McGlaun is known for his versatile and robust designs that stand up to unconventional duties. An Iraq war veteran and seasoned Law Enforcement Officer, McGlaun designs tools for warriors. Thus the Clever Girl, a 4.6" length blade that was created so you can grab it, use it if necessary, and then go home to your family.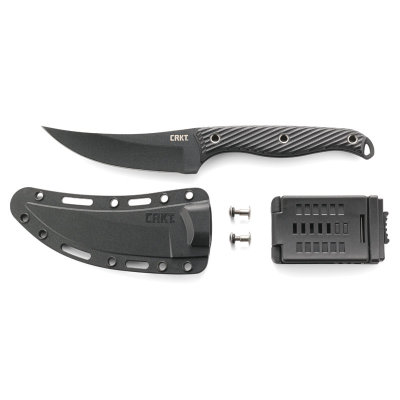 CRKT is also doing a line of knives for Ruger that is more than just a "Ruger" label slapped onto a CRKT knife. They have some interesting models that relate to models of Ruger's firearms through the materials and designs.
Spyderco
Spyderco is coming out with some updated throwbacks like the recently discontinued PITS one handed slipjoint knife, the Snap It Salt knife, and the Lil' Lum knife. The Introvert was a new design and a pleasant surprise, combining a finger flipper with a back lock mechanism. Resembling the Swick, the Introvert may not win an award for looks but it is very comfortable in the hand.
Benchmade
Benchmade announced several flipper models, which is one of my favorite opening mechanisms. The Amicus uses the AXIS lock and is assisted opening, while the Precinct is a liner lock and the Proxy is a titanium framelock. The Proxy is the largest blade of the three, with a length of 3.8 inches while the Amicus and Precinct are around 3.2 inches in length. They also have a new Gold class knife called the Stryker II that has a damascus blade and a carbon fiber handle.
Benchmade also does the HK line of knives and the Scorch was a neat design with a hidden deployment mechanism that releases the blade when you slide the scale.
Kershaw/Zero Tolerance
KAI (parent company of Kershaw and ZT) had a massive lineup of new models with something for everyone. The ZT0450CF was one of my
favorites due to the finger flipper and carbon fiber, even though I am not the biggest framelock fan. Kershaw has been doing well with expanding their line (Cryo series, Emerson collabs, etc) but they managed to surprise me with their Grinder model. While there isn't anything radically innovative about the 3.25 inch wharnecliff style blade set into Zytel handles with a Speed Safe finger flip, the MSRP of $30 and a street price of $20 is amazing. At that price, the Grinder is the ultimate "beater" flipper. Buy one for EDC and one to leave in your go bag.

TOPS
While TOPS is known for their endless variety of fixed blade offerings, and continues to expand with models like the Hazen Legion 6.0, they were showing off their Brothers of Bushcraft Folder prototype that is almost in production. Everything you love and trust in the B.O.B. knife, now in a folding version. The Hazen Legion on the other hand is a combat blade designed by Mark Hazen, but is still fully capable of almost any utility task. When Mark saw the demand for his knife take off, he went to TOPS to help with the production and they were more than happy to assist.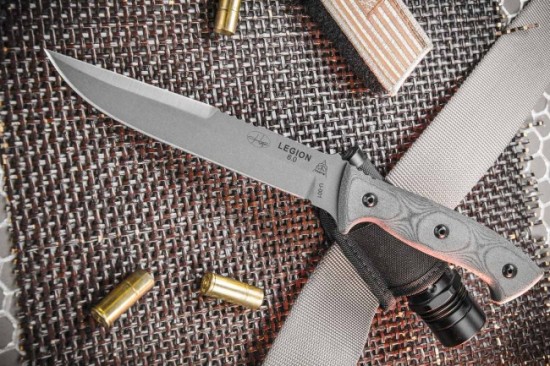 ESEE
While ESEE didn't have any big unveils at SHOT, they are making some substantial changes. On the product side, they are offering uncoated blades in their Camp Lore series after receiving many requests from traditional bushcrafters who prefer the naked blades to the powder coated ones. ESEE is also decreasing their foreign supplier reliance and working on cutting down supply times as their US based manufacturing partners increase their facilities/capacities. This also could free up space for new projects, like maybe the ever elusive Izula folder, but no promises yet.
Boker was showing off their first American made knife, dubbed the USA, amidst the vast array of models that they are consistently increasing. They also slightly updated the Kwaiken model with the Kwaiken Tactical, which is one of my favorite Boker folding knives.
Kizer Cutlery is a relatively newcomer making a big splash and definitely a company to keep an eye on. The Roach really impressed me and is on my To Buy list for 2016. If you haven't checked them out, make sure you do.
Another new name on the scene generating a lot of buzz is Colonel Blades. The shape reminds me of the Ka-Bar TDI knives. Colonel Blades are designed to be used for everyday tasks but are quickly and intuitively employed in life-threatening, CQB style scenarios. For the finish, Colonel Blades uses either Robar's NP3 Plus or Roguard which are both excellent finishes that really enhance the durability of the knife.

That is just a small sample of the knives that were at SHOT but I think it illustrates how the Knife industry is catering to end users and pushing the bar on innovation just as hard as anyone else at SHOT. Whatever your preference, keep it sharp and keep it nearby.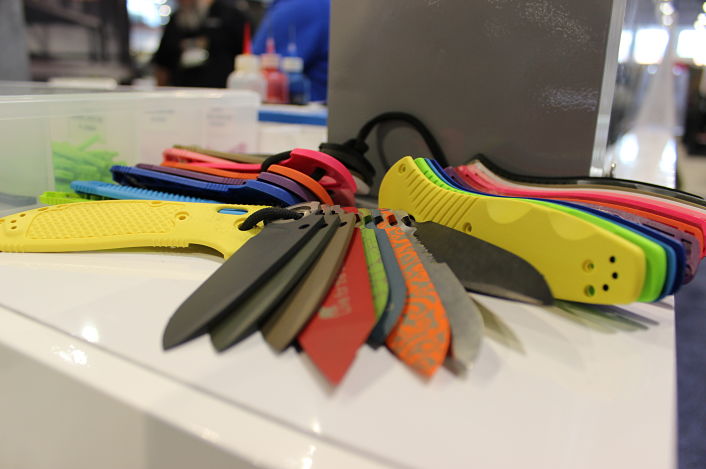 Related Posts
« The Night Vision and Thermal of SHOT 2016 Can You Hear Me Now? Good »