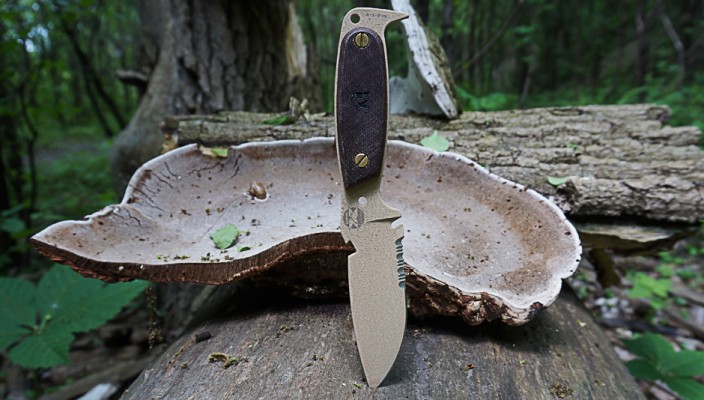 Stupefy, meaning to stun, as with a shock, or a strong emotion. Why the vocabulary lesson? The word stupefy is what happened to me when I crossed paths with the DPx booth at the NRA Annual Meeting and saw this knife.  I'll be honest, my brain was on autopilot heading to the Magpul booth right next to these guys but man oh man am I glad that I caught this coyote concoction out of the corner of my eye. After getting my greasy paws on this blade in the booth, I had to get me one to test out and see what its made of. 
I can tell you guys firsthand, this knife is a looker and I'm all for collecting knives. However the looks of this knife are 100% functional. The crazy tang on the handle that does a 90 degree sweep to a point, believe it or not is meant to be used in a prying capacity. If you've read my other posts, then you know I'm a sucker for any gear wearing the coyote color and again the knife combines  features that have a use but look awesome too. Because of the high carbon 1095 blade steel's tendency to rust up like no mans business, the whole knife is coated in what looks to be a texturized powder coating.
It may look as if something took little nibbles out of random areas on the knife but in all actuality they have numerous convenient uses. The chunk taken out on the spine is a bottle opener, the groove right before the serrations is a wire stripper, and the holes above and below the handle are perfectly sized so that you can lash this blade to a stick, making yourself an excellent spear. The attractive brown Micarta linen handles and brass screws can also be opened up to store away your fire rod or whatever essential items you can fit. What I failed to mention earlier is that when your inner Steven Seagal comes out, the pry bar at the end makes a perfect control point for using the knife in a defensive role.
A few trips out into the backcountry camping and hiking with this knife have left me quite impressed with the coyote colored catalyst from California (say that three times fast). It really does change the way I think of what a knife is capable of. Normally you have a stout knife that if improvised correctly can be used to do tasks like prying, stripping wire, cutting cordage,  and opening beers but this blade has designated tools for such outdoor chores. I don't get blown away by gear too often but this knife was a cut above the rest and led me to dig deeper about this company I knew next to nothing about. It turns out these new kids on the block, DPx Gear and their fearless leader Robert Young Pelton, build all of their knives so that the end user can get themselves out of any number of bad situations. Mr. Pelton happens to know a thing or two about "dangerous places" since he's worked in environments that would have most of us heading for the hills, like Somalia, Afghanistan and South Sudan. With these experiences built into the philosophy of every knife and stunning looks, DPx gear has captured my attention and I have a feeling now they've got yours.
Have any questions or comments about this blade? Feel free to leave them in the box below. As always guys, shoot em straight and be safe!
DPx Gear HEST 4 Expedition Knife 
Related Posts
« Big Water + Big Fish = Big Smile! Action is Picking Up in the Great Lakes OPMOD Last Minute Fathers Day Gear »