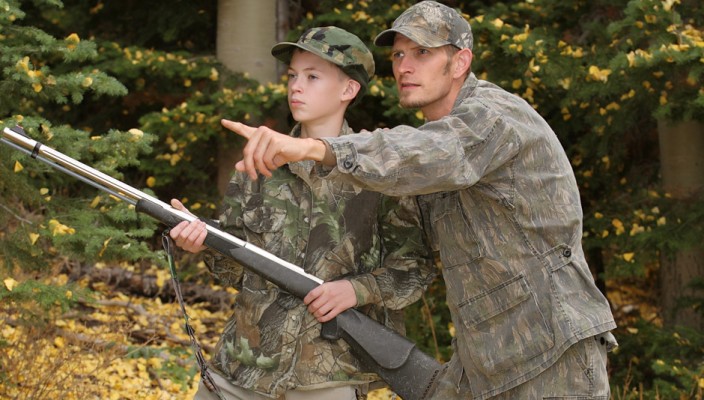 What do you get the dad that has everything? If you're tired of the 10 piece barbeque kit or the "worlds greatest dad" t-shirt, then you may want to start leaving hints to kids for these gifts. Now a word of warning, these are products that you'll actually use and want to show off to your buddies.
As a dad you're constantly busy helping your kids with their tee ball games or tackling the onslaught of household chores. Wouldn't it be nice to hide from it all but still be within shouting distance? This Ghillie suit might stick out like a sore thumb on your couch but I'll tell you right now, find yourself a nice chair  in your backyard and your family will be none the wiser of you enjoying some much deserved free time.  It also serves as excellent camouflage when hunting or when you want to get up real close for wildlife photography.
If you stick to my plan and use the ghillie suit for hiding in your back yard, then you'll definitely want to relax with a cold beer. In my opinion, nothing is cooler than enjoying your favorite frothy beverage in an OPMOD Battle Mug. With a myriad of options for mounting everything from laser sights to thermal imaging sights, the Battle Mug is the perfect companion for any barbeque, tailgating, or any game time hangout. This mighty mug is machined out a 13 pound solid block of billet aluminum and ready for whatever dastardly deeds you can throw at it.
Unfortunately the good ol' days of twisting off majority of  your bottle caps are over. If you want to get the most out of every minute that you're not stuck doing fatherly things, then you need a bottle opener that'll give you quick access to your beer. The  OPMOD Tactical Bottle Opener screams masculinity and might be the most essential product we sell. It doesn't get much more tactical than a bottle opener that is nearly identical to an AR-15 A2 flash hider. Made in the USA and sporting a nice paracord storage lanyard, there's no reason this shouldn't be part of your EDC (every day carry).
Now that I've given you every way to hideout in your backyard and enjoy some much deserved beers, you need a way to keep track of the time because sadly this fun can't last all day. The OPMOD Tactical Everyday Watch has every feature you could ever want out of a timepiece. Not only is it comfortable but is also extremely stylish so it looks right at home no matter where your day takes you. "Happy wife, happy life" – so don't upset your family by dozing off or losing track of time, simply set the digital alarm and you're good to go.
Let the loved ones in your life know what you really want this year for Fathers Day. Make sure they don't see this post or they'll exactly where to find you when you go "missing" in the backyard. What are your plans for this upcoming Fathers Day?
Related Posts
« A Cut Above- DPx Gear HEST 4 Expedition Knife Trijicon VCOG, The Evolution of Greatness »