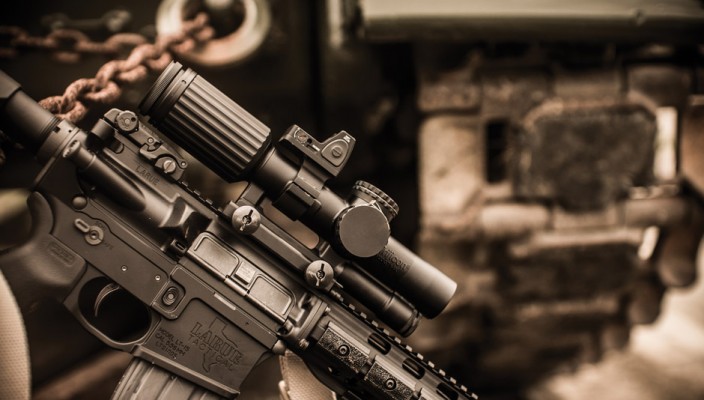 Many of you are extremely familiar with the Trijicon ACOG scope. First introduced in the early 90's, this wonder weapon sight quickly became popular with soldiers downrange. With an uber robust housing and simple to use controls, its a no-brainer why the ACOG is so popular with the military, law enforcement and civilian shooters alike.  Is it possible that the folks at Trijicon could  come up with something even better than the ACOG?
Based on the feedback from soldiers, the scope was plenty tough but left something to be desired in the magnification department. However, Trijicon being the optical wizards that they are, knew that just slapping magnification on the ACOG wouldn't help the guys who actually use this equipment. Starting from the ground up, the VCOG has been meticulously engineered and designed to do everything that the its predecessor was capable of but with supercharged capability.
The VCOG's major selling point is the fact that its a variable power. Of course they didn't select just any old magnification range for this scope, they've looked at countless data and worked off of the combat feedback from soldiers. What they came up with is an extremely useful power range of 1 to 6.  The fact of the matter is most combat, law enforcement, competition, and self defense situations will rarely require anything beyond those magnification ranges. Majority of the end users who use modern sporting rifles, the Nemo rifle excluded, will never need to shoot out past what you can see when this scope is maxed out at six power.
Although this optic was designed from scratch, it shares many of the excellent features found on its older brother ACOG. The built in scope base takes all of the guess work out of the proper height adjustment for standard bases. The integral base also provides for an amazingly solid unit that will easily survive a trip to hell and back.
I cannot begin to describe to you how crystal clear the sight picture is through the 24mm objective lens. You can choose from two different illuminated reticles based on your chosen guns caliber. Since I wanted to throw it on my latest 300 blackout concoction, I opted for the 300 BLK specific "segmented circle" reticle. If you're aware of the Nikon BDC reticle then you should feel right at home using Trijicon's version of it.. Because this is a first focal plane scope, the reticle also grows in relation to the magnification level. This also means that reticle bullet drops remain true no matter what power you're set at.
I'm no Jesse Tischauser, but after zeroing the scope to 100 yards and a few magazines later, I definitely feel confident in running this scope in a 3-Gun competition. Among military and law enforcement uses,  the VCOG would serve as an outstanding choice for a 3-gun rifle setup. Just remember that no matter what optic you buy, it isn't going to have you winning top podiums the next day but with the VCOG you have a tough as nails scope that gives you the utmost usable magnification range for quick close range shots and out to distance. Like what the Trijicon VCOG has to offer? What would you mount it on? Let me know in the comment section below!
Related Posts
« OPMOD Last Minute Fathers Day Gear Canon "Capture This Moment" Sweepstakes »