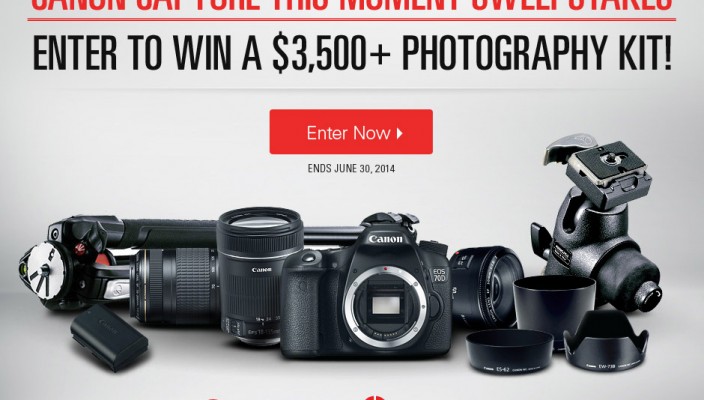 Whether you're just getting in to photography or your Jedi photo shooting skills have left you wanting more than what your current platform is capable of, this prize pack will have you drooling. Lets face it most of us are no Jimmy Chin (click here if you don't know who that is) and we're not scaling cliffs to get that perfect shot.  Although your photography skills may not be pushed to the limits, you still want to have the best gear possible. This Canon sweepstakes isn't some collection that we just randomly threw together, it was carefully selected to give you the ultimate photography bundle for no matter what  you're shooting.
The Canon EOS 70D camera body is the brains of the bundle offering outstanding features while still remaining relatively lightweight. This camera is great for shooting stills but where this unit really shines is when you're shooting video. There is auto-focus and autofocus, the system in this model is the latter. It offers unprecedented smooth transitions for shooting video that few other cameras can match. To put this in to perspective for you, all of those action shots and stunning pan shots will be smooth as butter.
A newly designed CMOS (APS-C) sensor is positioned neatly in the body to give you the pinnacle of optical performance. With 20.2 megapixels, every blade of grass, every freckle and every grain of sand, will jump right off your final prints. Did I mention the awesome ISO range? While covering a wide gamut of lighting conditions, a range of 100 to 12,800 will allow you to shoot in the deepest darkest locations.
Now you can have the greatest camera in the world but if you put a junk lens on it then you will still have sub par photos. With that in mind , we paired this EOS 70D with a lens pack that puts the eyes of an eagle to shame. The Canon EF-S 18-135mm lens is perfect for any number of run and gun situations. The Canon EF 70-300mm is the premier choice for your long range shots but leave any up close up shots to this next lens. The last lens that we've put in the giveaway is the Canon EF 50 mm  which gives you a great shallow field of depth but may take some time to set the shot up since its fixed magnification. These lenses also all come with the correct lens hood to keep the suns rays out of your photos.
What good is a camera that is dang near perfect if you have no way to get the steadiest shots imaginable? Yeah we thought the same thing too, that's why we're also throwing in a sweet Manfrotto 190 Series Carbon Fiber Tripod . Don't let its fancy looks fool you, this tripod means business. The ultra lightweight legs make this the go-to choice for those photo shoots that'll have you carrying your gear on foot a long distance.
Honestly this is one of the most expensive giveaways we've done at OpticsPlanet. Whether you're in to photography or just a point and shooter, this is one crazy awesome giveaway package.  You only have until June 30th to enter in for this sweepstakes so click this link here for the chance to win this Canon camera bundle!
Related Posts
« Trijicon VCOG, The Evolution of Greatness Vortex's New Spitfire AR Specific Red Dot Sight »