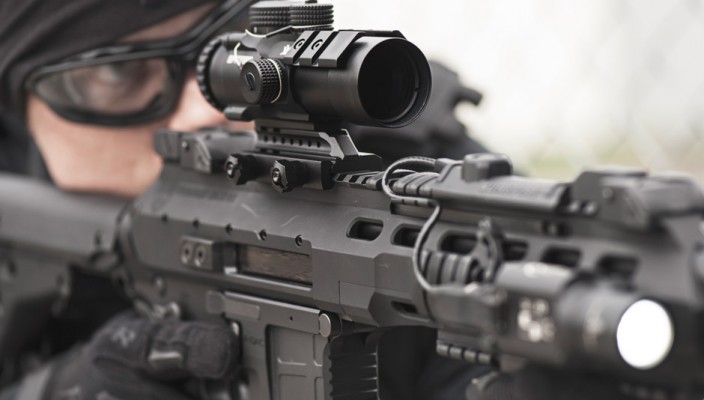 If you've ventured in to your local gun store or have taken a look at some of the online gun dealers websites, then you've probably seen the record low prices of America's rifle, the AR-15. You never would think that these rifles were going for three times the price back in early 2013. Hopefully you were lucky to already own an AR and bypass the frenzy. The reason I bring up the AR is because of a sweet new red dot sight from our good friends at Vortex Optics.
We all know that finding that perfect optic for your AR can be a pain. At one end you don't need that much magnification for the 556/223 round and on the other end some little scope is too hard to use quickly. This is where the Vortex Spitfire comes in.  The guys at Vortex spent many long nights coming up with the perfect fast acquiring red dot sight specifically for the AR-15.
What sets this red dot apart from the 100 different red dot sights on the market? For starters its offered in two different magnification a 1X version and 3X model.  "Did you just say 3x?" Yes 3X, believe it or not a fixed 3 power red dot in my opinion gives you the best field of view and range for what you would need in CQB/ tactical shooting. Call me crazy but I prefer 3 times magnification for these uses over the popular 4 power red dots on the market like the cough cough ACOG. If you're not a fan of the 3 power, then the true one power is just as good.
It's worth pointing out that this red dot has a very unique look that I can't seem to put my thumb on. Don't let its good looks fool you, this is one rugged optic. Not only is it waterproof and fog proof  but after my handling it and  an accidental drop to the floor, it was unmarked. Heck you really know it's one tough piece of hardware when Vortex gives it their VIP Unconditional Warranty, meaning they'll take care of you no matter what series of unfortunate events your optic goes through.
The best feature of the Spitfire in my opinion is the etched dual illumination reticle. In laymen's terms, the reticle is scratched into the glass so what you have is a reticle that is a lot stronger and will survive the bump and bangs of hard use. The DRT MOA reticle is pretty awesome in itself. What you have is a small 3 MOA center dot, followed by two rings. This allows guys like myself who aren't professional shooters, to only have to put the smaller 44 MOA ring on close range targets and mash the trigger for fast shots.
What's nice is they gave this red dot a built in high base, providing you with the exact height for the AR platform. No need to run out and pick up lens caps either, Vortex wants to keep their high quality glass safe as much as you do, so they include a nice pair of flip up caps. The Spitfire also comes with a CR2032 battery, which on low power will run for 3,000 hours. One of the features that often gets overlooks is the battery cap and of course they didn't skimp out here, it comes with a super tough tether so you don't lose it in high stress situations.
I'm not exactly sure if they chose the name for this optic from the famous British WWII fighter plane with the same name but it would make sense. The plane was known for its high speed, high performance and short range effectiveness. After using the Vortex Spitfire, these attributes are dead on. I have a feeling that this new red dot is going to fly off the shelves because its truly an excellent high value optic for short range work.
If you were to get your hands on this Spitfire, what would you mount it on? Let me know in the comments below!
Related Posts
« Canon "Capture This Moment" Sweepstakes OPMOD Gear For Your Gun Guide »