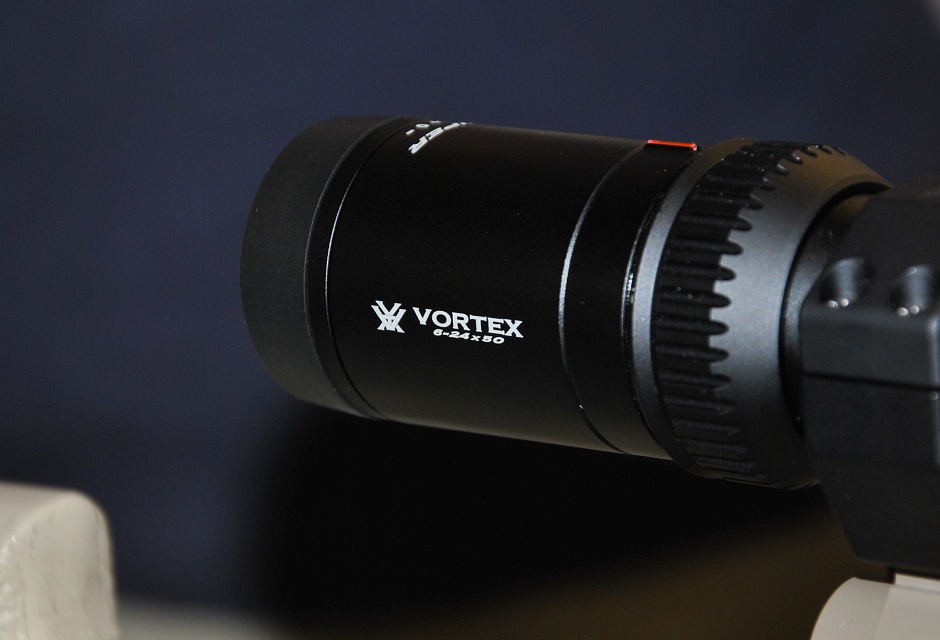 The Vortex booth was hopping this year, and no doubt it was due to the new Vortex Viper HS LR line. I remember seeing the Viper HS LR line last year, and it was fairly popular throughout 2012, but I think 2013 is going to be even better.  This line of rifle scopes is positioned between the base Viper line and the Viper PST line in price and features, but will feature both second focal plane and first focal plane (FFP) models. The specific model we looked at was a 6-24×50 FFP Reticle and it looked a lot like the Viper PST. These are expected to arrive in April with an MSRP around $999, though look for the street price to be a bit lower.  That's a good price for scopes of this quality with this number of features.
We also saw the latest addition to the Viper PST line, the 2.5-10×32 Vortex Viper PST FFP scope. Specifically designed to be a low profile AR scope while still being true to the features and polish end-users expect from the Vortex Viper PST series.
The Vortex Viper PST line has suffered from manufacturing issues in the past, as demand has been absolutely incredible and Vortex struggled to produce them quickly while still making sure to meet their incredibly high quality standards. It looks like 2013 will see an improvement in that regard, and hopefully Vortex Viper PST's will be available and in-stock as opposed to backordered for months.
Vortex was the last brand we saw on Day 3 of SHOT Show 2013, but we still have more to come, including exclusive video interviews, and some pics of the amazing firearms and some new optics we saw on Friday!  Stay tuned!
Latest posts by OpticsPlanet
(see all)
Related Posts
« SightMark Photon Night Vision Scopes and Pulsar DFA 75 Co-Witness NV! Crimson Trace Defender Series Laser Sights Video from SHOT Show 2013! »