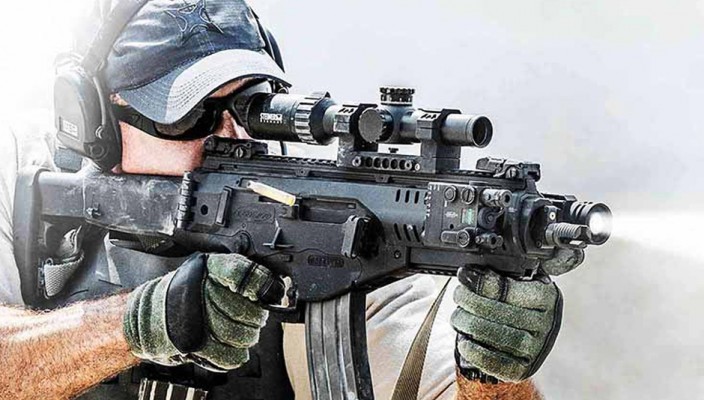 Over the past few years, Steiner Optics has released a new line of scopes in their military/police line dubbed the MX5i series. These include the 5-25×56, 3-15×50 and the 1-5×24. During SHOT Show 2014, I had spent some time at the Steiner Optics booth and the M5Xi Military 1-5×24 with Rapid Dot reticle really caught my attention. Its list of features and solid design combine to make it a top contender in the rapidly growing 3 Gun market.
When I consider an optic for use in the sport of 3 gun, I look at the durability and overall construction, field of view/eyebox, and the usefulness of its reticle.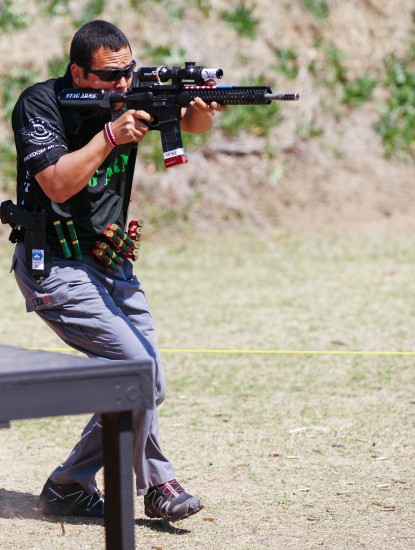 One of the first things I take into account when evaluating a 3 Gun scope is its strength and durability. This sport rewards aggressive game plans and a dynamic pace which can sometimes lead to a slight disregard towards equipment. While shooting a course of fire, I depend on my gear being 100% reliable so I can place full concentration on completing the stage as fast as possible. The Steiner MX5i is engineered and built in Germany and follows strict military specifications. This gives me the peace of mind to place my full confidence in this scope that it will finish any multi-day 3 Gun Match I attend.
I have been using the MX5i for the past 2 months. It has held up to all the bumps and dumps  that occur at the highest level of rifle manipulations. I have dropped it in countless barrels, drug it along gravel and dirt, and even threw it roughly 10 feet across the range during a training exercise. It has never lost zero, broke its airtight seal, developed fog on the lenses, generated unknown rattles, or lose  the smooth rotation of its magnification ring.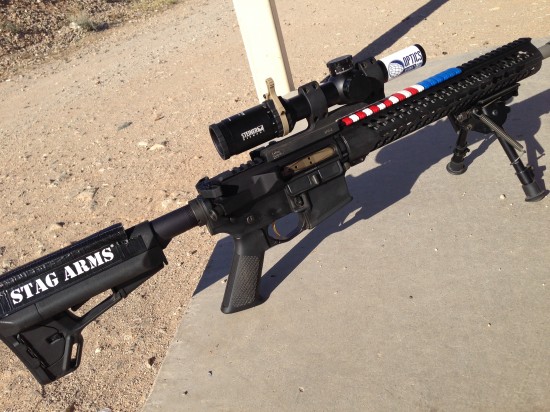 Once I feel a scope will withstand the rigors found in the sport of 3 Gun, I like to examine another desired attribute. Does the scope have a wide field of view and a forgiving eyebox?   The Steiner MX5i 1-5×24 has an excellent field of view when set to 1x power. However it really shines when the rifle operator has to engage targets at long range and utilize the scope's highest magnification of 5x power. The Steiner has an amazing field of view of 23.7 feet at 100 yards. This wide field of view allows the user  to quickly find and engage targets at long range, reducing the possibility of losing the location of small, hard to find targets. When scope aficionados talk about the "eye-box", they generally refer to how easy it is to find a clear and complete image when looking through the reticle. I have used the Steiner MX5i to shoot targets in almost every position possible, from a full run down a hallway to cramped, awkward low ports, even strapped to a revolving circus chair. I have found it easy to always obtain a perfect sight picture when using the Steiner MX5i.
The make or break feature I require in a 3 Gun optic is its reticle. The reticle has to be clean enough not to be distracting while in 1x power so a shooter can engage close targets quickly. However, the reticle has to give the user enough information to make first round hits at targets up to 600 yards away. This is a tall order and the Steiner's design team did a great job! In the center of the reticle is a 7 moa dot that shrinks to an unobtrusive 1.4 moa when at 5x power. This 7 moa dot is the perfect size to engage 6 inch targets at 50 yards, static clay birds at 40 yards, and gives a perfect aiming point when completing the "run and gun" style stage prevalent in today's 3 Gun.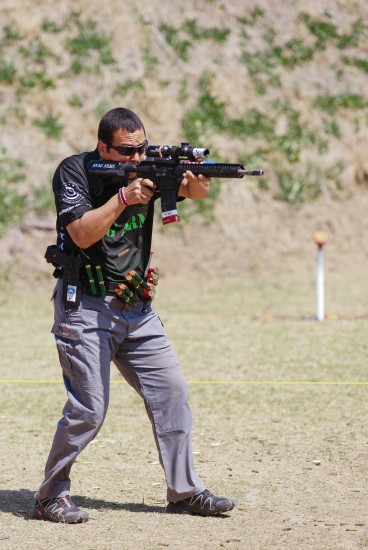 When the shooter needs to engage long range targets at the highest magnification, the reticle has BDC stadia which allows engagements out to a whopping 700 yards! The Steiner's impressive reticle doesn't stop here however. The engineers at Steiner designed this scope to have an illuminated reticle. This allows the center dot to have 11 levels of glowing red for use during the day or night.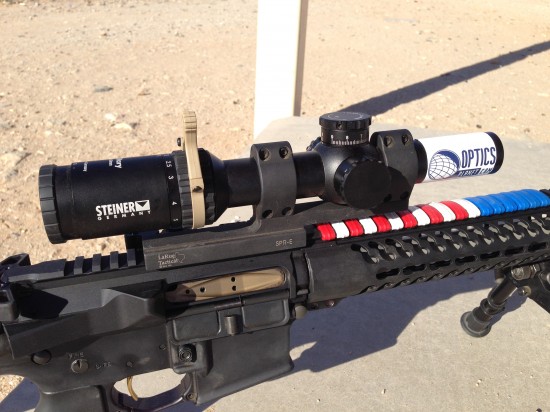 I have found the Steiner MX5i 1-5×24 to be a great, top tier 3 Gun scope, but there are some features that might not suit all shooters. For example, it has uncapped turrets. I have never found this to be a hindrance, but some rifle users might inadvertently spin the turrets, losing their intended rifle zero. Also, the street price of this scope is $2500. This is steep price, however it's certainly in the same realm as the other top level, low-power variable scopes available in the market. Lastly, while most of the competitor's scopes in this price bracket top out at 6x power, the Steiner features a 1-5x power magnification range.
I will be shooting more matches and training events this year with the Steiner MX5i. My evaluation will be constantly ongoing. As of right now, I feel this latest offering form Steiner to be one of the top contenders for "best 3 Gun scope". It leaves little to be desired and its durability, field of view, and reticle design will continue to keep it at the top for years to come.
Latest posts by Kalani Laker
(see all)
Related Posts
« NRA 2014 – "RedRing… Me Up!" Steiner M30R LRF Binocular: German Made, Long Range Target Shooter Approved »