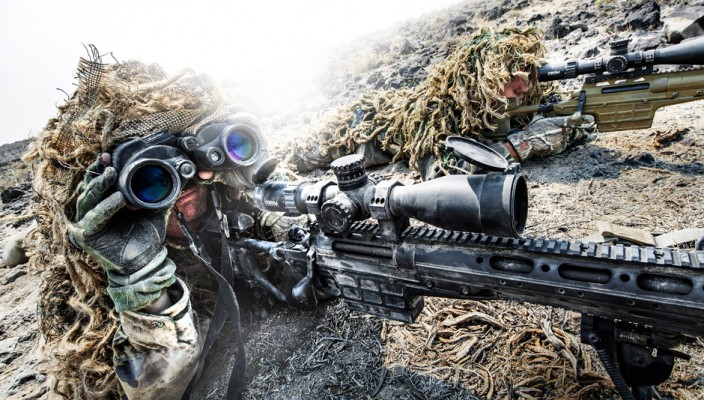 I know what you may be thinking, "we know that everything the Germans make is great, tell us something we don't know." In all actuality, not everything that's born wearing the black, red, and yellow flag is that outstanding. All too often I hear of German cars that are plagued with issues that were triggered only after 10,000 miles on the odometer.  That's not the case with the Steiner M30R 8X30 binocular sporting a built in laser range finder.
Built out of a what Steiner likes to call a "Makrolon" housing, this binocular is meant to withstand an impact of 11 G's. To put that in perspective for you, a space shuttle launch equates to around 3 G's of force. It's safe to say that you'd be hard pressed to damage this bino.  The designers of this remarkable optics knew that a rock solid housing would be of utmost importance to buyers that are dropping used Honda Civic money on a binocular.
The stout German protection doesn't stop there, this unit also features a floating prism system and NBR rubber armoring. What does that all mean? The floating prism design utilizes flexible silicone lens mounts so when the klutz in you is in full effect, you don't have to worry about cracking the high quality aka expensive glass. The NBR rubber coating has proven to be even more beneficial during my testing. Throw em on your dashboard, they stick like glue. Cursed with the sweatiest palms known to man? This rubber armor allows your hand to secure to the housing at some molecular level. It sounds like blasphemy, I know but they adhere to your hand perfectly and feel great doing it.
Honestly some of the features on this binocular I don't even have to bring up because its a given that they have them at this upper echelon. Let me get down to what makes this unit worth twice the cost of many people's monthly mortgage. If you couldn't tell from the third eye on the front of this unit, the "LRF" in the product title stands for laser range finder. To even call this a laser range finder would be doing this binocular a disservice. Laser range finders are what your golf buddies use in attempt to stick shots close to the pin, what this device does should be called "master of all: laser range acquirer." The powerful class 1 laser on this unit is something of legend, something of god like ability that most of us will never full appreciate and how can we, when it lazes out to 1,860 yards. Majority of us poor souls will never have the opportunity to shoots out that far but if you are that lucky, it's quite the peace of mind to know that your bino has the capability.
Where do I think this binocular would shine? Well Steiner glass has always been extremely popular with the military, so that would be my first educated guess. I hate you use the cliché word of "sniper" but I could see this being used by a two man sniper team or SWAT team sniper.  What I find to be the most obvious civilian choice is you long range target shooters and competitors. You may no use every bit of the range that the rangefinder is capable of but the accuracy of the beam is outstanding. What that means is the ability to put shots where you need them, especially when centimeters are the difference between you winning or losing a match.
If  what you need is :optical clarity, a laser rangefinder of Zeus like power and a housing that'll withstand more G forces than you could ever replicate , then there's only one real choice. The Steiner 8X30R LRF may not be the best deal on the planet, mostly because they're out of this world. Let me know what you guys think of these god like binoculars in the comments below. As always, shoot em straight and be safe!
Related Posts
« STEINER MX5i 1-5×24 -Review from a 3 Gunner's Perspective- By Kalani Laker How to Acid Etch your Knife or Multi-Tool »