As one of the world's premiere manufacturers of night vision devices, ATN understands not only how to give you a great image in low light situations, but also that shooters need a great deal of versatility from their optics.  Anyone who has spent time sighting in their favorite rifle scope knows that it is hard to swap it out for a night vision scope.  The US Army saw that their soldiers had very specific preferences, and were most successful when using gear they are familiar with.  Because of this, the Army asked manufacturers for night vision devices that could work in conjunction with existing scopes.  Thus, co-witnessing was born.
ATN Night Vision is truly top of the line.  They've been able to combine advanced technology with extraordinary construction for night vision scopes that can stand up to the shock of recoil like very few other companies have.  But they always take a look at what YOU want and need.  They've heard the demand for co-witnessing with their fantastic night vision, so they developed a couple great new options.
The ATN PS40 Gen 2 Night Vision System (photo above) is a perfect option for those who love their daytime scope.  You need a bit of extra rail space to get both scopes mounted, but that isn't a problem for most rifles.  What's really cool is that once you've sighted in your regular scope you don't need to re-zero when you attach the night vision.  This is really helpful for soldiers in the field who have missions that run from day to night.  They can't spend time sighting in their night vision.  Hunters also really love the versatility, as nighttime hunting has grown in popularity in recent years as well.  The PS40 has 1X magnification, which is perfect for pairing with a magnified scope, since having two powers combined will throw off your aim.  The quick release mount enables you to use it as a handheld monocular and quickly switch to scope mounted, so you can use the ATN PS40 the way you want!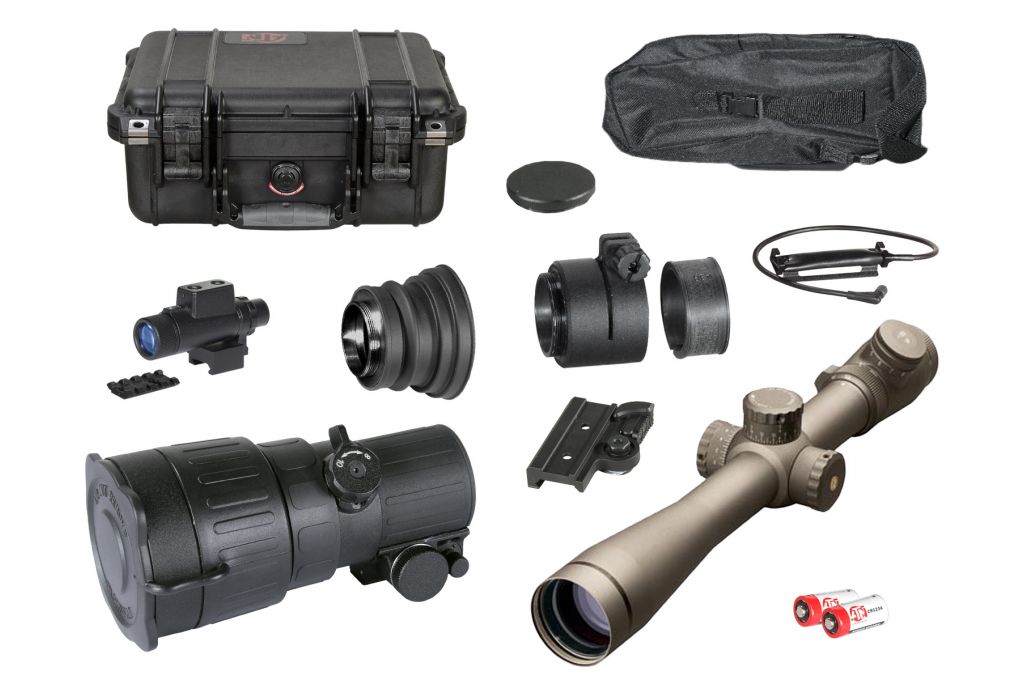 Another really amazing option for night vision co-witnessing is the ATN PS22-3P Day/Night Tactical Kit.  This package deal comes with an ATN PS22-3P Night Vision scope AND either a Leupold Mark 4 Riflescope or a Trijicon ACOG Scope.  These are two of the finest daytime riflescopes in the world, and these packages have been put together to make it easy for you to get an AMAZING set of scopes.  Much like the PS40, the PS22-3P has 1X magnification, and it comes with an IR illuminator, which is extremely helpful for dark situations.  Night Vision works by amplifying existing ambient light, but in certain situations there's virtually no light to amplify, which is where the IR Illuminator comes in handy.  While the light it emits is not visible to the human eye, it works like a bright flashlight for night vision.  It's a really handy feature for any night vision device.
Also like the PS40, the ATN PS22-3P does not need to be re-zeroed when placed in front of your daytime scope, so you can attach it and go!  These are two absolutely fantastic night vision options from ATN, and they'll keep you shooting at your best regardless of the lighting conditions.
Latest posts by OpticsPlanet
(see all)
Related Posts
« Shooting Range Double Feature! Champion Target and Gunslick Cleaning Kit Videos! Game Camera Catches Thief In the Act! Bushnell Helps Keep Our Streets Safe!! »