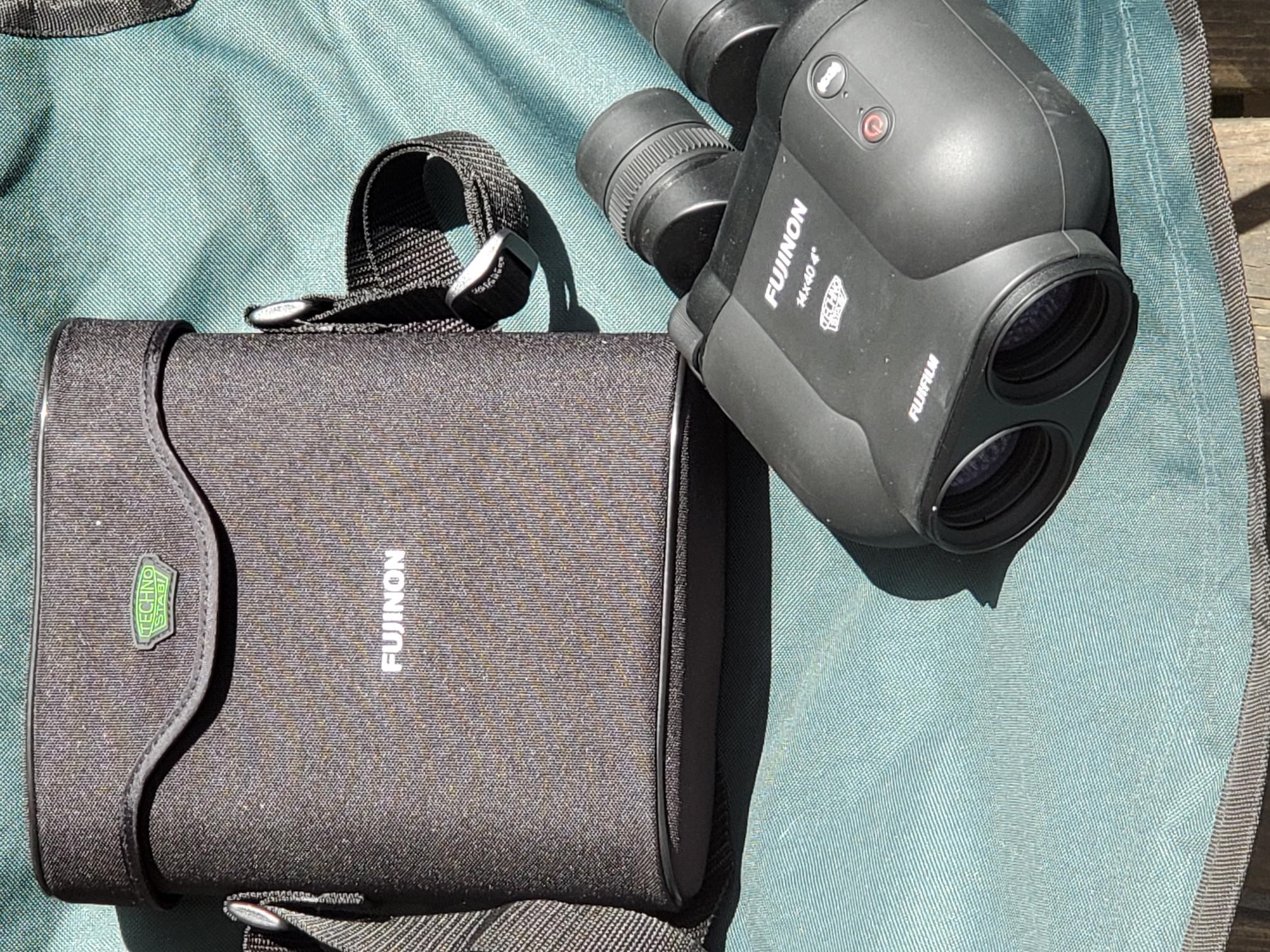 What Are Image-Stabilized Binoculars?
Image-stabilized Fujinon Binoculars use a gyroscopic mechanism to continuously compensate for movement, giving the viewer a steady image. Stabilized binoculars can be helpful when you are moving such as sailing on a boat or on a safari, but they're also helpful when using magnifications over 10x when even the slightest shaking of your hands can make viewing difficult without some kind of rest. Instead of needing a tripod to stabilize the image, the gyro-stabilized binoculars do all of the work for you. The Fujinon Techno-Stabi TSX1440 14×40 binocular gives you a steady image in any environment without all the extra gear.

Fujinon Techno-Stabi TSX1440 Overview
The Fujinon Binoculars Techno Stabi TSX1440 are 14x magnification image-stabilized binoculars with a 40mm objective lens (14×40). They use 4 AA batteries for a run time of 18 hours or you can use NiMH rechargeables for a 22-hour run time. The controls are simple and easy to use. After inserting the batteries, push the power button to turn on the unit and then push the stabilizer button to activate the gyroscope. You will quickly notice how sharp movements now seem smooth and delayed, allowing you to get a clear image in the most unstable circumstances.
The buoyant chassis design means you can take them on the water without worrying about them sinking like an anchor if they go overboard. However, they're not meant for use underwater and can only withstand about 1 to 5 minutes maximum exposure before becoming damaged, and will need to be cleaned off as soon as you retrieve them.
Unlike older image-stabilized binoculars, the TSX1440 are relatively light and compact despite all the technology they contain. The focus knob on the right-hand side makes fine adjustments with the slightest touch, allowing you to easily bring any object into focus and the included neck strap lets the binoculars comfortably hang when not in use.
Fujinon Techno-Stabi TSX1440 Specifications
Specifications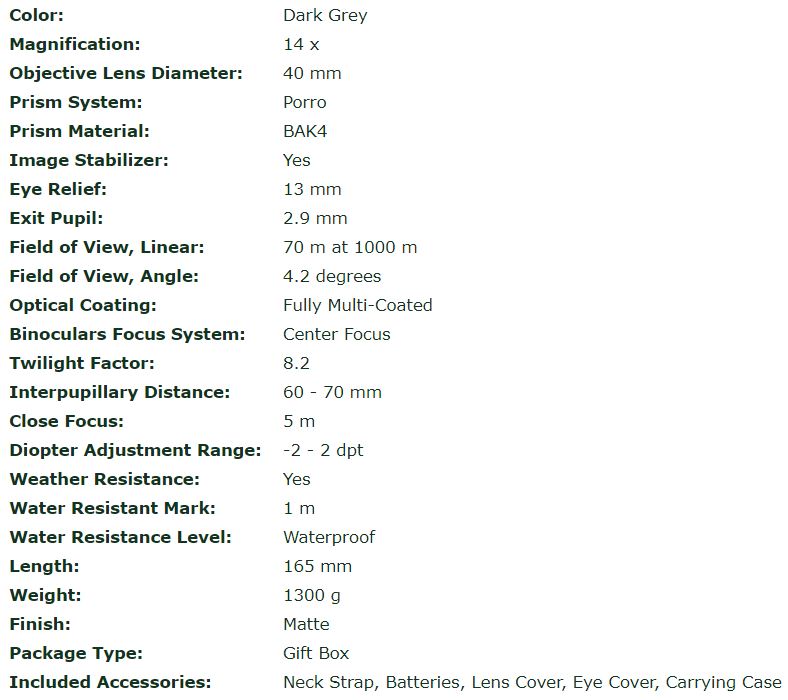 First Impression
The TSX1440 14×40 Fujinon binoculars feel a little chunky when you first pick them up but you quickly get used to it, especially once your attention is on the clear and stable images they provide. Holding them in a single hand is still very doable thanks to the lightweight and balanced design. Having struggled to use binoculars over 10x without a tripod in the past, it really is impressive how easy it is to use this 14 x 40 binocular to pick up fine details at distance. When you factor in the weight and cost of a quality tripod, you really begin to appreciate the value that the TSX1440 offers. Especially when on a boat or in a moving vehicle.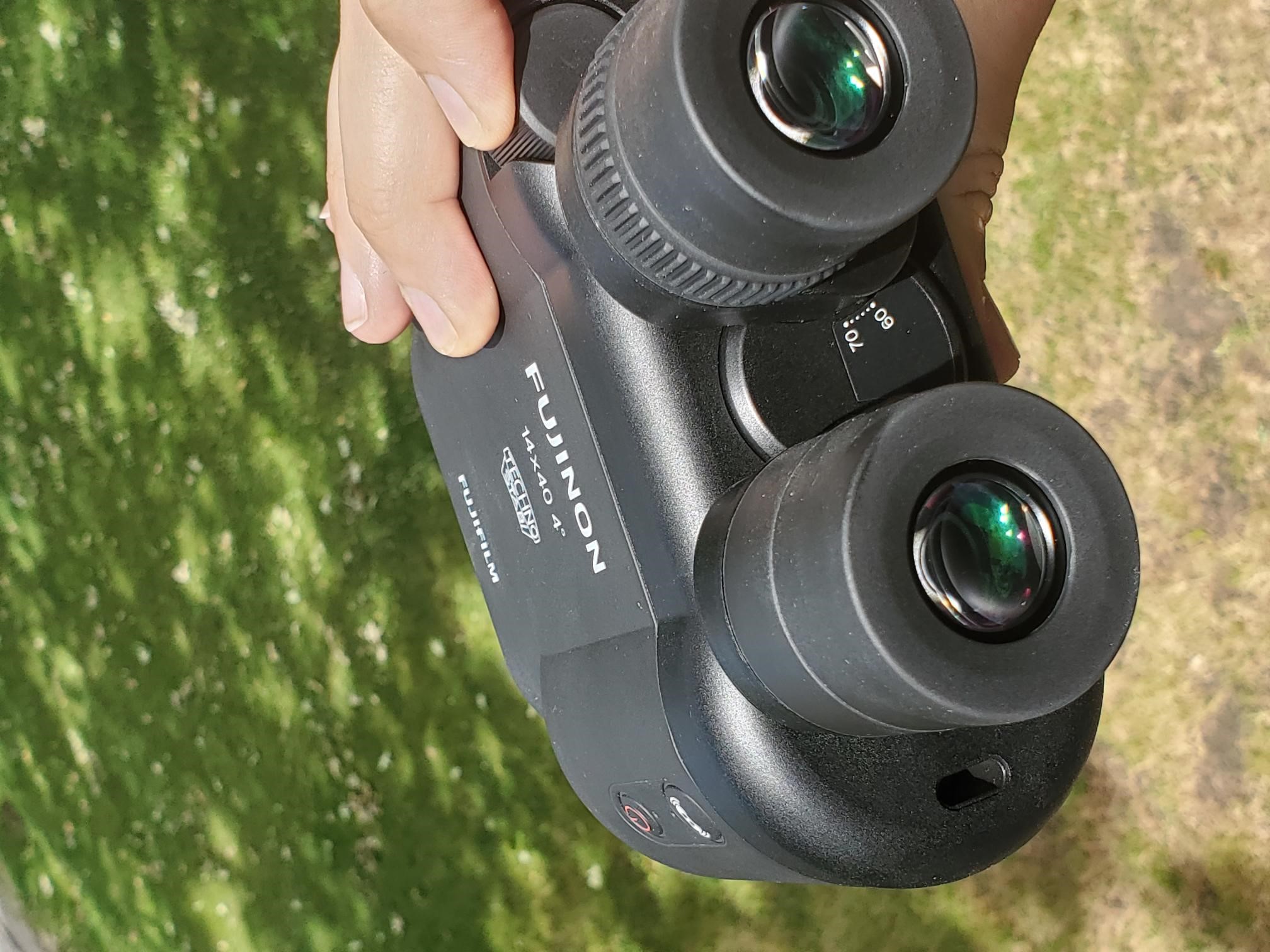 Summary
While not necessary for every application, the Techno-Stabi TSX1440 Fujinon Binoculars are an excellent choice when you need high magnification in adverse environments. They provide headache-free use in bumpy environments and reduce the amount of support gear you have to haul in order to utilize higher levels of magnification. Their waterproof and user-friendly design makes these image-stabilized binoculars the perfect companion in a wide range of settings that include marine sports, safaris, professional fishing, and stargazing.
Related Posts
« Review: Fujinon Hyper-Clarity Binoculars Gun Safety at Home: How to Childproof Your Guns »