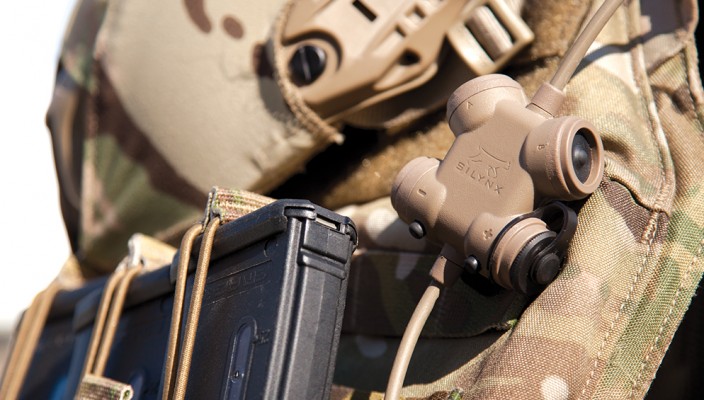 Protecting yourself is a priority in any hobby, activity, or job. Finding a way to do that without interfering with your experience or performance is an ongoing challenge. When it comes to hearing protection, you want to filter out harmful noises without losing the ability to hear what is going on around you. Most of the time that means a cumbersome ear muff or overpriced ear buds. Require communications capabilities? Let the headaches commence.
I've spent years trying out various products in the attempt to source the perfecting ear protection for shooting. Rugged, compact, sleek, effective, reasonably priced…that's not too much to ask for right? I didn't think so and luckily neither did Silynx.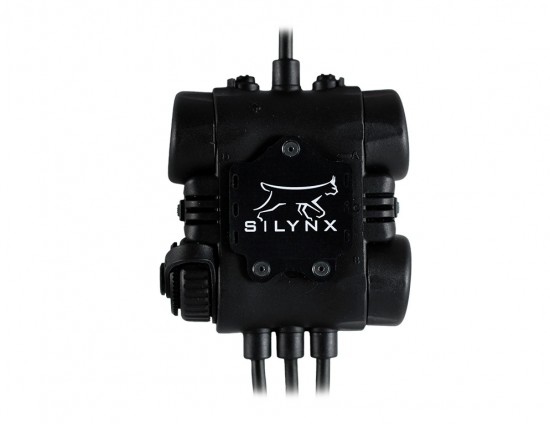 Don't recognize the name? That's because they have spent the last 15 years catering to those who bet their life on their gear. Special Forces and other military units were why Silynx got into the business of hearing protection. Providing top grade hearing protection that can withstand the harshest abuse without sacrificing mission performance was their goal and they nailed it. But most recently they have expanded their business into the commercial and public market, for which we should all be grateful.
By creating a tier of models, Silynx now offers the choice of the features you need without having to pay for those you don't. All the units offer hearing protection and hear through abilities, so you are protecting yourself without losing hearing capabilities. What else the unit can do varies from there, so here is a breakdown of their line to help you assess which model is for you.
Currently the base model, this offers what most shooters have been looking for in ear protection. Hearing protection along with ambient hear-through features and can be connected to a cell phone for calls or to play music. In the waterproof case comes a compact, rugged control unit which runs on a single AAA battery. Connected to the control box is a pair of ear buds with a Kevlar cord and an in line microphone. The foam tips on the buds are interchangeable depending on what size and quality of protection you need.
I normally use ear plugs, because ear muffs get in the way when I shoot rifles or just take up too much space in my range bag. While the EP3 plugs I use are satisfactory, they still wear out like other plugs and don't offer any of the auxiliary features electronic hearing protection affords you.
I've used the Clarus Pro at indoor ranges, outdoor ranges, when riding my motorcycle, and even at the gym. The hearing protection and enhancement is excellent for shooting while the smartphone connectivity allows me to listen to music or take calls without blocking out the noises of what is happening around me.
The Clarus Pro can also be connected to personal "walkie talkies" like Motorola or Kenwood with an optional accessory, which is great for hunting parties or riding groups.
If you need Industrial communication capabilities, the FX2 is the model for you. The FX2 has a fixed lead that is available in several different radio plug configurations. So for Law Enforcement or other industrial radio users, you get hearing protection and enhancement but can also communicate by using the Push To Talk button on the FX2 control box.
Another upgrade with the FX2 is the in-ear microphone. Moved from the wire to the actual ear bud, communication is simplified by not having to worry about speaking into the microphone. This allows users to concentrate on performing the task at hand instead of playing "Can You Hear Me Now?".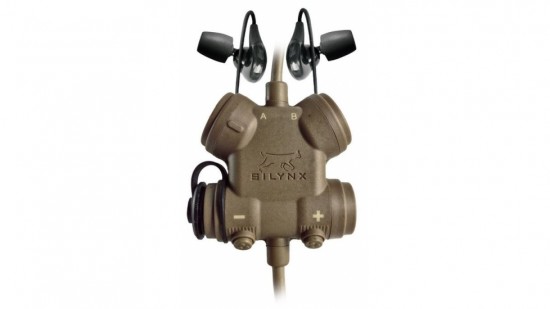 If you want or need to use different radio units, then go with the XPR. The lead from the control box to the radio is not fixed like the FX2. Instead it has a Quick Disconnect built in that makes swapping out to different radio leads simple. It also is a breakaway point in case the cord gets caught on something. The XPR is available in either a Quick Disconnect or fixed headset cable. If you have an existing set of ear muffs that you want or need to use instead of the Silynx ear buds, the Quick Disconnect makes that possible. That kind of modularity makes the XPR unit a great choice for law enforcement or other groups who either periodically upgrade their communication gear or use different comm gear depending on their role.
The original model, where it all started, is built for those who need to support two radios. PTT buttons on the left and right of the control unit are each dedicated to a radio and dedicated ear bud, so you can keep your lines of communication clear. The Clarus is also compatible with the wireless push to talk remote.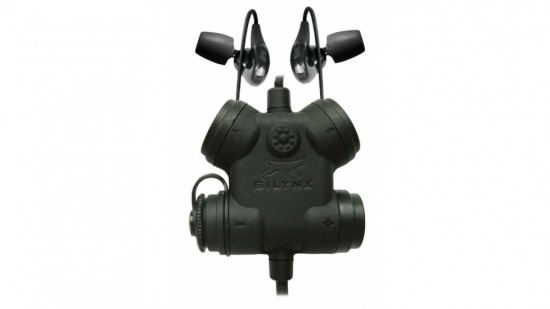 At the top of the tier is the Optimus which can support up to 3 different radios. Hopefully if you need that kind of comm capability you are letting Uncle Sam pick up the bill. The Optimus is also compatible with the Wireless Push To Talk remote.
The Optimus and Clarus are IP80 rated for submersion, while the other units are IP67 rated. All units except the Pro have the in-ear microphone and are powered by the radio unit (although a single AAA battery is needed to activate the control units).
Regardless of what level of communication you require, Silynx has a unit that will outperform your expectations. Check them out and give them a try, you won't be disappointed.
Related Posts
« Five Must Have Products for your New Handgun | Pistol AVS-CMR8 by Leatherwood/Hi-Lux: The Lightest 1-8x »