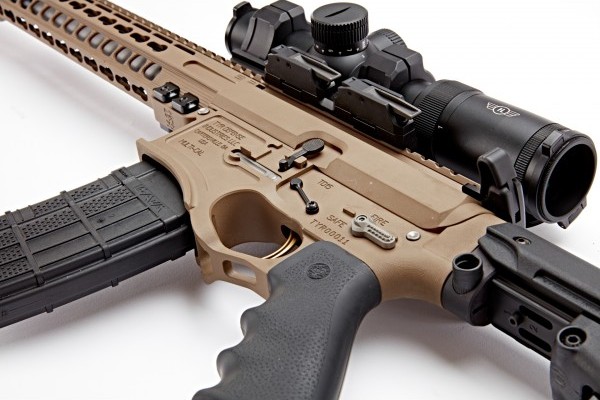 Whether you are competing or training, you want to be able to squeeze every ounce of performance out of your rifle. Finding an optic that allows you to do so, without needing take out a micro loan, can be a challenge. 1-4x and 1-6x scopes are common choices because you get the close range ability on the 1x and can still hit targets out at a distance at higher magnifications. Not so long ago though, 1-6x scopes were considered unaffordable by many shooters. That has definitely changed and now we are seeing 1-8x scopes, like the AVS-CMR8, follow that same trend.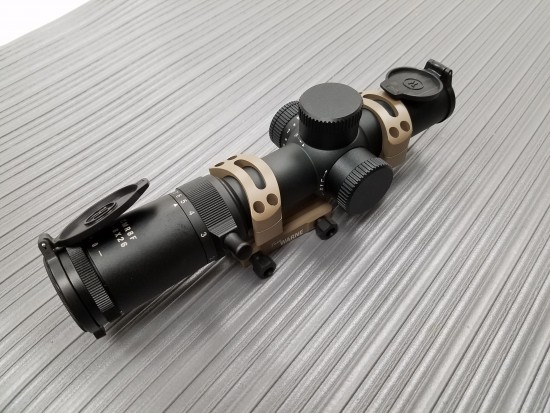 Leatherwood/Hi-Lux's contribution to the trend of affordable, quality 1-8x scopes is their AVS-CMR8 which is a 1-8x26mm First Focal Plane scope. Building off the  reticle that made their CMR 1-4x scopes so well liked, they have upped the ante with the AVS-CMR8. The Proportional Ranging System reticle utilizes a large horseshoe to provide quick acquisition and targeting at lower magnifications but then disappears from view at higher magnifications to allow an uncluttered view of the mil dots to be used as holdover points when shooting at distance. Perfect for competition, hunting dangerous game, or just expanding the effective range of your rifle.
AVS-CMR8 Features
Built on a 34mm tube diameter, the AVS-CMR8 is the lightest 1-8x scope on the market and the only one with a green illumination option at that price point. The scope has a built in throw lever which is great for making rapid magnification changes or fine adjustments as well as Zero-LOK turrets so once you have it sighted in, it stays that way. The flip caps are nicely made as well and use magnets to stay closed. Really the AVS-CMR8 just needs a mount to be ready to go out of the box. I used the Warne 34mm Skeletonized mount and the FDE finish complimented my rifle beautifully. While the reticle is intended for .308 applications, I was still able to effectively use it on a 5.56 rifle.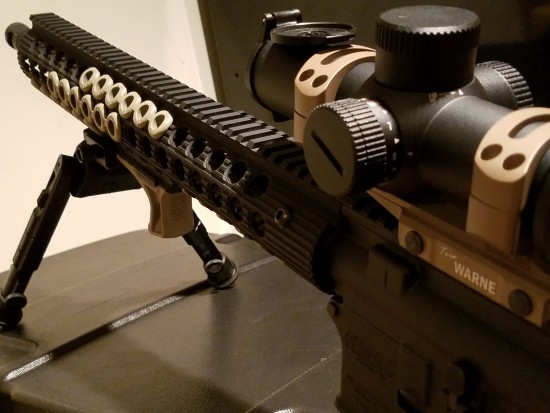 The turrets are .1 MRAD per click and once you have zeroed the optic, they can be locked so you do not lose your zero setting. The turrets still can be adjusted one full turn while locked in case you need to dial a shot adjustment instead of using the reticle holdover points.
AVS-CMR8 First Impression
While I didn't get to shoot out to 1000yds like the CMR8 is capable of, I did run some drills at various distances and did not notice any optical shift of my zero at different magnifications. I really like how the reticle design performs at 1x and was comfortably hitting targets on 5x or 6x most of the time, which is why the first focal plane design is so great. The reticle is fully usable at any magnification, especially if you like to use it as a range estimation tool.
I think this scope is a great addition to the Leatherwood/Hi-Lux product line and if you are a fan of their CMR 1-4x scopes you are going to want to try the AVS-CMR8 out for yourself. If you aren't familiar with their optics, now is a great time to check them out.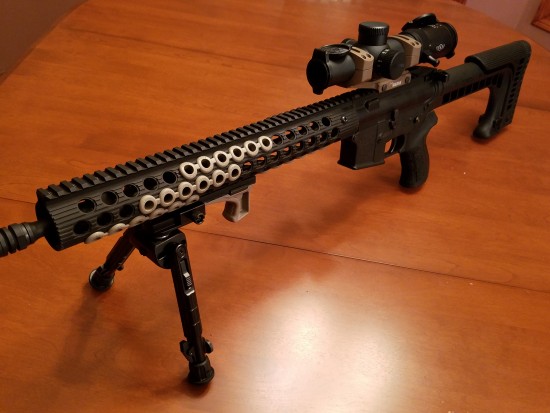 Related Posts
« Silynx: The Best Protection and Communication Your Ears Can Get Leupold LTO-Tracker: Pocket Sized Efficiency »