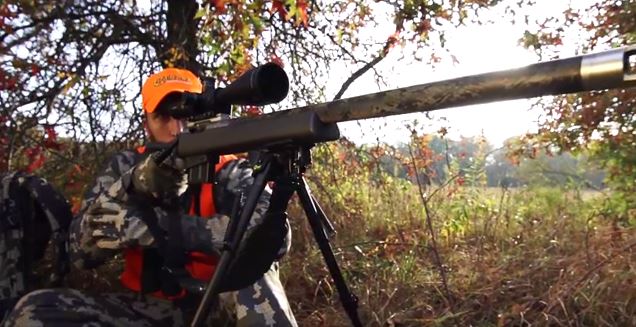 A long day at the range or out on the hunt can get exhausting.  Holding up your rifle or shotgun to scan the field for game, lying prone, or sitting at the bench while trying to hone in on your long distance target can cause some muscle fatigue in your supporting arm.  What's a great way to combat this issue?  Get stabilized!  Try a bipod or shooting stick.  Many bipods are very affordable, but remember: you do get what you pay for.  Higher end bipods definitely offer more options, and are constructed much more durably and with better materials than their less expensive counterparts.
Bipods
When shooting from a bench, being a fraction of an inch off of your mark can mean missing your target by a couple of inches, or even a few feet.  Bipods are an excellent addition to any hunting or tactical long gun.  They are available in multiple heights, with multiple functions.  They come in many popular tactical colors, and some even offer a ruggedized or rubber coating for extra protection against the elements. The many options available can make selecting the right product quite tiresome and confusing.  Here is some basic information on how these accessories work and how they are categorized:
How do I attach them to my rifle?
Bipods are attached in a few different ways.  Most tripods mount to the swivel stud on the forend of the firearm.  Hunting style rifles will typically include this stud straight from the factory. If not, we do offer a few different swivel stud kits that can be used with most rifles or shotguns.
Tactical rifles with a quad rail or picatinny rail under the barrel can use a bipod that attaches directly to that rail.
Also, there are some bipod makers that have introduced bipods that are two separate pieces, and attach to the quad rail in the 3 and 6 o'clock positions.
Some manufacturers also offer a mount that will attach around the barrel of the firearm if neither option is available on your long gun.  These provide a sturdy, solid mount.
If you're using a hunting rifle with a swivel stud: use a stud mounted bipod.  If you've got a nice tactical set up, or you've sprung for a fancy quad rail; use a picatinny mounted bipod.  Many bipods will only have the swivel stud option, so swivel to picatinny adapters are available, as are picatinny to swivel adapters.
One manufacturer that is an exception to the rules above is Versapod.  Versapod uses a proprietary mount that installs on a swivel stud or picatinny rail (multiple options are available).  This mount provides a horizontal post that extends forward, and allows any of the Versapod bipods to be mounted to the post.  This design gives the user a bit more room to "pivot" the firearm, which is great for quick shooting on uneven ground.  Though they are a bit more pricey, the Versapod bipods are a great bang for the buck.
Pivoting, traversing, tilting, panning….. huh?
Many bipods are only available in a fixed position, meaning that the only option you'll have is to flip the legs down or up, and depending on the model, adjust the height of the legs.  However, there are other options available.  You may see the terms "Panning; tilting; pivoting."  Depending on the manufacturer, the terminology being used mostly mean the same thing.  Panning/traversing will allow the shooter to "scan" their area, or move the weapon left to right while the bipod provides a steady base.  Pivoting allows the shooter to twist the rifle in a clockwise/counter clockwise manner, letting the user get more stable on an uneven surface.  Some models allow the legs to be adjusted quickly, so uneven surfaces should never be an issue. Obviously, moving the firearm up and down for elevation changes can be performed with any bipod.
What about the legs and feet?
To deploy the legs of a bipod, the user typically pulls the legs to the down position.  Many models also have spring loaded legs, which allows the user to deploy the bipod AND retract the legs quickly.
There are a few different options available for the "feet" of the bipods.  Most will have rounded, rubber feet.  In some models, these rubber feet can be retracted, exposing steel spikes that can be used for extra grip on harder surfaces.  Some bipods offer "ski feet" or "raptor feet."  These options really just come down to preference, though the designs are intended for specific terrain.
What about the height?
The height you need all depends on what position you will be shooting from.  The lowest option will typically be 6-9 inches, and is good for shooting from a bench, or in the prone position. If you need a few more inches of height in these positions, then a 9-12 inch height will help.  The highest heights are typically 13-25 inches or so, and work great from a kneeling or sitting position.  Shooting sticks are usually great for shooting from a seated/kneeling position, all the way to standing straight up.
Keep in mind that some bipods simply have 2 heights; basically closed and open. However, many models do have notched legs. This allows the legs to be adjusted to different heights for use in uneven terrain. The notches will provide a solid base under recoil.  It also allows the user to set the bipod to the best height for their purposes.
Monopods and Bipods for tactical use
A few manufacturers offer vertical grips that convert into bipods via a spring mechanism. The Samson Grip Pod is an example of this design. In the closed position, this grip can be used as a monopod. In the open position, the stability of a bipod is easily obtainable.
Other models, such as the FAB Defense Vertical Foregrip & Incorporated Bipod, can also be used as a short monopod. However, the hinged grip does split in two halves to create a bipod with retractable legs. This does provide a wider, more solid base for the shooter, but does not allow much use of the product as a foregrip in the deployed position.
Shooting Sticks, Monopods and Tripods
A fraction of an inch off of your mark during a hunt can mean only wounding your game, or missing your target altogether.  Shooting Sticks are made mostly with the hunter in mind.  They are usually available in tall heights to enable the user to make quick shots from a standing, kneeling, or sitting position.  Shooting sticks come in a variety of options; 1 legged, or "monopod;" 2 legged, or "bipod"; or 3 legged, or "tripod."  These devices also double as walking sticks to help the user navigate the rugged terrain that many hunters encounter during their trips.  This type of support does not attach to the rifle, but rather provides a "yoke", or V/U shape in the handle to allow the user to steady their shot.  They are typically made of a lightweight material, such as aluminum or fiberglass, and can be retracted into a compact unit for easy storage and transport.
Shooting sticks are really intended for the shooter who is on the move.  Since they are mostly height adjustable, and fairly less cumbersome, they can also be deployed in treestands and blinds.  Shooting sticks are also a great addition to your setup for stalking game.
But you mentioned a "tripod." What gives?
As you'll see above, there are shooting sticks that offer 3 legs for increased stability. Most rifles in circulation won't need any more than 1 or 2 legs. Yet, there is some heavy weaponry that can use a tripod. For example, the Browning M1919 would use the AIM Sports USGI M2 Tripod Replica for M1919. Since weapon tripods are mostly intended for use with heavy machine guns used by militaries, not a whole lot are available for the consumer market.
Whoa, that was a lot of information!
It's understandable that picking the right bipod or shooting stick can be fairly confusing.  I hope that the information provided will assist you in purchasing the "pod" that suits your needs. What is your preference?  How do these types of support systems help you?  Did we miss anything above?  Let us know by commenting below!
Related Posts
« Can You Hear Me Now? Good Never Leave Home Without…What? »