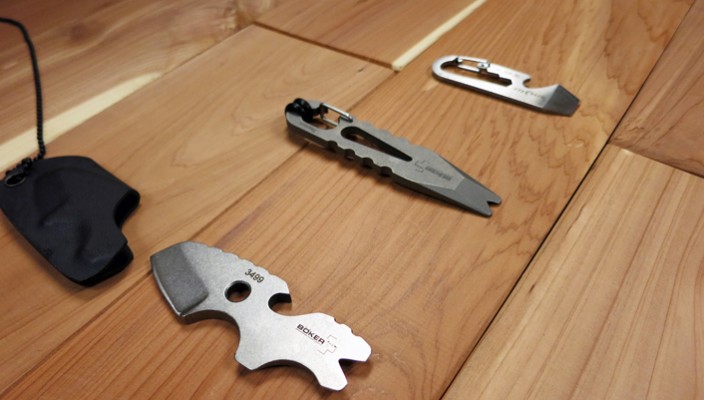 Too often, the "best tool" for the job ends up being whatever you have on hand at the time. So let's cover some Every Day Carry items that were at SHOT 2016.
Multitool
In my opinion, if you are going to carry one thing, make it a multi tool. There are lots of options to choose from, whether it's something small and simple like a Victorinox or big and complicated like a Leatherman, but I would make sure it has at least a flat head, a Phillips, and a knife. The stronger the material, the more versatile those 3 items can be. If you like a bigger array of tools, the Leatherman Skeletool is a great choice that won't weigh you down. New for 2016 is their Skeletool RX which is designed for first responders. What most people don't consider is that anyone can technically be a first responder and often it happens when you least expect it. So if you have the will to act, make sure you have the right tools with you.
Knife
Considered by many to be the heart of EDC, and rule #9 for any L.J. Gibbs fans, I never leave home without a knife. Since there were more new knives than I could count at SHOT, check out my knife overview. But for EDC specifically, I look for affordable (read replaceable) and durable. The Benchmade Precinct is a knife I would carry, as well as the CRKT Tighe Tac Two. The Kershaw Emerson CQC-9K is another great choice. I carry the Emerson EDC-2 and absolutely love it. I actually have a rotation of EDC knives, so that I can tailor my choice to what I will be wearing and where I will be going.
Flashlight
A seriously overlooked component is the flashlight. Invaluable when you need light and pretty useful for impact applications if you get one built tough enough. Less is more for EDC flashlights with me. Multi-function electronics are inherently weaker and while 600 lumens is powerful, it isn't very useful when the battery runs out in less than an hour. Elzetta is not only a top light manufacturer with rock solid, modular lights but their website is also an excellent resource for flashlight education. Their new CQB weapon lights were a hit at SHOT but for EDC I go with their Alpha series. Surefire released more models with their intellibeam technology like the P3X Fury, although I still like the P2X Fury size better for EDC.
Carry Bag
Now that you've got some EDC items picked out, your pockets might feel a little full so you may want to consider packing an EDC bag. I am a huge fan of Maxpedition bags and their new AGR line looks awesome. Whether it's a bag you leave in the car most of the time or carry it with you everywhere you go, they have options for every application and an array of add on pouches for a highly modular setup. Definitely check them out.
Footwear
Last but not least is the everyday carry item that carries you, your footwear. Salomon Forces new model  of the Toundra looked very nice and would be handy with the late snow we're still getting in the Midwest, but may not work for those of you in warmer climates. I would recommend trying on the Lowa Ranger III GTX, lightweight and waterproof but still able to breathe, this is a great all terrain boot. Bates Footwear was showing off their new powersports line at SHOT, rightly figuring that those of us who like to pull the trigger typically like to twist the throttle as well. I snagged a pair to try so keep an eye out for a write up, just as soon as we get some dry pavement and warm weather around here.
Whether you never leave home without a knife, or are doing daily pocket dumps on Instagram, there are countless benefits to carrying a few simple items with you regularly. Just make sure the stuff in your pockets is worth its' weight in utility.
Related Posts
« Get Stabilized! Monopods, Bipods, Tripods, and Shooting Sticks: What is the best option for your purposes? It's Not What You Carry, But How »