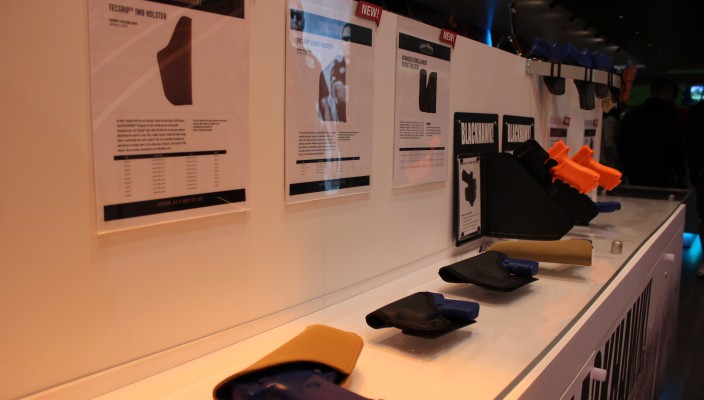 It's 2016 and there is some form of concealed carry in every state. But while some have been carrying for years and have their favorite gear well broken in, others are just beginning the process. So let's cover some modern carry options.
OWB
Yes, you can carry outside the waistband and still be concealed as long as you use the right holster and jacket. You want the holster to ride high on the belt and the jacket to have enough length to cover the holster. An excellent OWB holster, especially if you have the Glock 43 or S&W SHIELD, is the Galco Combat Master. If you are looking for OWB but think that you may want to carry inside the waistband occasionally, then the Galco Corvus has you covered. Be mindful that depending on how you move, different jackets will "ride up" differently and may expose part of the holster.
IWB
For Inside The Waistband, there are an overwhelming number of quality options. While appendix carry is gaining popularity, I still prefer strong side carry just behind the hip. The Blade Tech KLIPT holster can be worn in either spot even though it is intended for appendix carry. I found that rather impressive, especially since they have Crimson Trace Laserguard compatible models. I'm holding out for the Laserguard Pro though so I'm counting on Blade Tech to have a compatible version when that is released. For Glocks especially, I really like Raven Concealment and Armordillo Concealment. The RCS Eidolon is quite comfortable when carrying a G17 with an optic and the Lux by Armordillo allows you to carry several different guns with the same weaponlight since the holster locks onto the weaponlight and not the firearm.
Apparel/Off Body
Depending on the attire you plan to wear, carrying a firearm may not be feasible. Instead of having to change your wardrobe, consider changing your carry style. There are many types of apparel out there designed to conceal and retain a firearm. Whether it's a 5.11 holster shirt or the new Undertech Leggings, you can add a base layer to your outfit so you don't have to carry on your belt. If that still doesn't work for you, there are plenty of bags designed to carry a firearm. I love my Maxpedition Versipack and would definitely recommend the Vertx EDC Commuter Sling bag for a more traditional backpack look. For women, Gun Tote'n Mamas has a complete line of bags in various styles to meet your personal preference. Galco and Bulldog Cases also have some great carry bags that should be appealing to ladies.
As you can see, there isn't a single "best" way to carry. Depending on your body type, planned attire, and firearm specifics, your preferred method of carry can change. Don't be afraid to try out a variety of holsters until you find what fits you best. If it's not comfortable, you won't wear it and then you won't have your firearm when you need it. So whatever style you prefer, make sure you practice drawing and get used to wearing it before you start carrying.
Draw fast, reholster slow, and stay safe.
Related Posts
« Never Leave Home Without…What? These Go To Eleven…I Mean 80 »