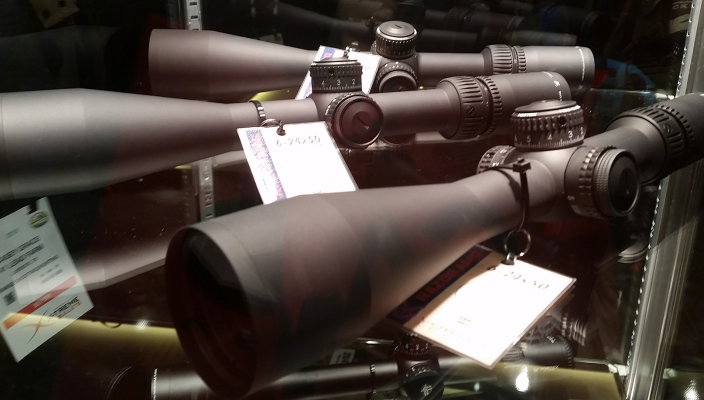 In the 3-gun realm, where speed matters, low end magnification is a bigger concern than high end. 1-4x, 1-6x, and now 1-8x are the top recommended scopes. For long range precision shooting, another fast growing shooting discipline, high end magnification is what they crave. The majority of riflescope manufacturer's don't make models over 25x or 30x. At least that is what I would've told you before SHOT Show 2016. Now I know differently. There are many options, at various price points, for high magnification riflescopes.
Just like most things, too much magnification can be a bad thing. The higher in power you go, the more variables you encounter (like mirage) that diminish your picture/resolution. So while there are riflescopes with more magnification than spotting scopes, they aren't always the best option. The number one riflescope in Precision Shooting right now is the Vortex Razor HD Gen II 4.5-27×56, with the other 2 of the top 3 being the Nightforce ATACR 5-25×56 and the Kahles 6-24×56. Precision Rifle Blog compared the top used scopes here. The lesson there is that the quality of the glass, the coatings, and the turret adjustments should not be sacrificed for higher magnification.
But if you are looking for higher magnification in a variable scope, there are some quality options. While not new, the Sightron SIII 10-50×60 is a fine scope to get started with or there is the Nightforce Benchrest 8-32×56 which is a great value. Vortex is catering to F-class shooters with the Golden Eagle 15-60×52 as is Burris with their XTR II 8-40×50, which has a very unique reticle that is worth checking out. All of these are great options for people with a reasonable entry level budget.
If you have room to spend a bit more, the Nightforce Competition 15-55×52 or Kahles 10-50×56 are proven platforms that deliver high end, quality magnification. If you don't want to lose the wide field of view on the low end magnification, the Sig Sauer Tango 6 5-30×56 was a new scope that I spent some time looking through and was quite impressed by their optics overall. Leupold also has you covered with their VX-6 7-42×56. While these are definitely a significant step up in budget for most of us, they are worth the extra coin.
If you happen to have Trump for a last name, or some other circumstance that equates to money being no concern, here's the cream of the crop. Zeiss really made a statement with their Victory V8 line that uses a 36mm tube diameter. Their V8 4.8-35×60 is a mid to long range dream. March Optics also made a big ripple at SHOT, stunning people not just with their quality but also with their 10 factor magnification scopes. They have a 2.5-25×56, a 5-50×56, and even an 8-80×56. The March Optics 10-60×56 is a great value in the tier 2 budget level as well.
So whether you are on a tight budget or have the AMEX black card, reaching out to 1000yds is an achievable goal with plenty of glass options for you to obsessively compare. While high end magnification seems to be an increasing consumer desire, don't feel the need to give in. For the longest time, military snipers redefined long range precision with nothing more than a 10x scope. Need a modern reference? The highly respected, and rightly so, Leupold Mark series does not offer anything above 25x.
So if you've come down with the long range fever, figure out a budget and try to stick to it. Magnification doesn't guarantee a hit, but it can be helpful. At the end of the day, experience on the range is more valuable than the best scope money can buy, so don't let your options overwhelm you. You can always upgrade the optic later and should be able to find a long range neophyte looking for a bargain on your used glass.
They are always looking for more people to join the 1000yd club.
Related Posts
« It's Not What You Carry, But How The $200 Binocular Challenge! Two Great Entry Level Binoculars »